Contributed by Meredith Barber and Azalia Ditore
Pizzeria on the seawall
Back in April, I was walking on the seawall in American Village when I saw a new restaurant was opening soon named Pizzeria Bar Ariccia. I was very excited to learn it was a brick oven pizzeria. Since then I have dined there 5 times and have enjoyed every visit. It's a great place to have dinner with family and friends,  lunch with guests visiting from out of town, and with a group of friends looking to catch up.
Restaurant and Atmosphere
Stepping into Pizzeria Bar Ariccia is like stepping into a true Italian trattoria. Guests are greeted by both a friendly staff (that often speak Italian to one another) and aromas of fresh bread, garlic, and basil. There is a floral wall in the main dining room which helps to create a relaxed atmosphere. Located in the center of the kitchen is an authentic Neapolitan brick oven.  It's painted a fiery red and adorned with the restaurant name. Highlighting all of this is the gorgeous view of the East China Sea out the wall of front windows.
The restaurant is named for the town of Ariccia where the Supervisor, Thomas Pugliese, grew up outside Rome. He has traveled the world and cooked in numerous countries, always carrying his love of Italian cuisine with him.  Now Thomas is happy to share that love of Italy and delicious food with his new home of Okinawa. His influence can be seen throughout the restaurant from the brick oven and décor to the tasty dishes prepared for guests.

Food and Beverages
The staff hand makes almost everything on the menu, and the menu options often change with the season. Currently, there are Summer Pasta Selections and Summer Dinner specials, such as Crispy Salmon or Chicken Parmesan.
The star of the show is without a doubt, the pizza. Numerous flavor combinations are offered and each pizza is topped with fresh ingredients. The oven is kept steady at 460°C, and the pizzas are cooked in less than 2 minutes. Within minutes of the order, fresh from the oven pizza is delivered straight to your table.
Over the course of my visits, I've enjoyed several salads—both the house salad at lunch and the Caesar salad with bacon at dinner. Recently I tried the house made Gnocchi and was in amazed at how the soft pillows of dough mixed perfectly with the freshly made marinara sauce. I also saw the seafood pasta delivered to a nearby table and it looked so delicious.
I typically order the Margherita pizza and enjoy it for its simplicity and high-quality ingredients. It has the perfect amount of sauce, fresh mozzarella, and basil. There are over 30 pizza options so there really is something for every taste.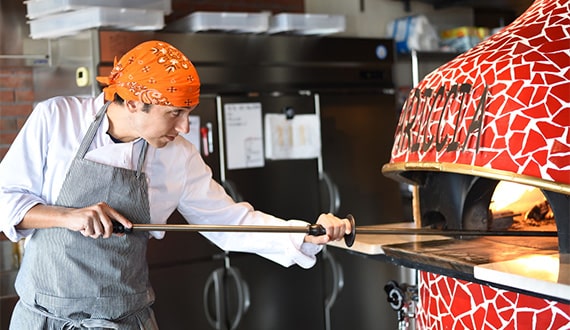 My most recent meal was topped off with an Illy espresso and pasta delivered Cantucci, an almond cookie very similar to biscotti. It was an ideal way to end a delicious meal. Ariccia also offers house made desserts such as Tiramisu, Cheesecake, and Chocolate Gateau as well as an extensive coffee menu.
Special Menus (Lunch Set and Bar Menu)
While the appetizer and pasta menus are only offered at dinner, Pizzeria Ariccia is still doing some very special things at lunch and late night.
Their lunch set is one of the more reasonably priced, especially for the amount of food served. For 1000 Yen, guests receive a house salad, pizza, and a drink. There are five pizza options: Marinara, Margherita, the Monthly special pizza, or the Pizza Bianco and Pizza Rosso. The options change every two weeks for variety.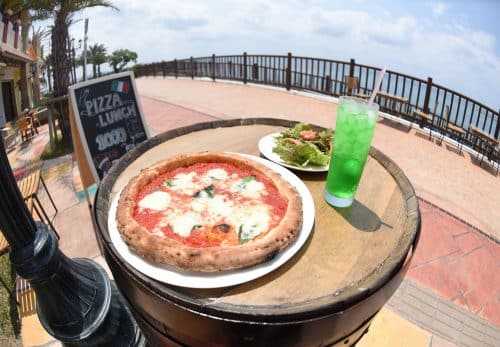 I've eaten lunch at Ariccia twice.  I was slightly hesitant at first to eat pizza for lunch in the Okinawa Summer heat, but I was pleasantly surprised.  The pizza and salad are so light and fresh they do not leave you feeling weighed down. In addition, looking out at the beautiful blue ocean while enjoying lunch will come as a nice midday break from your busy life.
The late night bar menu is a collection of pizzas and small bites. Italian ham and cheese platters, marinated olives, and bruschetta are offered. Bar selections include authentic Italian wines, beers, and cocktails.

Additional Information
Pizzeria Bar Ariccia is a great location for dates, a gathering of friends or a meal with family. They offer high chairs for those with younger children and the seating out front is ideal for families that have little ones.

The restaurant offers quite a bit of seating inside as well as covered outside seating on their porch. It's perfect place to watch the sunset or just enjoy the beautiful Okinawa weather. There are also a few tables across the walkway that are not covered. All of the tables, even those inside, offer a great view of the sea.
They take reservations for dinner and they offer take away (all menu items except salads) if you're feeling like relaxing at home while you dine on truly authentic Italian cuisine.
>
Details (Location, Prices, Opening Hours, Take Away)
Location:       Depot Island Seaside 1F
9-21 Mihama Chatan-cho
Okinawa, Japan 904-0115
Click here to visit their website
Phone:           098-923-3304
Opening Days: 7 days a week
Lunch:            11:00-14:00
Tea:                14:00-16:30
Dinner:           17:30-22:00 (L.O. 21:30)
Bar:                 22:00-24:00 (L.O. 23:30) (Friday and Saturday Only)