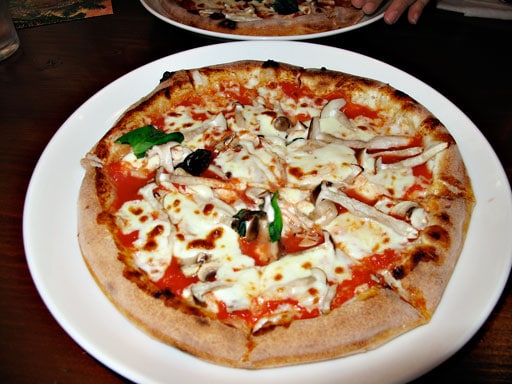 EDITOR'S NOTE: This restaurant was closed for a period of time but as of July 2012 we have been informed that it has reopened under new ownership and a new name.  The post below reflects its former incarnation as Pizzeria Il Piccolino.

CONTRIBUTED BY AVIVA
A friend of mine told me that he knew of the best pizza on Okinawa. I am a pizza snob. I know it. I own it. But I'm not turning down a chance at pizza for lunch, and I do trust this friend. So he called and made a reservation, since a bunch of us were going – and off we went to Pizzeria Il Piccolino.
He said, "It's in Onna," and I cringed – that seemed far. But really, it wasn't. It was directly off 58, just north of Yomitan. From my place near gate 1 of Kadena it took about 20 minutes door to door. WORTH THE TRIP (start pretending you smell garlic and melting cheese…).
We walked in to a really sweet woman who set us all up – we had kids with us (the biggest critics). The lunch menu was all I saw – sorry, I should've gotten a picture of the dinner menu too… guess I'll have to go back! All lunch pizzas are part of ¥1000 sets that come with coffee or tea (iced or hot), a salad consisting of greens with cherry tomatoes and shaved onions with an olive-oil vinaigrette, and a dish of ice cream. Water is self-serve, and under the water pitcher there are some magazines to read. It does have a real pizzeria feel to it!
There are several tables, though it's not huge. There are no high chairs or booster seats. The menu had several tasty options as you can see – we all got pizza, but I'm definitely going back to try the calzone (the menu said, "Carzone" and described it as "looks like GYOZA"!) and the Panino sandwich. Mmm.
The couple at the restaurant both spoke decent English, and we got exactly what we ordered. Kids aren't big fans of fresh basil, so we got the margherita fresca for them without the leaves. I got a Funghi (mushroom) pizza, and my hubby got the Salame pizza (the salami was NOT hot dogs – it was real italian salami – see the photo), one friend got the Napoletana (with anchovies and she loved it. They put a few in the oven at a time, but all pizzas are individually-sized. No corn on this pizza – and the crust was incredible. It was a great meal for me, my hubby polished off the slices my daughter didn't eat with ease. It was so good he might've eaten more. Easily some of the best if not the best pizza I've had here!
As everyone groaned when I mentioned putting the restaurant on Oki Hai, my friend who brought me said, "NO! Please DO put it on there! The economy is bad and they need business!" So GO FORTH AND EAT PIZZA, my friends!! Let's keep this place alive! You will not be disappointed! If someone hits this place for dinner before I get to, please leave a comment about any menu differences.
---
Wine & Pizza 58
Hours: 12:00-1500 for lunch, 1800-2200 for dinner (last order at 2100) – CLOSED WEDNESDAYS. They take yen only, no US dollar or cards. Phone number is 098-964-6464. I know they take reservations, only necessary for a larger party.
Address: Onna, Maeganeku 国道58号線
GPS Coordinates: 26.4502852, 127.80411279999998
Directions: 58 North through Yomitan. Once you see the MOON BEACH hotel on your left, start looking for a McDonald's on your RIGHT. Make a RIGHT into the McDonald's and come around it about 3/4 of the way. The pizzeria is behind McDonald's, you can park in the back of the McD's lot.