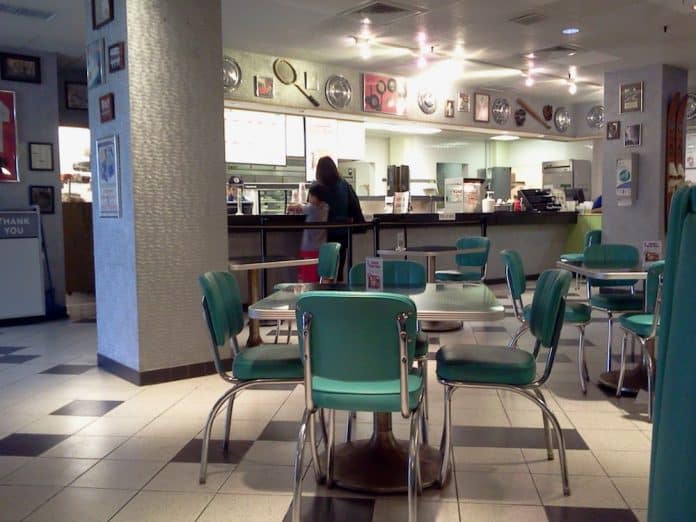 CONTRIBUTED BY AMY MADDOCKS

Platters Interior
For those of you on a budget or just want some great food, check out Platters on Kadena Air Base. This has become our "go-to" restaurant when we want great food at good prices. The atmosphere is based off of the classics from the 50's and 60's, complete with old records, poodle skirts, pictures, and other memorabilia from that time frame. They have really gone to a lot of trouble to decorate and make it a fun place to eat. The staff is very fun, friendly and accommodating for picky eaters like me! At Platters there are several items I love—so depending on my mood—I can always count on something here that will satisfy me. That's saying a lot, because when I say I'm picky, I'm not exaggerating! I was worried when we first came to the island that I wouldn't be able to eat out considering I don't like veggies or seafood; I know, I know, I should grow up one of these days. But thankfully I've found places to eat at like Platters.

Platters Chili Dog
They have the classics such as hamburgers, hot dogs, sandwiches, etc., but they also offer specialties like Yakisoba, Curry, Panini's, and even Japanese Bento Boxes. During the week they have a special each day ranging from chicken fajitas to taco rice. Even their kids menu is tasty and varied. Also, their portion sizes aren't the usual that you'd find around town—they are more along the usual "American" sizes so you get a lot for your money!

Platters Yakisoba
We took pictures of our favorite meals; Yakisoba, Pork Curry, and Chili Dogs, to give you an idea of the size of the platter. Besides the great food, their prices are appetizing as well. An average meal costs around $6.00 depending on sides and such, and kid's meals range from $2.50 to $4.25 which includes fries and a soda. You get a discount for using your Club Card, too.

Platters Ice Cream
Also, they can satisfy your ice cream cravings! They offer Breyer's ice cream, in both soft and hard varieties, along with waffle cones, sugar cones, shakes, etc. If you time it right and follow their ads you can often get "buy-one-get-one" ice cream deals as well. To say my hubby is an ice-cream fanatic is an understatement, but the Baskin Robins prices don't taste too well to him, so he was especially thrilled when we came across this little gem of an ice cream shop!
Platters is located inside the Schilling Center, but it has an outside entrance as well. They have tables as well as booths and outside tables, too. It is a self-serve diner where you pay for your order and pick it up when they call your number. You can go to their website here to see more of their menu and what else they have to offer. You really can't go wrong visiting Platters—so take your family and enjoy!
Hours: Mon-Sat 11:00 to 7:00, Sun 12:00-5:00, Closed on Holidays
Prices: $2.00 to $7.00; cash, credit & debit cards (no Yen)
Location: Schilling Community Center. Located adjacent to the Kadena Keystone Theater and Commissary.

Platters Menu