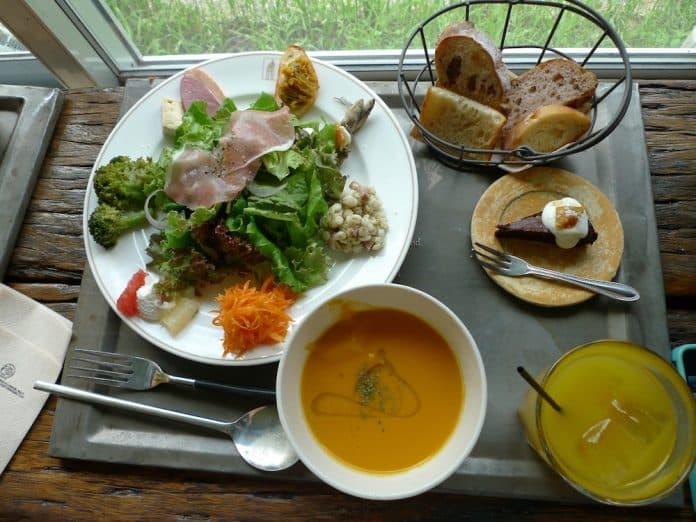 CONTRIBUTED BY ANGI BRZYCKI

Ploughmans Food
The term "Ploughman's Lunch" is a British phrase for a plain and simple, cold lunch. It usually includes a piece of meat, salad, cheese, and bread. Ploughman's Lunch Bakery is true to the name and the general idea remains the same, but the meal is anything but plain and simple.
The restaurant only serves one plate. Once you decide where you will sit, you go up to the register and pay the set price for the plate (1100 Yen). After a few minutes you get what everyone else is served. A metal tray consisting of a delicious salad plate accompanied by an assortment of cheeses, marinated vegetables, fruit, pumpkin soup, and a small slice of cake. On the side of the plate is a basket of assorted sliced bread. The bread is baked fresh daily and there are unlimited refills.
It seems to me the only choice you do have is what you will drink. I recommend getting the coffee (free refills). Although there are other options including a variety of juices to choose from.

Ploughmans Front
Since Ploughman's Lunch Bakery is an old home converted into a restaurant, the place is fairly small and the hours are limited. I recommend making reservations or arriving a few hours before they close. It does get crowded on weekends and usually they have to turn people away. There is a small waiting area with art books and magazines, but it only seats two or three people.

Ploughmans Inside

Ploughmans Sign

Directions:  Take the Toll Road to Exit Kitanatagusku. Take a right and continue to the 29. Then turn right on to the 81. Then turn right on to the 146. After going over the toll road on an overpass make a right turn and continue for about .6 km. Look for signs to Ploughman's Lunch Bakery and make a left into drive way and park. Parking is limited. Go up the set of stairs and Ploughman's will be at the top of the stairs.
Address:  901-2316 Adaniya,Kitanakagusuku village Okinawa 927-2 #1735
Phone: 098-979-9097
Website:  http://ploughmans.net
Hours:  8:00 am – 4:00 pm — Breakfast served 8:00 – 11:00 am, Lunch served 10:00 am – 3:00, Closed on Tuesdays & Wednesdays