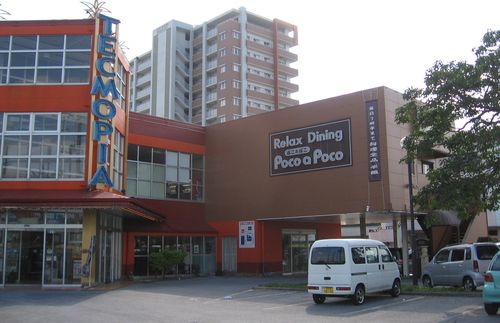 The branch of this restaurant in Mihama – American Village – closed in early 2015, but there are several other locations around Okinawa. The review below includes directions for a branch in Okinawa City, but was regarding a now-closed location.
CONTRIBUTED BY SARAH FORTE
I am a modified grazer. Yes, I made that term up, but hear me out. A grazer, by one definition, is one who eats small portions throughout the day. But I'm a modified grazer. I can eat large portions in one sitting, but prefer my portions to be varied. Buffets and I get along nicely because I can try lots of little portions of many different things. In Japan there is another style of restaurant that fits this billing: The izakaya. The name "izakaya" is a compound word consisting of "i" (to sit) and "sakaya" (sake shop). For me, the sake is optional, but I've come to appreciate the varied, small portions of food that are meant to be shared.
My husband and I recently ventured inside an izakaya that we have driven past innumerable times: Poco a Poco. In Spanish "Poco a Poco" means "bit by bit" or "little by little." Pretty fitting! The byline for Poco a Poco is "Relax Dining." We found the atmosphere to be quite relaxed. There were three kinds of seating: booths blocked off from other booths with tall curtains, bamboo couches around a table also with dividing curtains, and tatami seating. No matter where you sat, you had your own sanctuary blocked from view by other guests.
In izakaya fashion, the menu was large and full of pictures. The waitress quickly brought an English menu after seating us. Our food order included tuna and avocado spring rolls, salmon and avocado marinade, a meat and cheese plate, clam and anchovy pasta, sliced beef in an orange pepper sauce and a chocolate brandy tart. Everything was tasty and beautifully presented! The beef was extra spicy and had a real kick! I'm not sure if I could taste the orange, but the pepper part of the sauce sure came through! We didn't know when we ordered that the dessert came flambé. The couple in the next booth and their waitress gave a surprised yelp when their tart went up in a little more flame than anticipated!
Poco a Poco does follow the izakaya custom of serving an otōshi or tsukidashi. These are the tiny individual appetizers that come without ordering. You will see a small charge on your final receipt. In our case we were served a small ball of tuna and spinach on a saltine atop a tiny bed of salad. I wouldn't be surprised if the next time we go it's something different.
The only two disappointments of the night were the smokiness and an ordering glitch. Despite the tall ceilings we caught a whiff of cigarette smoke upon entering.  It didn't bother us throughout the meal, though we could definitely smell it on our clothes when we left. It also seemed that the English menu was slightly outdated regarding food availability, not prices. We didn't notice until the dessert I ordered had been discontinued.
The price did not disappoint! We didn't realize it when we decided on Poco a Poco for the night, but most of their food menu items are half price from 1800 until 1930! We had come at just the right time! Drinks, sushi and sashimi were full price. After 1930 there is one half price menu item each day: Monday-sushi, Tuesday-glass of wine, Wednesday-sashimi, Thursday-an awamori bottle, Friday-Danish with vanilla ice-cream, Saturday-original pizza, and Sunday-Teriyaki chicken.
If you're looking for a new izakaya where you can have your food "little by little" or if you're in the mood for some awesome peppery sliced beef, you might want to try Poco a Poco!
---
Poco a Poco Okinawa City Branch
Hours:  Open from 1800 until 0300 every night.
Phone: 098-989-8980.  They do take reservations, although the night we visited there was no need. The tatami mat seating can hold larger groups and that might require a reservation.
Payment:  This izakaya accepts Yen and credit cards.
Address: 7-5-18 Hiyagon, Okinawa City
Google Maps Coordinates: 26.3212279, 127.80930549999994