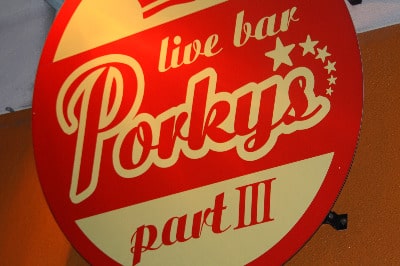 CONTRIBUTED BY MARY RICHARDSON
Walking around Okinawa City one night, my husband and I wandered into Porky's. We expected a 50s theme bar, and we were not disappointed.  The small space is decorated like a retro soda fountain with red checkered tablecloths and 50s paraphernalia on the walls. Servers wear baggy mechanics uniforms. Think "Greased Lightening."
But Porky's is more than just burgers, fries, and beer. They offer unique musical entertainment on Wednesdays, Saturdays, and Sundays.
On Wednesday and Saturday nights, a lively Oldies band in costume sings American hits from the 50s and 60s. On Sunday nights, a different group plays favorite music from the 80s. The bands perform several sets about 30 minutes each starting at 10:00 pm, 11:30, and we assume 12:30. (We left at midnight, but the place showed no signs of slowing down). Between sets, the musicians come out into the bar and interact with patrons, taking photos and having conversations.
The band was really entertaining, and it was fun listening to Japanese singers take on American classics. Revving up the crowd, the big hit of the night was their rendition of the Elvis classic, Blue Suede Shoes.
When we arrived at 10 pm, the bar was empty except for a few patrons. However, it quickly filled and was jamming by midnight. There is a small area at the front for dancing and a quite a few people were cutting a rug by the time we left. If you're looking for an offbeat outing one weekend in Okinawa, check out Porky's Live Bar.
---
Porky's Live Bar
Cost: 1,000 per person to watch the show plus drinks and food. Drinks started at 650 yen. We didn't order food, but the plates of burgers, salads, and pizzas passing by us looked great.  They accept yen only.
Hours: 9 pm to 3 or 4 am. First show at 10:00 pm
Phone: 098-934-1610
Address: 7 Chome-20-3 Hiyagon
GPS Coordinates: 26.3200613, 127.80820010000002
Directions: Take a left turn out Sgt Major gate on Camp Foster (where Westpac is) and keep going downhill. Turn left at the 329 intersection and go straight. You'll pass Living Design Square on your right as well as Comprehensive Park. You'll come to a big intersection with McDonalds on the right side and Hotto Motto on the left. Turn right at that intersection and go straight to the end of the street. You'll pass the Toys R Us shopping center and an organic market on the right. At the end, turn left. You'll see a Family Mart on the corner. Porky's is in the building next to the Family Mart. There is limited parking in front of the bar.