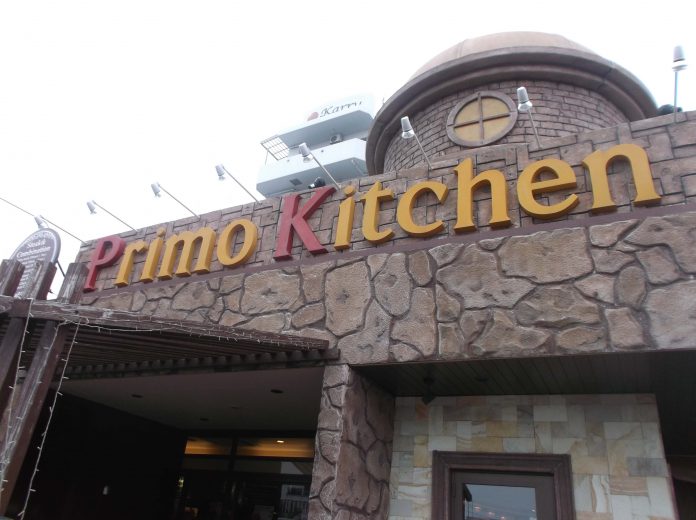 Editor's Note: Primo Kitchen was originally reviewed on Okinawa Hai on June 18, 2009; you can read a PDF copy of that original review HERE. The post below is an updated take on this restaurant, published

April 8, 2015

.
CONTRIBUTED BY ASHLEY HILL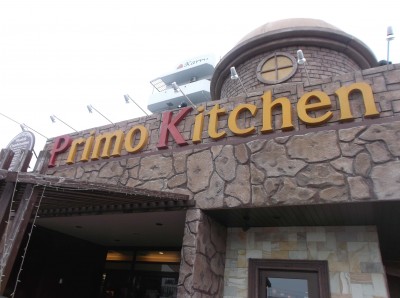 Every time I drive to the veterinary clinic, I always think about two things: what will the enormous structure being built off of 330 end up being and what type of food does 'Primo Kitchen' serve? Last weekend, I decided to put one of these answers to rest. My fiance and I hopped in the car and headed to Primo Kitchen for lunch.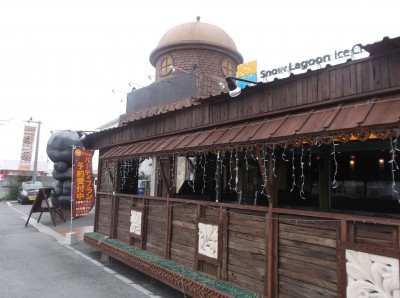 From the onset, the location is quite inviting. They have ample parking, two outside sitting areas, and a sign advertising that they are proud servers of Snow Lagoon Ice Cream. As you enter the building, you feel like you are being transported to a Japanese version of The Olive Garden or another Italian-type restaurant.
The warm, wooden interior, the family-friendly atmosphere, the view into the kitchen, and the chalkboard menu are all very welcoming. There is plenty of seating, making this location great for a date, a family meal, or even a large group event.A hostess brought us to the crowded seating area which had an open-space atmosphere. Although there were many people seated, the noise of the crowd did not feel overwhelming. Two things that we were not too fond of were that the tables for two were rather small and the smell of the fish dishes was rather strong. (With that said, I might be biased in this department, as I am not a fish eater and find the smell rather nauseating.)
However, once we were given the menus, these minor issues quickly dissolved.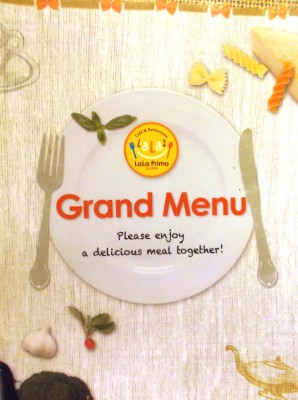 We were astounded at just how
extensive
their menu was. In fact, the number of choices was so vast that it took us much longer than usual to decide on something.
Options include pasta, risotto, hamburgers, curry, steak, fish, pizza, kids meals, a la carte items, coffee, soft drinks, beer, cocktails, wine and parfaits. Most options also come with sub-options! Basically, no matter what you are in the mood for- you can find it at Primo Kitchen.
Again, my distaste for fish and seafood makes me biased against this, but I will mention that one thing I was not fond of is that many dishes included some type of fish or seafood. For example, almost all of the risotto options came with shrimp or something similar.
However, even for a non-seafood eater, there are still plenty of options.When we finally decided what to order, we rang the the beautiful bell on the table. Our waitress quickly came to take our order and then dashed off. Along with the extensive menu, Primo Kitchen also offers a Primo Set which gives you the option to add little extras to your meal for 390 yen. We both decided on this option and were glad to have done so.With the Primo Set you have access to the buffet area which includes salad, soup, drinks, scones and ice cream. The salad bar is extensive and offers soy beans, onions, corn, cabbage, vegetables and a few different dressing options in addition to your typical salad bar features. Iced tea, hot tea and coffee are some of the drink options; and there are a variety of scone flavors, including maple and chocolate. While we awaited our entrees, we happily feasted on the appetizing buffet.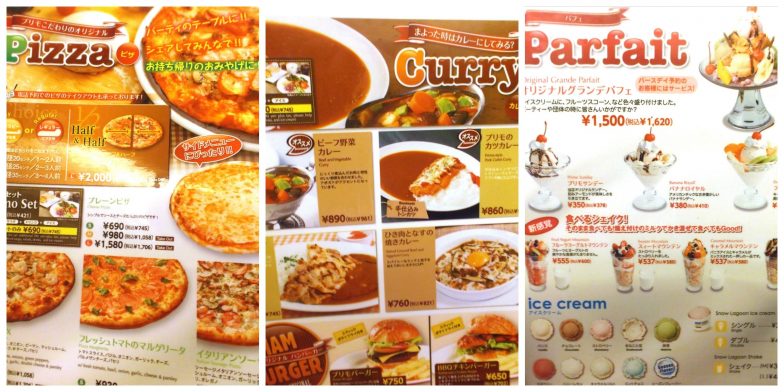 Despite the large number of patrons, our food was prepared quickly. Sooner than we expected, we were presented with two delicious looking dishes. Our eyes did not disappoint. Both of the meals we ordered: the four cheese pizza and garlic chili spaghetti, were incredible. Although the four cheese pizza was incredibly cheesy, it was still quite tasty. The spaghetti had a great blend of garlic and heat, making it difficult not to lick the sauce from the bowl.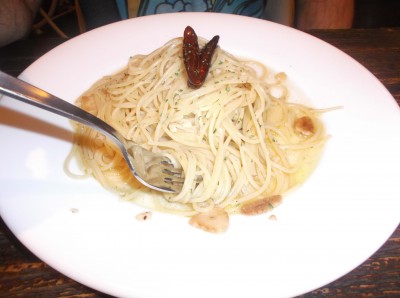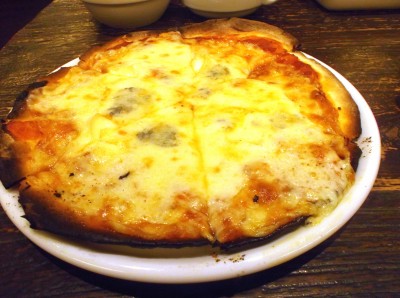 After the meal, although we were quite full, we decided it would be a shame not to take advantage of our last Primo Set option. So, off to the Snow Lagoon Ice Cream bar we headed. There were roughly eight to ten different flavors of ice cream available to try. Paired with another maple scone, it was quite the delectable dessert. Full and satisfied, we finally made our way to pay. It was a very enjoyable Saturday afternoon lunch.
---
Information for the Awase Branch
The Awase branch is only one of several locations that operate in Okinawa. For more information, visit their website: http://primo-kitchen.com/index.html
Hours: 11:00 a.m. – 11:00 p.m. Everyday
Phone: 098-923-0835
Address: 6 Chome-36-7 Hiyagon, Okinawa-shi, Okinawa, 904-2173
GPS Coordinates:  26.3185173, 127.8187714
Directions:
From Kadena Gate 2, head straight out the gate and follow the road until you come to the large intersection beside Koza Music Town
At this light, turn right onto Route 330
Follow 330, just past the Plaza Housing Shopping Center
Turn left at the light onto Route 85. (The large construction site will be on this road.) Continue along 85, over the bridge and through the tunnel
Primo Kitchen will be on your right (Follow 85 to the light to make a u-turn)