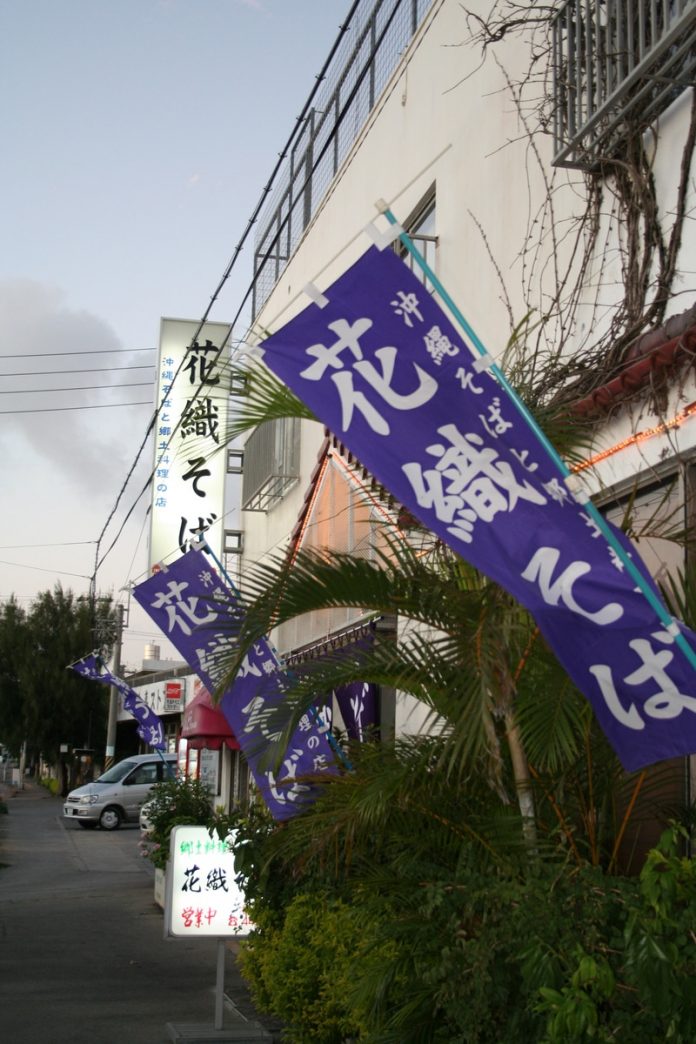 CONTRIBUTED BY KELLYERACE
Some folks are really into soba. I usually do not count myself as one of these people, but my love for things Okinawa has been in overdrive of late so I find myself hankerin' for local fare. I haven't hopped all over the island for the best soba spot though (but I'd love to hear from any of you who have!) In fact for me, the best Okinawa soba I've tasted wasn't even on Okinawa proper, but on Iriomote Island, way down south in the Yaeyamas. I loved it for its perfect simplicity, just noodles, broth, and a tender, savory morsel of pork. I still remember that taste even a year later. The most interesting soba I've had was here on the island, up in Motobu. Interesting because it was actually chicken soba. If you're interested in checking it out, it's off of that little Fukugi Tree road. It's supposed to be a very healthful soba, made from free-range chickens, and sick folks around the island go there for its curative properties. However, sitting in the shop (some guy's house) I had to keep reminding myself of that, because frankly, the hygiene of the place was pretty questionable. But maybe we just went on the wrong day. Or maybe the house was just really old and so it just felt that way.
But onto the soba shop I'm actually posting on. It's one of the first places my husband and I ate at after arriving in Okinawa. It's a pretty famous place, near Torii Station, and if you've driven out to Zanpa, you've probably noticed it because of its many purple banners flying in front and its parking lot and sidewalk full of cars. A crowded restaurant, in my mind, is usually a good thing and when we were there this past Tuesday night, the place was pretty hopping with local families. Sundays seem to be the busiest days though. I recommend stopping by for a good hearty meal after a weekend dive.
The shop (I'm sorry, I was slack on my research and neglected to get its English name) has two stories. The downstairs is half chunky wooden tables/chairs and half worn-in tatami seating. The upstairs is tatami. I think the toilet upstairs is Japanese style. The atmosphere is utilitarian. Go. Sit. Eat. Pay. Don't go to revel in the atmosphere unless your thing is yellowed walls, trophies, TV, and signed placquards from adoring famous visitors. If you are hungry though, you won't be disappointed because the portions here are enormous. In addition to a variety of sobas (Okinawa, yasai (vegetable), yaki, tebichi) you can get cutlets and stir-fry. Stir-fry ginger pork. Stir-fry eggplant. Stir-fry veggies and noodles. Stir-fry everything. Anything over 600yen will come with a bowl of rice, some tofu, and a mini bowl of soba. I don't think any food item cost over 800 yen. I love the stir-fry and definitely recommend the eggplant dish or ginger pork. Everyone I know who's gone here has loved the food. Certainly worth a visit! Below is my ginger pork stir-fry. The very first picture is my husband's "tebichi" (pigs foot) soba.
Hours: 11:00-22:00 (last order 21:30) CLOSED WEDNESDAYS
Phone: 098-958-4479
Address: Yomitan, Namihira 県道6号線
Google Maps Coordinates: 26.397812014430766, 127.72502554271625
Directions: Head north on 58 toward Yomitan. Make a left on Route 6 toward Cape Zanpa. Pass Torii Station and Max Value. The purple soba shop will be on your right, on the right hand side of the road, just after Kitadaichi and a Pizza Shop called Fiore.