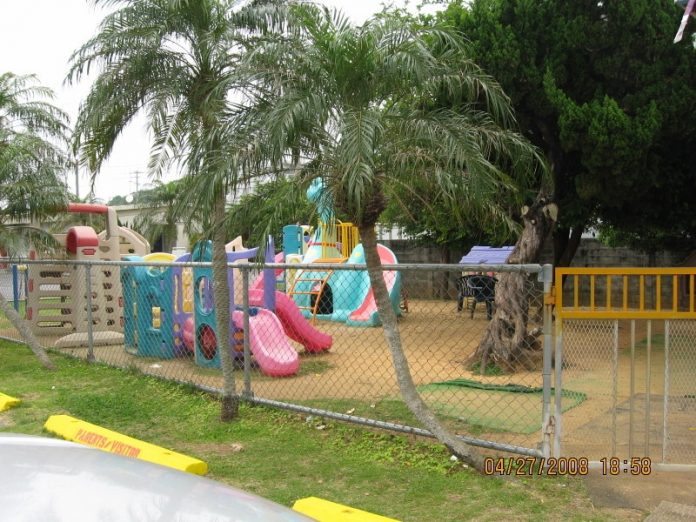 EDITOR'S NOTE: We published a newer review of this school on our site in October 2012, with updated information and price schedules.  As a result we have closed comments on this post and will be continuing our conversation there.  Thank you.
For all you parents looking for a preschool that suits your kids, we're hoping to add a little something to aid in your search. Parents of children who attend various preschools on island have filled out a series of questions about the schools for the benefit of the rest of us. We welcome more than one voice on each school since everyone has a different experience, so please feel free to add in your two cents in the comments.
If your child attends a school that has not been reviewed on this site, please contact our Submissions Manager for the template.
CONTRIBUTED BY HEIDI
Name of the school: Rainbow Montessori Education Center
Address: 272 Aza Sunabe, Chatan-Cho
Phone: 098-936-2060
Website: www.RainbowMontessoriOkinawa.com
Ages Accepted: birth to 6 years
Ages of Your Kid(s) in this School: I have a 5 year old and a 4 year old at the school
Admissions/Enrollment:
What is the maximum number of students that your school has? About 80 to 100
What is the current number of students? Summer sessions have a lower number than the Academic year due to vacations. So right now there are about 70 students
Is enrollment open/year-round enrollment or per semester? yes
Does my child have to be potty-trained to attend? No
Can I bring my child in for a pre-enrollment visit? Yes
Days and hours:
What are the school's hours? 6am to 6pm with the school hours being 9am to 3pm and the rest are extended care hours
Is the school on a Japanese or American schedule? American
How flexible is the school with pickup and drop-off times? Pretty flexible because you can use the extended care for 400 yen per child per hour. If you need it on a regular basis you can be in the extend care club and it is cheaper (I think).
Costs:
What are the registration fees? For the Academic year (2008-2009) New Students – 6000 yen and Continuing Students – 4000yen. This is for the 3-6year old rooms. I think it is cheaper for the younger classrooms
What are the tuition fees? This is for the 3-6 year old rooms for the 08-09 academic year One Time payment (5% discount) – 410,000 or 10 installments of 41000.
If any, what are the assessment and school supplies fees? There is a supply fee of 21000
Are any discounts offered for referrals, siblings, volunteering, working there, etc.? There is a 5% discount for siblings.
Is there a late-pickup fee? There is a late fee for after 6pm of 1000 yen per 15 minutes. (I was told this almost never happens).
How and when does the school require payment (in yen, dollars, etc.)? You are given a payment envelope on the 15th of the month and it is due back by the 20th. Payment is in Yen. No credit cards or check.
Parent Involvement and Interaction:
Does the school encourage spontaneous visits from parents? No because they feel this interrupts the Child's learning time.
How do you communicate with parents? Is there a regular newsletter, or a notice board? There is a monthly newsletter. There is also daily communication with the teachers.
Are there parent/teacher conferences? Yes, they have parent teacher conferences once during the academic year.
Classroom Structure and Size:
How are the kids grouped? Mixed ages / grouped by age? The children are mostly grouped by age.
What's the teacher-child ratio in each group? There are 3 teachers in each classroom with about 25 students in each class except the babies which has 15 students (I think).
How many full-time teachers do you have? How many assistants? All the teachers are full time. Each room has a head teacher with two assistants.
What is the school's educational philosophy? Is the school program developmentally-based or does it have an academic focus? This is a Montessori school.
Is there a playground for the children to play on? Yes, it is right out front.
What do the children do on any given day? What's the general schedule/routine? The schedule is slightly different in each room but here goes: 9am Circle time, Presentation of New Lessons, 10am Working time, 11am outside time, Noon Lunch time, 1pm Story time, Work time, Snack time, 2:30 to 3pm Movement activities and Goodbye Circle. The work time subject changes each day. The subjects include Art and Science, Everyday Living, Geography, Math, Language, Japanese lesson, and Sensorial
Are there extracurricular activities or field trips? Yes, depending on the unit the older two classrooms do go on field trips that relate to the unit. The also take walks to the park near by.
How does the school discipline children? Time out
How does the school comfort children? Lots of hugs and love!!!
Final Comments or Observations about the School:
I have been very happy with this school. My 5 year old has learned so much. He is reading and doing math and writing. I love that the playground is at the school. The teachers are very loving to both of my children. When my middle son started here he was just 3 and not potty trained. The teachers really helped me with this and he was done in a matter of weeks. My boys are always so happy to go to school and just love it here. We also enjoy the many holiday programs the school puts on. My older son will be moving on to kindergarten this next year. The graduation program was wonderful. I just can't say enough praise for this school.
I will add since there was not a question about this. I do have to provide lunch for my children. They do have a refrigerator and microwave for lunches. Also you are asked to provide snack for your Child's class once a month.
Also the school does have birthday parties for the children if you would like. You provide the lunch and cake for the class. The other children bring gifts for your child. This was great since you could just have your Child's party at school with all of his or her friends and then you really don't have to have one at home too!
Also for children under 3 there is a part time option. Once they are 3 they must go 9 to 3 everyday.
This is a great school. Thank you for letting me talk about it!