Ramen 7 麺屋セブン (Hachiren # 2!)
CONTRIBUTED BY CAPTAIN IAN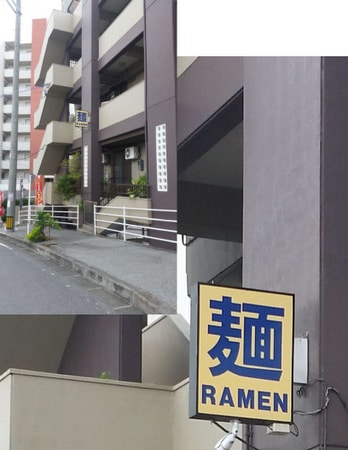 Have any of you been to the ramen shop called Hachiren on 58, just north of Highway 12 on the left-hand side, next door to a scuba shop and a local food market? The one that's been featured on numerous Japanese TV shows, and written about in ramen books around the world?! If you have, then you know it is the absolute best ramen in all of the galaxy! So today, I have great news for you!! He opened another shop!! The universe just smiled at us here on Okinawa, because sometimes the lines at Hachiren can be tremendous…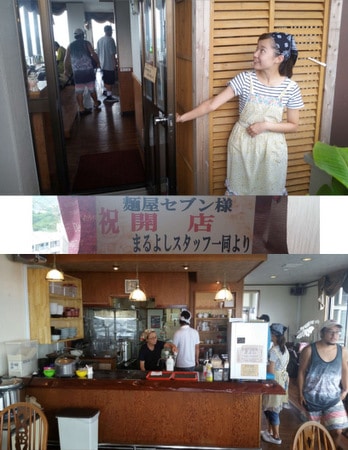 The owner and I have become good friends over the past few years. So when he opened his new shop, naturally I wanted a free lunch! You know, just to test the quality and what not. It's a rough job, but somebody's gotta do it. Fortunately, the ramen and vegetables were spot on in taste, proportion, and quality. It felt like I was eating Hachiren, but with a world class spectacular view, as opposed to the small eating spaces in his first shop. And you still order from a machine here too.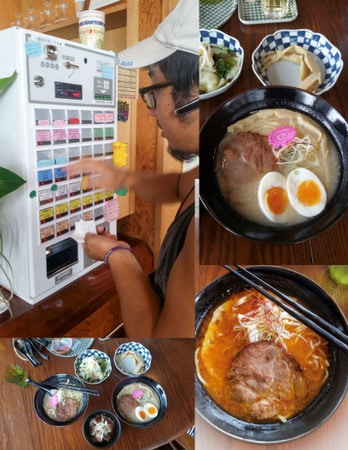 Speaking of the view, the photos in this article DO NOT give it justice! The view is truly remarkable! Ramen 7 is in the Uehara township of Nishihara, on the third floor of a building that is already perched atop a high hill in the heavens. It's the type of restaurant I would go to just for the view, even if the food was subpar. But the food is out of this world delicious. Even the parking area has a great view!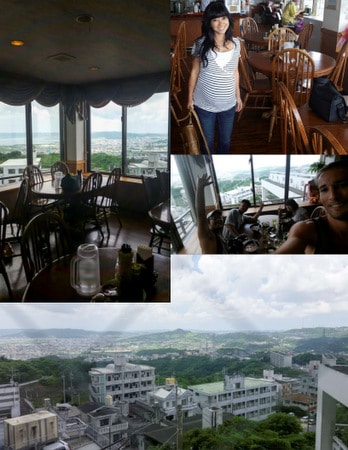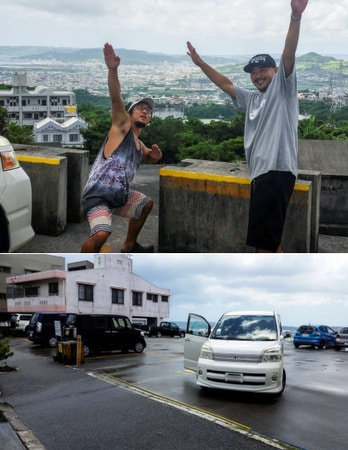 There really isn't much more to be said. The food speaks for itself! This is Okinawa's # 1 ramen! You will be very happy if you decide to take the time and visit Ramen 7.
---
Ramen 7
Hours:
Lunch 11:30am – 3:00pm
Dinner 5:00pm until 8:30pm; closes at 9pm
(Closed on Saturday and Sunday as of August 2006. When he gets more staff, he will open on the weekend.)
Address: 〒903-0125 Okinawa Prefecture, Nakagami District, Nishihara, Uehara サンコーポラス西原2 260-
GPS Coordinates:

Directions: Exit Kadena gate 1, go left onto 58. Head towards Foster. Make a left on 130 (Just as Foster base begins). Make right at the T onto highway 330. Make a left onto 81 (directly out of the legion gate and Sam's Café). Go Right onto highway 29 (towards expressway on ramp #3) Do not get on the expressway. Keep straight on 29 for a while. Just after highway 34 (at the second light after) make a right onto highway 29 again (towards Ryukyu University Hospital). You will see a Tomute bookstore on the corner. Then make your first Left. Look for the small blue and yellow ramen sign on your left as you head up the hill. It's on the third floor. Pull past it until you see a big parking lot with yellow lines on your left. Park there.