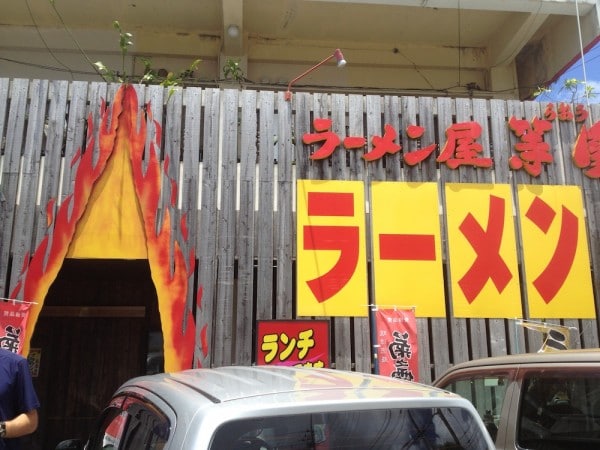 CONTRIBUTED BY TRISH KAPRIELIAN
My husband's coworker told us about this place, so we met him for lunch one Saturday. It's my husband's coworker's favorite place for ramen and I love ramen! I asked my husband what's the name- and he didn't know. Once we got there, I noticed a flame around the entrance, so I call it "Flame Ramen."
We arrived before the friend did and sat down at a table. You have to take your shoes off, but they hang below the table, so there's plenty of leg room! They have menus in Japanese at the table, but brought us English menus right away. There was a lot to choose from and I noticed four types of ramen: salt, miso, spicy miso, and pork.
If you're not into ramen, that's okay because they also have steak, chicken, noodles, and fried rice. I also like the fact that the menu has lots of pictures and I noticed a kids menu.
We all got the set. WARNING: food overload! We also ordered a side of spicy potatoes and taco rolls. Taco rolls are like egg rolls, but with ground beef and cheese in it.
I picked miso, my husband picked pork and our friend went with spicy miso.  The sets come with rice, ramen, gyoza, salad and fried shrimp.
Overall, it wasn't bad.  It reminded me of Tan Tan Man across from the old USNH hospital (near Camp Lester), so kind of a Chinese flare to me. Also, probably the biggest bang for my buck in terms of the amount of food you get for the price. I thought the pork ramen was the best, in my opinion. If you're in the Courtney area, I suggest stopping by for a bowl of ramen or other yummy treats!
Hours: 11:00 a.m. – 5:00 a.m.
Payment: Yen only
Phone: 098-974-1113
Address: 904-2245 Uruma, 255-15, Akamichi
Directions: From Foster- Turn Left out the legion gate and go up 330 until it turns into 75. Keep heading towards camp Courtney on 75. You'll see it on the left hand side of the street by the intersection