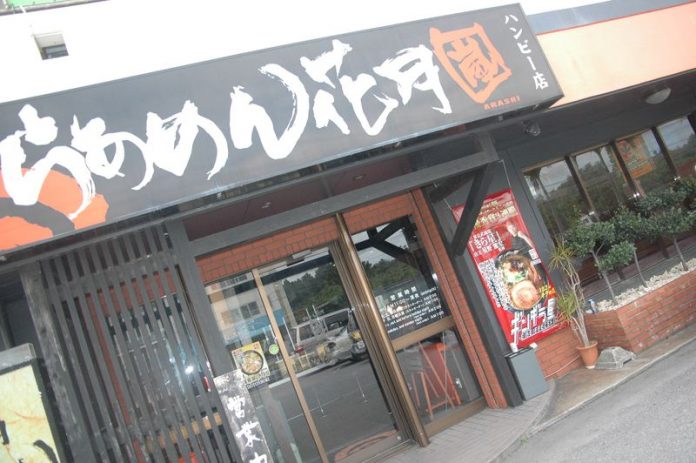 CONTRIBUTED BY LARISSA TRAQUAIR
I know I have said this before but I love eating out in Okinawa – it makes me feel like my life is so interesting.  I asked the hubs recently, "Will our lives be this interesting when we return to the states?"   And to this he says "Is our life interesting now?"  The urge to strangle him grew, as it always does, when he answers me like this.  To this I say "Yes, it is!" and I continue to offer evidence to my argument – we were eating chicken at Kentucky Fried Chicken off-base.

Back to my point – eating out in Okinawa is always entertaining and usually yummy.  Stir in your first time eating at Ramen Kagetsu Arashi with friends and you have a recipe for a great meal.  This was my first experience at what I like to call a "Ticket Restaurant" – you make your food choice by inserting Yen, pressing a button from the choices on the machine, and then sit at a table to wait for your food.  Why do you think they do this?  I have no clue, but it sure is fun to order your food like you select a soda – yet another interesting aspect of life on Okinawa.
So, ordering is that simple:  You check out all the choices on the machine, pictures included, or check out the enlarged menu looking sign near the machine.  There really isn't much of an explanation to any of the items.  This is the kind of place where it is assumed that you know what you are doing or you have come with a friend who knows what they are doing.  Remember, I said life is interesting here.  Then you take the ticket that the machine "spits" out to the counter to hand it to an employee.  Then find yourself a comfy table to sit at and wait for your waiter or waitress to come to you.

If you are looking for fried rice that is garlic-yuminess then this restaurant should be your next stop.  If you are looking for good gyoza or a million choices of Okinawa Soba or want to try a place near base then this should be on your list of must-eats!!

I have only eaten here twice and I've ordered the same thing twice.  I may not be Okinawa's expert fried rice taster but I have eaten my fair share and this tops the list.  And if eating great food isn't enough for you than the fact that your rice comes on a sizzling iron skillet-type plate that you have to finish mixing may just be the ticket!    This dish is called Teppan Rice (New style of Fried Rice) and if you are not a fan of garlic you can say "NO" when they ask you if you want garlic added – I love having options!  And at Y500 this experience is a deal.  I believe you are getting at least two servings on this skillet so you can take half of it home though I have finished my meal both times – ugh!
When you come really hungry you can order gyoza for Y300 and enjoy it with an endless supply of sauce located on your table.  And if you are anything like me and my friends you will enjoy easy access to your own pitcher of water to wash down all that wonderfully sodium-laden food.
For those who don't think rice is a meal in itself or it's not your favorite then try one of their many choices of Okinawa soba ranging from Y620-Y820.  Since I order the same thing whenever I return to a new favorite eatery I have to rely on friends to tell me what the other foods are like.  I have heard, on good authority, that the Golden soba, with a creamy base, is fabulous.  Another option is the Douton Bori Ramen with sweet pork and soy sauce.  As I said, the options are endless.
My biggest recommendation is to arrive early for lunch since this place is very popular with the non-Japanese population and at one point there was standing room only!  Who can argue with that kind of popularity?  Happy Eating!!!!

---
Ramen Kagetsu Arashi
Payment:  This restaurant takes Yen only.
Hours:  They are open 7 days a week from 11 a.m. until midnight.
Location:  2 Chome-1-4 Chatan
Google Maps Coordinates: 26.3052119, 127.7625253
Directions:  Ramen Kagetsu Arashi is located between Camp Lester and Kadena Air Base Gate 1 on 58 next to Obligatos Mexican Restaurant and Kababs and across from Fadtech.  If you get to the Goodwill sign then you have passed it.  Traveling South, on 58, from Kadena Gate 1 the restaurant will be on your right.  You will pass both Obligatos and the Kabab restaurant and then you'll see the ramen place.  The challenge is that you can't turn in here; you'll need to head to the next light and make a u-turn or take the back street, the one that takes you to Ona Kau Kau.
They offer parking in both the front of the restaurant and behind it.  If you want to park in the back then take a left out Gate 1 of Kadena.  Turn right at the 2nd light (where the Sega store use to be). Make your very next left.  Follow down the street a ways until you pass Ono Kau Kau on your left.  At the first small street that does not go all the way through make a left and then you'll be forced to make a right.  The restaurant is on your left and there are a few spots to park here or you can drive through to the front and park there as well.