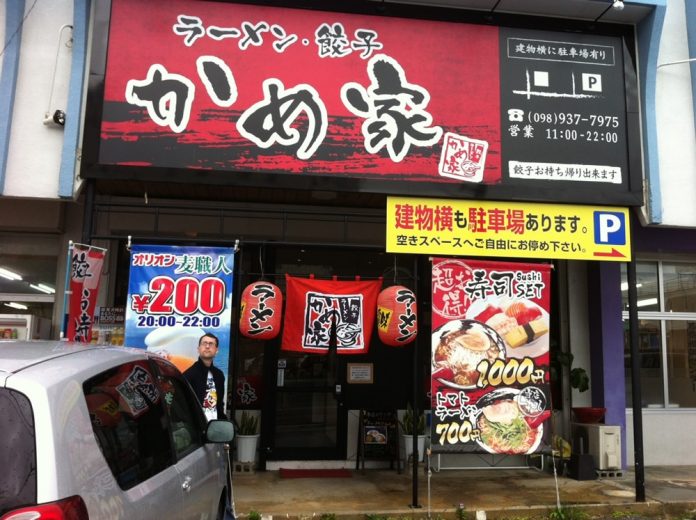 CONTRIBUTED BY MELISSA RUISZ NAZARIO
Throughout college, ramen meant a brick of hard, cardboard-like noodles and a silver packet of powder "seasoning." Thanks to living in Okinawa, I've since discovered "real," authentic ramen, with freshly made noodles,tasty broth, veggies (that haven't been dehydrated) and meat. From there, it was pretty easy to graduate to the many yummy variations on island. Ramen Kameya, located near Kadena Air Base at the intersection of 85 (the street Yellow Box and Main City Mall are on) and 329, is a newer ramen shop that features tomato ramen, a delicious tomato-based broth with the regular fixings of noodles, pork, and onions, plus tiny garlic chips, chunks of tomato and (unidentifiable) greens. It's served with a small can of powdered parmesan cheese-what you'd normally sprinkle on pasta. The tomato ramen isn't at all like canned tomato soup-its flavor is subtle with the tiniest hint of spice, and is especially good to eat on a cool, rainy day.
I'd recommend trying the tomato ramen in one of their sets, which currenly start at 850 yen. I especially like the gyoza set or the sushi set. The gyoza set includes six dumplings, which are filled with vegetables, and have a distinct oniony flavor.
The sushi set comes with seven pieces of nigiri, including salmon, shrimp, tamago (sweet egg), and a few others. They even put the wasabi paste on the side for us instead of between the fish and the rice. Japanese curry and fried rice sets are also available.
Because the tomato ramen is Kameya's signature dish, they do charge an extra 100 yen if you order it in one of their sets, but it's totally worth it. And, while they do offer takeout, at this point you can't get any of their ramen soups to go—just fried rice, gyoza, and curry.
Directions: From Kadena Gate 2 or further south: Take Highway 23 (the first left out of Kadena Gate 2) toward Gate 3. After about 5 or 6 lights, make a right onto 85—there is a white walking bridge, a car dealership with a clown, and a Suzuki motorcycle shop at the intersection. The third light (just past the Okinawa City Fire Station on the left) is 329; Ramen Kameya is on the left corner. Make a left, and Ramen Kameya is in the plaza on the left with the big red sign.
Address: 24-10, Misato 5-Chome Okinawa, Japan 904-2153
Hours: 11:00 am – 10:00 pm
Phone:  098-937-7975
Payment: Yen only