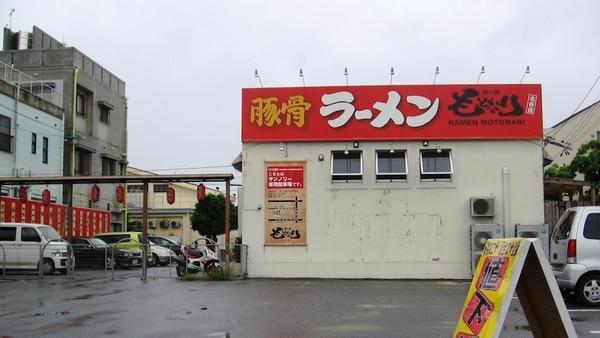 CONTRIBUTED BY SARAH FORTE
Here is a fun Okinawan game! Match the noodle names to the descriptions below. (The answers are at the end of the article.)
A. Ramen ラーメン
B. Tsukemen つけ麺
C. Soba そば
D. Udon うどん
1. This kind of noodle literally means "dipping noodles." Noodles are served with dipping soup and toppings on the side. They are thicker and a bit chewier than traditional ramen.
2. On mainland Japan this noodle is made only with buckwheat. Okinawa received special pardon in 1978 to have the Okinawan regular wheat version of this noodle included under this title. Okinawa ____ day is celebrated on October 17 in honor of this noodle and it's inclusion in Japanese culture.
3. These are the thickest and chewiest of the Japanese noodles. They, like other noodles, can be served hot or cold. One of the most familiar toppings for these noodles is tempura.
4. Please don't think of cheap college dorm food! These thin wheat noodles are served in broth and with a variety of toppings, everything from seaweed to pork.
Mmmm, are you hungry for noodles yet? Noodles of all kinds are definitely a Japanese staple. Hot or cold; flavored with pork, miso, or dashi; in soup, with sauce or stir-fried like yakisoba; stick around Japan and you will definitely find your share of Japan's oodles of noodles.

Motonari exterior 1
If you are looking for a great place to try both ramen and tsukemen types of noodles, along with some other Japanese favorites look no further than Ramen Motonari. Visible from highway 58 near American Village, some of you have probably already driven past this restaurant and might not know what you are missing.

Motonari exterior 2

Motonari interior 2
Ramen Motonari is a very easy place to come and have a bowl of hot noodles on a rainy day or a bowl of cool noodles on a hot and humid day. The atmosphere is welcoming and inviting if you are comfortable with Japanese style dining or are just starting to explore restaurants in Okinawa.
The menu (see photos below) at Ramen Motonari is simple and very informative. The first page is all about the namesake of the restaurant: tonkotsu ramen. Tonkotsu means that the broth is flavored with pork. Next up is a menu page featuring tsukemen, or the thicker dipping noodles. Both types of noodles come in various flavors, sizes and with different toppings. There are two tasty appetizer options: gyoza and fried chicken pieces. Drink options include water, soft drinks, draft and bottled beer.

Motonari Gyoza
One page of the menu has nothing to do with what you can order and everything to do with what is already on the table when you sit down. I loved this page explaining all the condiment options that are available. From yan-nin-jyan (Korean hot soy sauce), gyoza dipping sauce, vinegar and beyond, the page explains each condiment and how it compliments different parts of the meal. Motonari even offers whole cloves of peeled garlic and garlic presses at each setting so you can press out as much (or as little) as you'd like.

Motonari condiments
When my husband and I visited we tried a little of everything. We sampled the gyoza (250¥ for five pieces) and fried chicken (300¥ for the small size) appetizers. Both were delicious! The gyoza were smaller, rounder cousins of the traditional crescent-shaped gyoza. They were soft boiled with one crispy fried side. Delish! The fried chicken pieces were bite-sized and moist. We ordered the small size and could have made a meal of these alone.

Motonari tsukemen
For the main course, I ordered the tsukemen noodles with Karamiso (spicy) soup (750 ¥ for the medium). My husband had the Niku Motanari (described in the menu as "pork flavored ramen with extra meat toppings – 800 ¥). Both of our noodle dishes lived up to the expectations – and then some. The portions were huge! We both decided we could have gone home more than satisfied with the small portions.

Motanari Niku
Ramen Motanari is very kid friendly! There are high chairs for the little ones and children 6 and under receive a free bowl of ramen. The staff spoke enough English to make the experience comfortable and the English menu was great.

Motonari interior 3
Hours: 11:00 a.m – 2:00 a.m. Monday –Saturday. 11:00 a.m. – midnight on Sunday.
Phone: 098-936-9387
Payment: Yen only
Directions: Note: Although visible from 58, Motonari Ramen's parking can only be accessed from the one way road behind the restaurant.
From Kadena and points north on 58: Turn south on to 58. Take a right at the Eneos gas station (Ihei Intersection). Turn left onto the one way alley/street before the Family Mart. Proceed slowly and you will see the parking lot and Motonari Ramen on your left.
From Foster and points south on 58: Turn north on 58. Pass the American Village intersection. You will see Motonari Ramen on your left, next to the Sannory fishing store (Motonari has the line of red lanterns. The fishing store looks like a giant boat.) Take a left at the next light (Ihei Intersection). Turn left onto the one way alley/street before the Family Mart. Proceed slowly and you will see the parking lot and Motonari Ramen on your left.
Answer Key: A=4; B=1; C=2; D=3
Menus:  Click to enlarge

Motonari Menu 1


Motonari Menu2


Motonari Menu3

Motonari Menu4
Motonari Menu5

Motonari Menu6 parking
This post was featured in Stripes Okinawa!