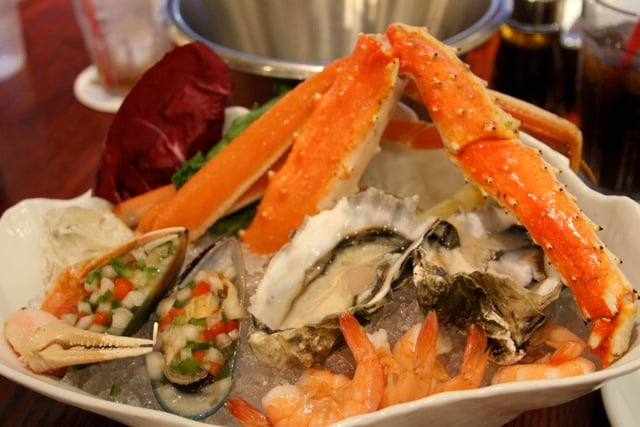 CONTRIBUTED BY JESSICA TIUSECO

Red Lobster Exterior

Let me start this off by saying that I have never been to a Red Lobster in the states, in fact my consumption of sea food was pretty limited until I came to Okinawa four years ago.
We found ourselves exploring around Naha after the Tug of War ended, and just so happened to stop right in front of the Red Lobster. Curious we parked in a nearby lot and walked right in. Upon entering you will pass by the bar and a few booths, the hostess will ask where you would like to be seated. You have a choice between a table, a booth or the seating outdoors.

Red Lobster Shrimp
The menu has a wide range of items, for every budget and appetite. We opted for a light lunch and ordered a sampler along with some side items. I ordered the popcorn shrimp, my husband ordered the clam chowder and we split the ultimate platter that consisted of crab legs, oysters and mussels.

Red Lobsters
The oysters were just as I had remembered and a lot better than the ones I've had at other places on island, the soy sauce they included along with the cocktail sauce was a nice change. I ended up preferring it to the cocktail sauce. My husband enjoyed the mussels but we did scrape off the salsa like topping. Another variation was that the crab legs didn't come with butter sauce, but the soy sauce worked out beautifully.

Red Lobster Food
I'm not sure if the service took longer because they were so busy or if they were still working out the kinks from the grand opening. In the end everything was straightened out and we left satisfied, though my husband did regret not opting for the bread bowl for his clam chowder.
Map:  Located at the north end of Kokusai Dori

Red Lobster Map

Red Lobster hours
Hours: 11:00 – 23:00 (Last Order: 22:00)
Phone: 098-943-4975
Payment: Yen & they accept all major credit cards
Red Lobster Japan: http://www.redlobster.jp/index.html
Parking:  I found out later from a Japan Update article that there is reserved parking behind the restaurant where you can park for 2 hours at no charge.