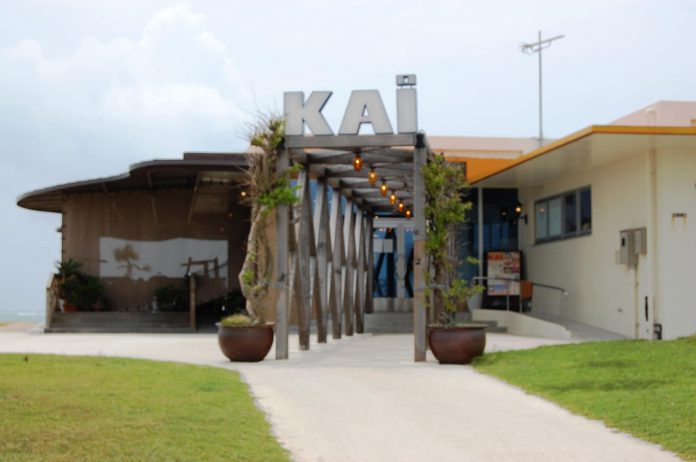 CONTRIBUTED BY ANTHONY CAMINA
KAI Cafe is conveniently located in Toyosaki Comprehensive Park (near Ashibanaa Outlet Mall) which means parking is a breeze compared to other places on the island. The atmosphere in the Café is exquisite and artful. Crystal chandeliers sparkle as they refract the multitude of light sources thoughtfully dispersed around the dining room.
For a moment upon entering one might take pause as a place so elegant would sit in the middle of a recreational park. The seating is also interesting and ranges from circular booths to traditional tables to leather couches under teak tables.
The food at Café KAI is primarily Western or European themed with a few local twists thrown in for good measure. Most wary American clientele will find safety in the excellent KAI burger sets, freshly made pizzas, or pasta meals.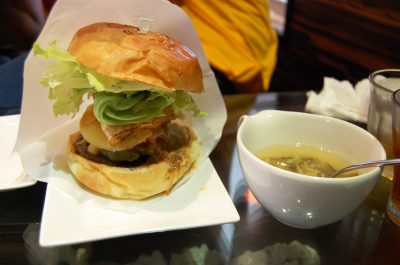 These American-style meals are thoughtfully prepared and range from 800-1200 yen. There are a variety of salads, appetizers, drinks, and desserts with English descriptions and pictures to aid in ease of ordering. If you go at lunch time you can get the lunch specials that range from a selection of four entrée's ( beef, pasta, curry rice or fish on the day of this review) which come with unlimited trips to the drink, soup, salad, and dessert bar. The lunch specials range from 1600 yen to 1300 yen.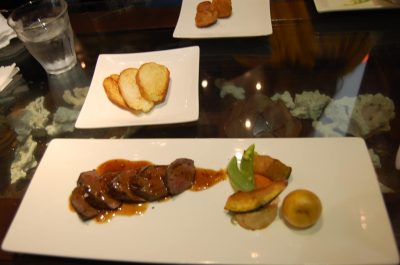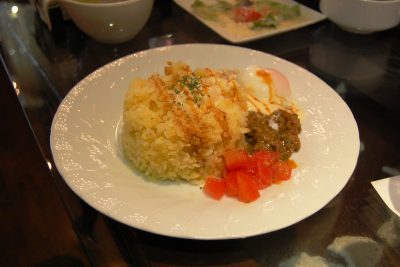 Of final note, patio-style seating is available outside the main dining room, where several guests with pets were seated. Seeing people take their pets to dinner was different and no, these were not service animals.
Directions: Head south through NAHA on highway 58 towards the airport. The 58 will turn into the 331; just keep driving straight towards the airport.  After passing the airport, be mindful of the white traffic signs above the road which direct you toward Ashibana Outlet Mall. The signs will have you turn right on the 331 at the Senaga Island intersection. Within a few minutes you will be in Toyosaki and will see Ashibana Outlet mall on the left. Exit just like you are going to Ashibana mall but when approaching the stoplight get in the right lane instead of the left. Turn right and drive toward the ocean for about a kilometer. You will drive straight into Toyosaki Comprehensive Park's parking lot.
Payment: Café KAI accepts Yen, Visa, MasterCard, and American Express.
Hours: 11:00 a.m. – 9:30 p.m., Closed Wednesdays.
Website: Café KAI
Google Coordinates: 26° 9'19.41″N    127°38'56.50″E
Address: 5-1 Toyosaki, Tomigusuku, Okinawa Prefecture 901-0225
Phone: 098-840-6333