Contributed by Meredith Nye
Coffee time @ R&R
Anyone who knows and appreciates coffee, knows that illy is some of the best out there and that's what Rest and Relax cafe serves. It had been awhile since I was able to enjoy a good cup of illy coffee so I decided on an iced vanilla latte. It was easily one of the best I have had on the island. Next time I will be trying out the Italian Peach Tea or the Maple Latte.
Food
For food, we ordered the chicken and avocado panini, the BLT (bacon, lettuce and tomato) panini, as well as a pepperoni pizza. The paninis are served with a lunch set, including a drink, salad and the soup of the day. The day we went the soup was clam chowder and it was absolutely delicious. Many different soups, ranging from vegetable to clam chowder to minestrone, are served and are typically changed out daily. The salad was the perfect size, served with a yummy Japanese dressing. Both sandwiches were flavorful and a decent size for a lunch or early dinner serving. We walked away full, but not overly so. The pizza had a great flavor to it, and was more than enough for my son to eat and share. The menu also includes 2-3 pasta dishes that are changed weekly, so there is always something new to try. The pasta is Weston's favorite item on the menu, so you know that a lot of thought and preparation goes into each hearty dish.
Desserts
After dinner we decided to try out their specialty dessert, Affogato. This dish is vanilla ice cream with espresso poured over top and trust me when I say that this is something you're definitely need to try. It was flavorful and perfect for a hot day. They also offer a few flavors of gelato, shaved ice and a kiddie portion of vanilla ice cream. The beer cooler is fully stocked with specialty beers as well as the Okinawan favorite, Orion
Location
R&R Cafe is conveniently located in Uruma, very close to Courtney and a short drive from Kadena Air Base. There are 8 parking spots right next to the building and plenty of signage, making it easy to spot. Looking for a space to rent for your next small outing? R&R rents the space out during the evening for a small fee, give them a call or contact them on Facebook for more information. Another huge bonus is that they offer Take Out! Everything from the soup, to the pizza, to the drinks can be ordered To Go.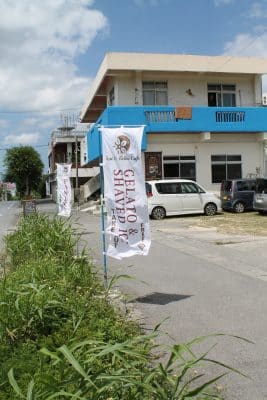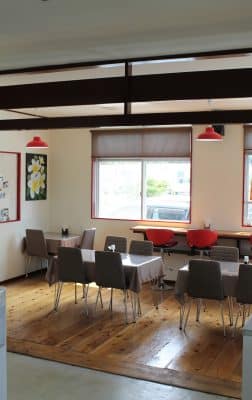 Any Occasion
R & R would be the perfect place to visit if you are looking for a quiet place to grab a coffee and get some work done. They offer free WIFI and many plugs for the customers to charge their electronics. Originally thinking of his own little family, Weston added a play area to the cafe where his son could hang out during the day. Now, the play area attracts kids who are out to eat with their parents, wanting a fun and safe place to crawl around, all while eating at the Japanese style table. There is a bumbo with a tray for the little kids to use which was both convenient and comfortable for my littlest. My son really enjoyed the book wall, featuring both American and Japanese books for the kiddos to read. In the adjoining room there are plenty of tables ranging in size and even a small area featuring locally made goods for sale.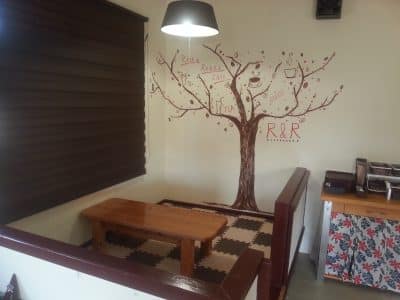 One thing I love about living on Okinawa is that there are ample opportunities to support local. But, when I have the opportunity to not only support local, but also a fellow American, who can cook amazing dishes, it is a win win! The owner, Weston, is an Army veteran who now lives on Okinawa with his growing family. Weston opened R&R about a year and a half ago, hoping to attract both Americans and Japanese to enjoy a cup of coffee. Many of his regulars were requesting food items so he began adding to the menu. He now has a cozy, family friendly cafe serving not only specialty coffee, but a wide range of Italian inspired dishes, made with ingredients from right here on the island.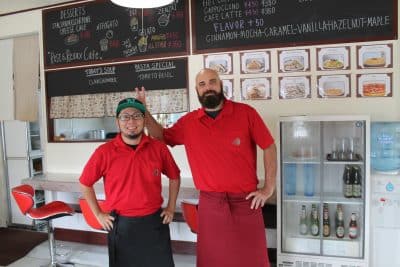 All in all I think the Rest and Relax Cafe is the perfect place to not only spend a Saturday afternoon with the family, but also to hang out and enjoy great company and food. Weston has done an amazing job creating a cafe that specializes in yummy food, great coffee and an inviting environment!
Monday – Saturday 11am – 6pm
Sunday Closed
2996-1 Gushikawa Uruma City
Okinawa Japan 904-2223
080-9103-8996
Dollars, Yen, and all major credit cards