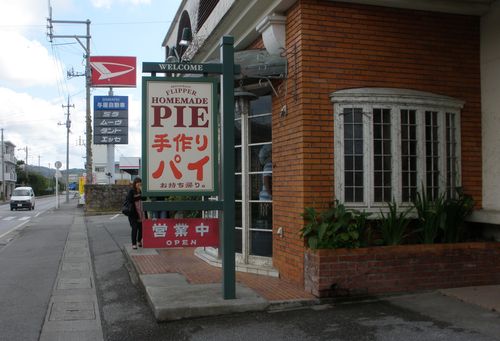 CONTRIBUTED BY MEGAN PARKER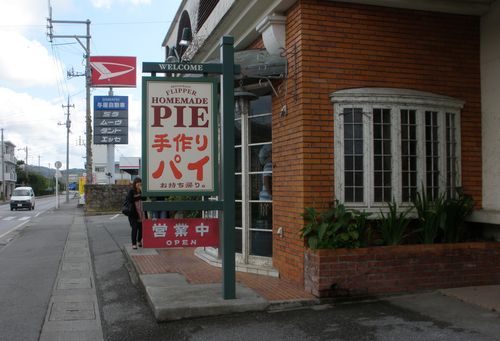 While venturing up north to Nago, I have often seen Restaurant Flipper and wondered about its sign boasting "Homemade Pie."  After all, who doesn't enjoy homemade pie?  Visions of mom's apple pie have been dancing in my head for well over a year now, and I finally got the chance to try out this lovely little restaurant one afternoon, pie and all.
Restaurant Flipper sits right along the Bay of Nago.  So close, in fact, that you can climb four stairs, follow a short path, and in just a few meters be able to stick your toes in the sand and water!  We enjoyed hanging out there for a few minutes, letting the kids run off some steam after the car ride, before heading into the restaurant.  Had it been sunset, the view from the restaurant would have been unbelievable!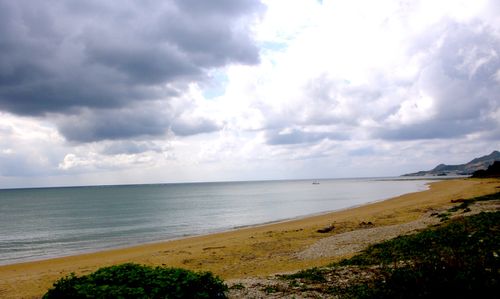 Our hostess seated us at a table looking out at the water, which we enjoyed.  It was lunchtime on a Monday, and the restaurant was busy with the hustle and bustle of a sizable lunchtime crowd.  Our waiter spoke a fair amount of English and we were greeted with a menu written in English, consisting of lobster and various lobster combinations (hamburger steak, fish of the day, etc.).  All four adults opted for the lobster/hamburger steak combination, although the portion was large enough for me to share with my mom.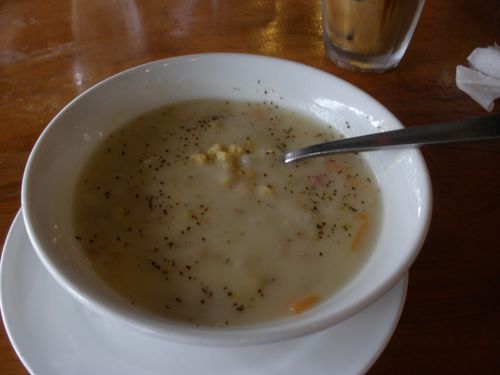 The meal began with bowl of soup as a starter that, in my opinion, was so delicious that it was the highlight of the meal.  The entrée itself consisted of a small cabbage salad, a serving of spaghetti, Japanese-style french fries (that's steak fries to us Americans), a few pieces of broccoli and, of course, the half-lobster and hamburger steak.  (It is worth noting that the lobster is, of course, the Japanese-style lobster as opposed to the "Maine" lobster that we are accustomed to being from the States.)  The hamburger steak reminded me of Salisbury steak with a slice of cheese and a light gravy.  The food was plentiful, matching its rather steep lunchtime price tag of around ¥3,000 per meal, and also included three small shortbread-like cookies.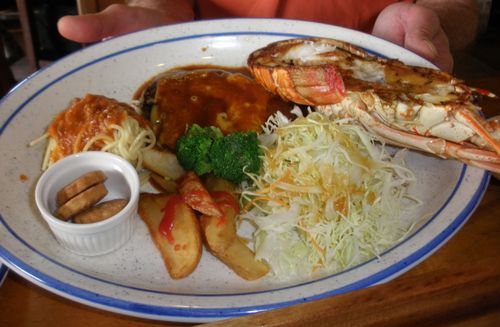 There were other menu options offered, like sirloin steak, fish, or hamburger steak (without the lobster) if you are looking for a more affordable meal.  We also ordered the kids' set for my son, who enjoyed the great variety served on his lunch platter that we have grown accustomed to in Japan.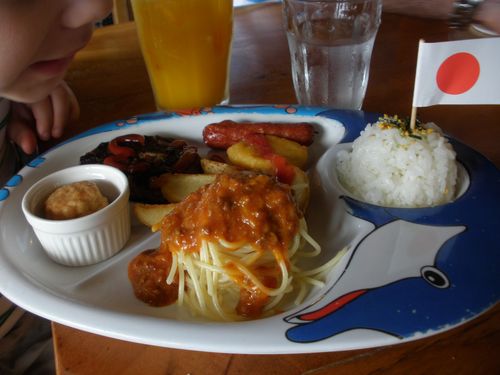 Finally, dessert was upon us and we were able to partake in the much-anticipated homemade pie!  Imagine my surprise, however, when we were shown to the front of the store to partake in our choice of an apple, blueberry, chocolate, or custard creation that more closely resembled an American pastry than a pie!  Although delicious (at only ¥52 each, we sampled each one!), I'm not sure why, after nearly a year and a half on this island, I haven't quite adjusted my way of thinking and expectations.  Perhaps it was because it was advertised in English that I expected it to be "real" honest-to-goodness pie, but nevertheless the pastries were a tasty treat that topped off our meal nicely.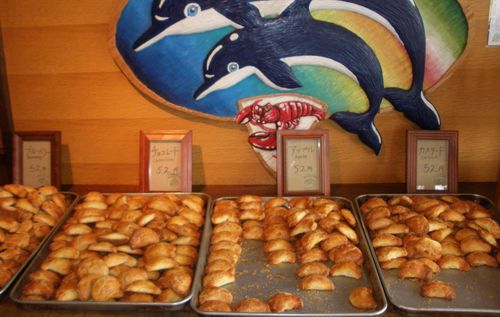 Payment:  Yen or USD. No credit cards accepted.
Hours: 10:30~22:00, closed Wednesdays
Phone: 0980-52-5678
Directions:  Take the expressway North until it ends.  After exiting the expressway, take 58 North, following along the coast.  Continue on 58 past the 329 intersection into Nago.  When the road splits (for the Nago bypass, which is on the right), stay left and follow the coast.  Restaurant Flipper will be about two-thirds or three-quarters of a kilometer on the left-hand side of the road.  There is ample parking available.