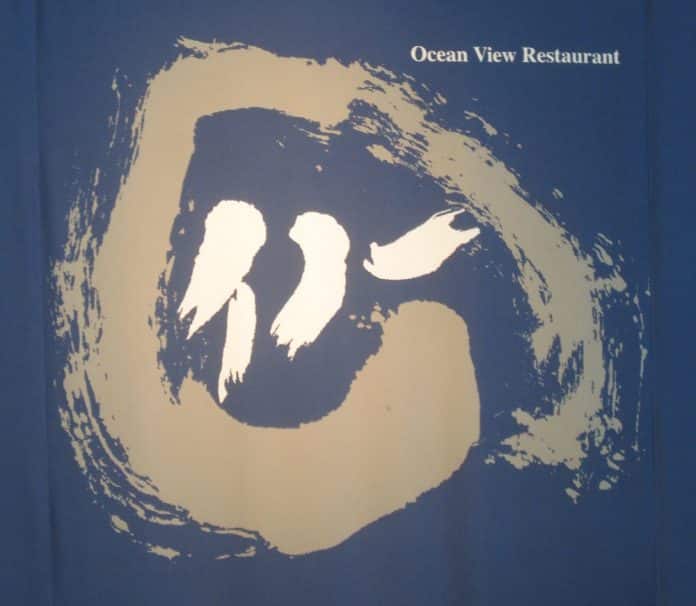 CONTRIBUTED BY MONETTE EAMES

Ocean View Sign
Usually, whenever we go to touristy places, forking out a bunch of money for mediocre food comes with being a tourist. You know, that $5 hot dog, the $3 bottle of water. But this place breaks the preconceived notions about tourist trap food. The Ocean View Restaurant at the Okinawa Chaurami Aquarium offers a great, delicious buffet with a million-dollar view for a great price. Not only that, if you have an aquarium yearly pass, you get 10% off the cost of your meal. You'll fall in love with the view at first sight the moment you sit down.

Ocean View
Although the set up for the meals and drinks may remind you of some type of cafeteria setting, maybe even a chow hall, the food quality and taste, as well as the spectacular view will make you forget about all of that. If you sit right by the huge windows, you will see that the view looks over the East China Sea, with its deep blue—majestic and mystifying. You can see out to Ie Shima Island, and see the beautiful beaches and coast. You'll hear the clinging of glasses and silverware, even some murmuring, but they become white noise once you immerse yourself into the view and the food.

Ocean View 2
Buffet choices include fish, seafood pasta, vegetarian curry, soup, salad, drinks, desserts, breads, wieners, individual cups of ice cream in mango, vanilla, benimo, and lime and there's all you can drink. The food is great, with something for everyone. Our kids absolutely love this place because they really love the food, the view and especially the ice cream!
Prices:  Lunch Buffet — Y1260 adults, Y750 Elementary school students, Y500 Child (3-5 years old),  Y1000 Senior (age 65 or older)
Hours:
9:00-11:00 Breakfast (Last Call at 10:45)
11:30- 3:30 Lunch Buffet (Last Call at 3:00)
3:30-5:30 Ala Carte (Last Call at 5:00)
Phone: 0980-48-3140
Payment: Credit card, Yen