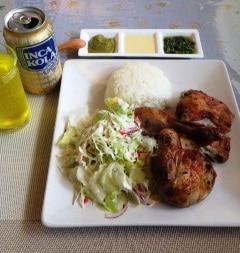 Editor's Note: Restaurant Salsa is in the same location as the restaurant formerly known as La Tejadita Ichiban. Thanks to Alissa for sending us this update!
CONTRIBUTED BY ALISSA FRAZIER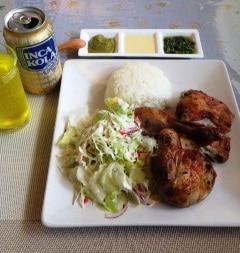 My family and I like this place, so we want to share our thoughts with you about Salsa.
Salsa has many new additions to their menu. Now they serve juicy local roast chicken and other Peruvian foods.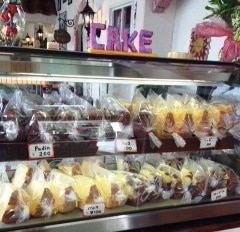 We have tried a few of the new choices, including the coriander pilaf. This came with homemade salsa that went extremely well with the pilaf.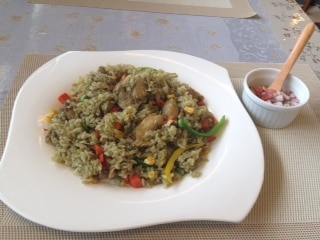 We also tried the lomo saltado which contains beef sautéed with onions, tomatoes and fried potatoes, and for flavor they added vinegar and soy sauce. Once we tried it, we couldn't stop!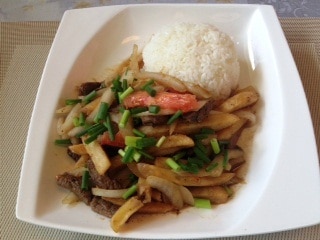 The chicken they use is fresh, local chicken. They make their chicken very juicy and use original Peruvian spices. They also have a few side orders such as french fries and fried chicken.
In addition, they serve some famous drinks from Peru. The photo below is called Chicha it is made from purple corn.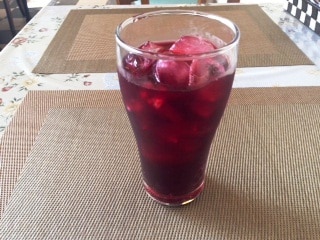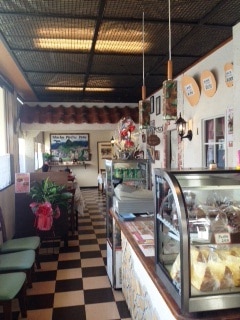 Directions: From Gate 3 of Kadena Air Base, turn right to get on route 74 to Ikento east, then turn left to route 85 at the Misato intersection. Then turn right on route 329. From there, Salsa is on the left about 100-150 meters down.
Hours: Thursday-Tuesday 11:30a.m. – 9:00 p.m. (last order 8:30 p.m.) Closed on Wednesday.  Lunch is served until 2:30 p.m. and the set includes soup, drink, and dessert for ¥900
Payment: Yen only (no credit)
Phone: 098-938-6950