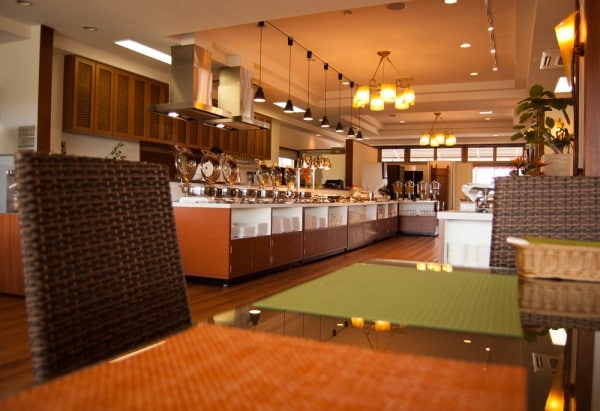 CONTRIBUTED BY JENNIFER MARTINEZ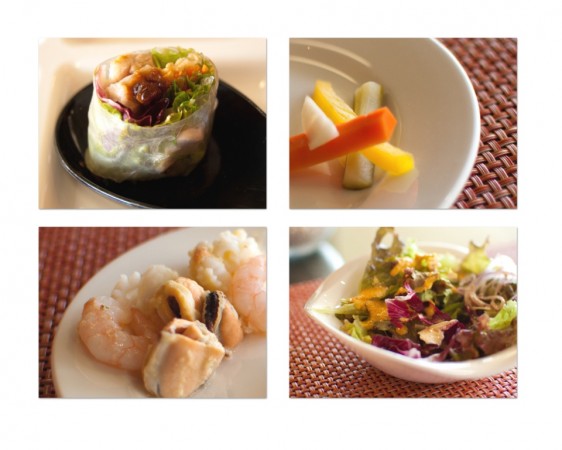 Peace. It's not just a popular concept in Okinawa, but now a restaurant exhibiting a casual elegance, relaxing atmosphere and friendly serving staff. Restaurant Peace is located at the heart of the Southeast Botanical Gardens.
Greeted and seated immediately at a modern table with earth toned decor, I noticed a family with children sat to my left and on the right was a chatty group of friends enjoying an afternoon tea party in the cozy sunlit terrace that overlooks the Polynesian Lake.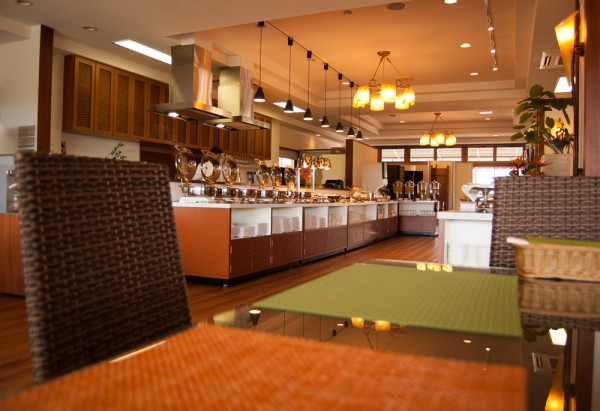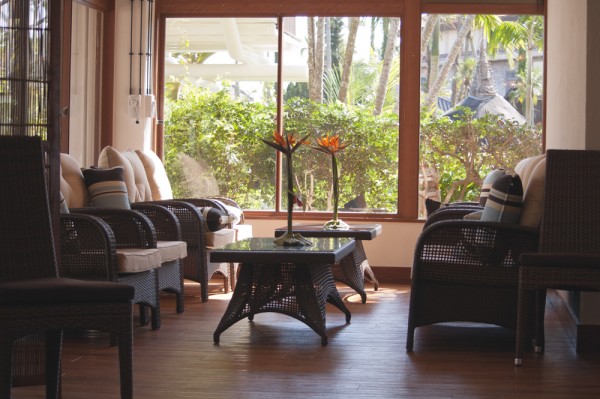 The hors d'oeuvre table was filled with scrumptious goodies. Among the mini indulgences were Sweet Sesame Balls.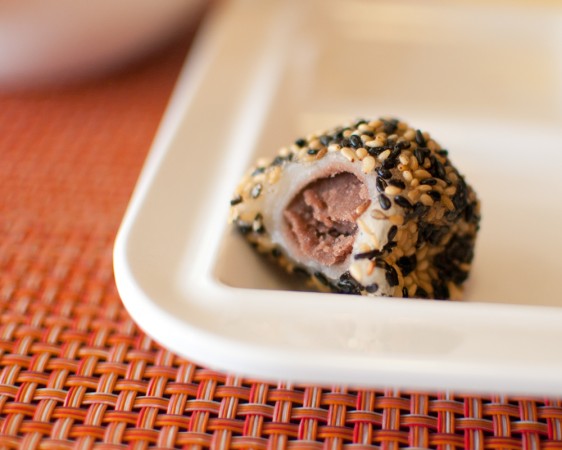 There were a variety of pickled delights, dumplings, and many other appetizers including a seafood medley and a bright orange Vegetable Mousse that was unexpectedly yummy! Normally when I think mousse, my next thought is chocolate. So when I noticed the label that read Vegetable Mousse I almost kept walking; until a familiar voice rang "you should try everything at least once!"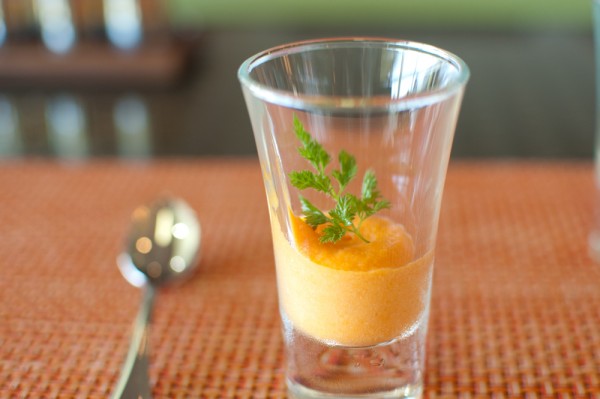 Ah yes … that's me, an advocate of adventure, telling my kids to try new things. In that moment I decided to take my own advice and spend this lunch trip taste testing … well, everything.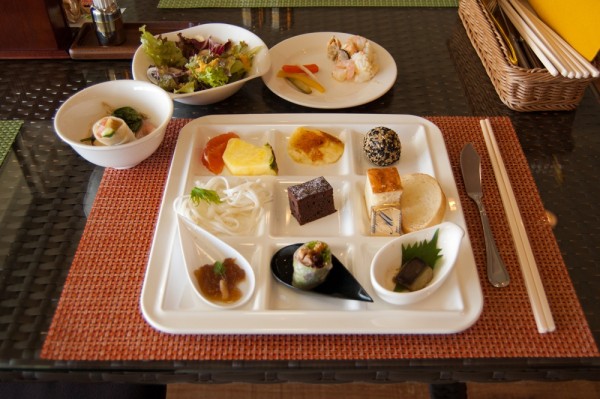 First to arouse my never-before-touched taste buds, Hibiscus Tea. (Gimme a pitcher and a straw; I'll drink this pink drink all day long!) You can also try the Boiled Pork, aka "Shabu-Shabu." All ingredients are briefly dipped into steaming hot broth and it's cooked and ready to eat almost as fast as you can dip it. This is a dish you prepare for yourself and is super simple and tasty.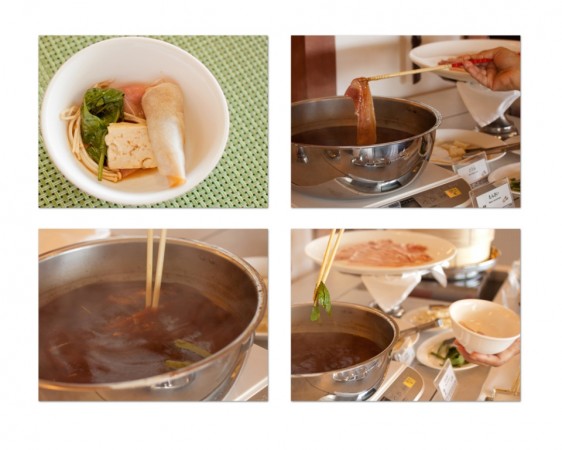 To top off the experience I tasted Jellyfish for the first time, which is considered a delicacy in Asia and one I honestly never expected to try. Tentacles are an acquired taste, as are most delicacies. If you are a fan of vinegar flavor then there's a high likelihood that you will enjoy it. (If not, an interesting story to take home!) No worries, there's a huge selection beyond jellyfish and no matter your craving you should find something at Peace to fill your plate.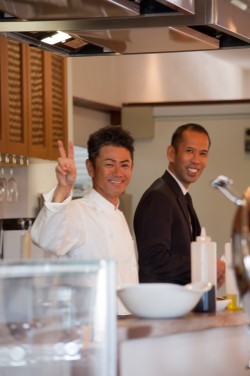 Overall, the food was light and healthy, yet full of natural flavor. An inviting selection of meats and inshore fish; pasta, fresh herbs, locally grown vegetables and even handmade pizza can be found at Peace. Every ingredient is carefully selected and prepared by Chef Yuji Miyagi, who I had the pleasure of meeting as well as Manager Ryuta Shibasaki who spoke of the "health and healing" theme of the new restaurant.
Whether you drop in for the sheer relaxation of teatime or the fulfillment of lunch and dinner, Restaurant Peace is all about tranquil environment and quality cuisine that satisfies both mind and body.
Hours: Open Daily. Lunch 11:30 a.m. – 3:00 p.m., Tea Time 3:00 p.m. – 6:00 p.m., Dinner 6:00 p.m. – 10:00 p.m.
Payment:
Lunch Buffet  – Adults (13 years and older) ¥ 1800, Children ages 7-12 ¥ 1000, Children ages 4-6 ¥ 600
Tea Time – Snacks ¥ 1000, dessert plate set ¥ 900
Dinner – Half-Buffet Style (select one main course) – Adults (13 years and older) ¥ 3500, Children ages 7-12 ¥ 2000, Children ages 4-6 ¥ 1000
Phone: 098-939-2555 (Reservations are accepted)
Address: 2146 Chibana, Okinawa, Okinawa Prefecture 904-2143, Japan
Website: Peace Restaurant *See the PDF Menu on the restaurant page for examples of food and more information provided by the Restaurant. It's in Japanese but can be easily dropped into Google Translator. Here's the direct link to translated page