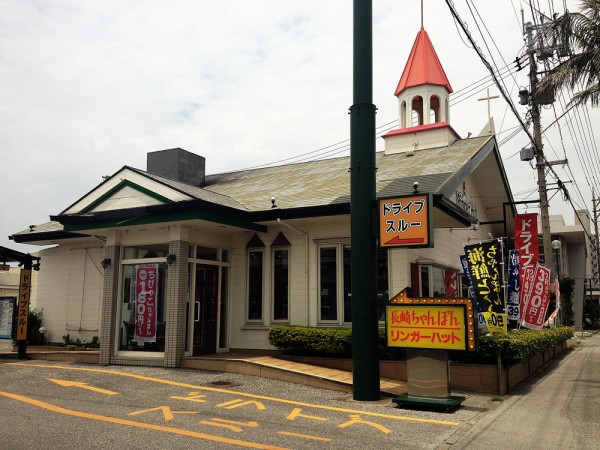 CONTRIBUTED BY SHELL BURGER 
I have driven past Ringer Hut on several occasions and always wondered what they served there. I always saw the parking lot full of cars and Japanese people going in and out. Well today I decided to give them a try, so I convinced my husband and friends to go adventuring with me.
The food is honestly not like anything else I have tried on Okinawa yet. They have udon noodle dishes, as well as, both soft and crispy noodles. All four of us tried different items, two of us getting broth-based dishes (Nagasaki Champon Noodle), one getting soft noodles (Nagasaki futomen sara-udon noodle), and I got the crispy noodle dish (Snack Nagasaki sara-udon noodle).
The dishes allowed you to choose what size you wanted. The regular size was actually more than what my husband could eat, so I was very glad I got a small size. All three of us agreed the dishes were definitely fish or seafood-based, as all of them had a fishy taste to them.  The real winner of our meals, though, was the gyoza. Those were probably the best gyozas I have had.
Ringer Hut is actually part of a Japanese chain, so you will probably see them around the island. We decided to try the one in Chatan. They did have an "English" menu they brought us, but it appeared they only had one, since we all had to share it.
The seating area offers tables, booths, and a bar area that overlooks the open kitchen. 
They did not appear to speak English, but we were able to order using the menu they provided. The meals came out relatively quickly, and the prices were very reasonable. For my Snack Nagasaki dish and gyozas my total price was only 630 yen. They also offer kids' meals and the place appears to be very kid-friendly. There were a lot of Japanese families there while we were eating. If you want to try something a little different with some very tasty gyozas, stop in at Ringer Hut and give them a try.
Hours: 11:00 a.m. – 2:00 a.m.
Phone: 098-936-0141
Payment: Yen only
Directions: It is just off of Rt 58 in Chatan. It is located between Rt 23 and Rt 24 on 58.
Website: Ringer Hut