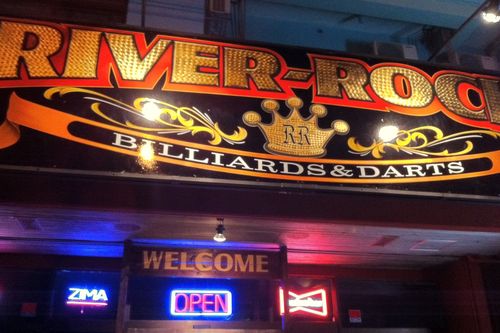 CONTRIBUTED BY CHRISTOPHER ANDREWS
If looking for a place to throw some darts or play some pool, there is a great bar that recently opened up in Uruma City, near Camp Courtney, on Route 329.  The River-Rock opened in mid-April 2011 by a very friendly Japanese fellow, Ichiro Ohama.  These games translate around the world, plus he speaks decent English, making this place very comfortable to hang out for an evening.  The atmosphere is low key, and the music is a mix of hits.
There is one large high-end pool table and 2 high-end electronic dart boards.  You can rent the table for just $5/hour.  Being new, the bar menu is simple with the offerings of pizza and pasta.  The draw here is the chill atmosphere and the games without a rowdy crowd.  He plans to have pool and dart tourneys in the future. Give it a go.
Directions:  5 minutes from Camp Courtney. Travel north on 329 from Kadena through Uruma city.  River Rock is located on 329, on the right side just before Coco's which at the corner of Route 329 & Route 6.   If you are coming from Route 58, take Route 6 east until it dead ends into Route 329, there you will see the Coco's on the right.  Turn right onto Route 329, River Rock will be almost immediately on your left. Park in front of the building.
Hours: Sun-Thur 6pm-3am, Fri-Sat 6pm-4am
Phone: 098-989-7399