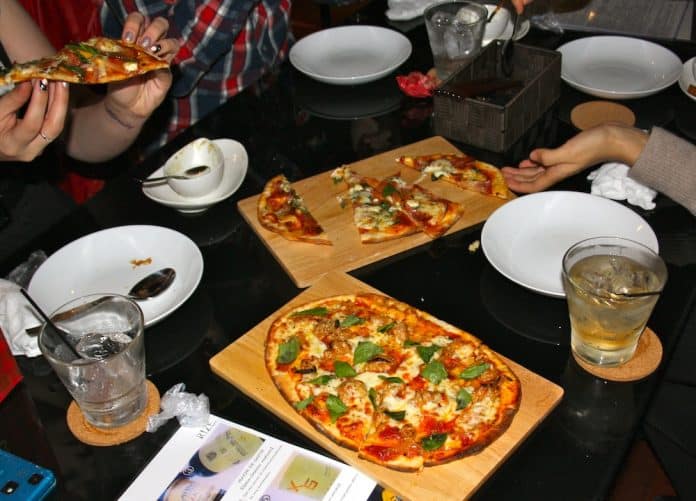 CONTRIBUTED BY SARRA MCMILLAN (additional photos by Angi Brzycki)

Rize View (photo by Angi)
RIZE Rooftop Terrace Restaurant has only been open since December, but I've already declared it my favourite place to eat in Okinawa and a must-try dining experience for all. Located in a former penthouse apartment on Kokusai-dori, RIZE has an amazing view that is only topped by the culinary masterpieces emerging from the kitchen.

Rize Food
The menu is divided into Small Food, Pizza Food, Big Food, and Sweet Food. From the Small Food Section, we tried the trio of house made dips and toasted flat bread, though I will definitely be back for the sweet potato and green pea spice samosa and coriander, cucumber raita and the rare beef and salted black bean salad, with baby corn, vermicelli noodles, and peanuts.

Rize Pizza

Rize Decor
For our main course, the four of us split three pizzas and we all felt adequately stuffed. There are five pizzas to choose from but we went with the potato, chorizo, caramelized onion, rosemary and feta, the cotechino sausage, chili, lyonnaise onions, basil and mozzarella, and the bacon, blue cheese, spinach, and Spanish onion (aren't you drooling?!). The pizzas range in price from 650 yen for a garlic and cheese pizza for 650 yen to 1200 yen for the fancier choices.
The Big Food portion of the menu looks incredible and I can't wait to go back to try the hand made potato gnocchi, rich red wine napoli sauce, basil and pecorino or the Italian pork and veal meatballs, soft organic polenta and grana padana or the crispy skinned salmon stakes, creamy mash, sautéed spinach, lemon, caper, and parsley sauce… the list goes on! Prices range from 1200 yen to 1950 yen.
RIZE is the perfect date-night spot, when you're craving class and a non-chain, non-base, non-Japanese restaurant. The international staff speaks English and Japanese and the menu is designed to please every appetite. Check out their website here, where you can make reservations or search for them on facebook.

Rize Seating (photo by Angi)
Directions:  RIZE Rooftop Terrace Restaurant is located across the road from the new shopping centre on Kokusai-dori, with the Red Lobster restaurant. If you look up, you can't miss the giant, colour-changing, neon sign. If you are walking from Makishi Monorail Station, you will walk towards Sand's Burger Restaurant, with the large cactus sign. There is an elevator in this building, which you will take to the top (the sixth floor.) Remember to enjoy the view!!
Address:  Taiei Building, 6F. Asato 1-1-60, Naha-shi
Phone: 098-868-4770
Website:  www.okinawarize.com
Payment: Cash accepted; VISA machine available soon
Menu:  Click for larger view

Rize Menu