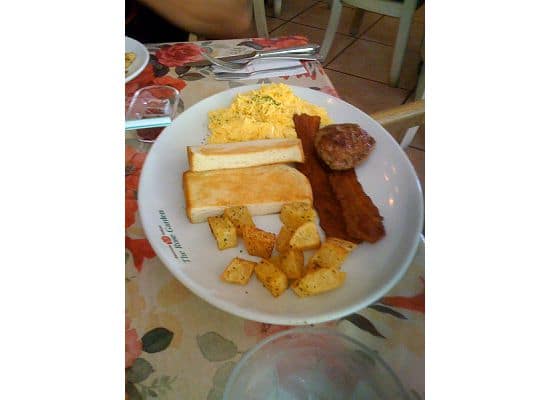 CONTRIBUTED BY ELIZABETH DE JESUS

photo via Google Maps
One thing my husband and I missed when we were stationed in Europe was a big, greasy American-style breakfast (think IHOP). The best we could get at a European breakfast café was some coffee and toast. Oddly enough, now that we are here in Japan, we found just the type of breakfast we have been missing at an Italian restaurant.
The breakfast at the Rose Garden was recommended to me by a friend who left the island last year. My husband, kids and I went for a Saturday brunch this weekend and it was great!
My meal came with the French Toast, scrambled eggs, seasoned potatoes and bacon. It also came with iced tea or coffee to drink, along with water. My husband got the Eggs Benedict and my kids got the bacon/sausage with scramble eggs. Everyone liked their food and we would definitely go back there for breakfast again.
Menus were in English and is more extensive than the one menu in the picture. However, the prices were a little high which took me by surprise since it was a breakfast menu. Each menu item cost about 1000 to 1200 Yen. We ordered orange juice and apple juice which was 300 Yen each not realizing the meals came with free coffee or iced tea and water. Next time, I'd just drink the iced tea or coffee with my meal and skip the juice.
There was no kids menu but my kids could have easily shared off one plate and still not finished their food. The portions were huge! Neither my kids nor I could finish all of our food although I wanted to savor every bite. For my family of 4 we paid 5600 Yen. But this included my kids getting separate plates and all the juice orders. Next time, knowing what we know now, I think we could probably easily spend only 3500 Yen.
They bake their bread fresh every day and I did see some bakery items for sale by the register to take home and one American family sitting next to us looked liked they had ordered some kind of bakery item (a muffin? scone?) for their kids but I didn't see anything like that on the menu. One cool thing –they serve breakfast from 8AM – 5PM! They also have a lunch and dinner menu but I can't comment on that since we did not eat off that menu.
---
Leonardo's Rose Garden
Payment: You can pay with Visa, Mastercard, US Dollars or Yen.
Hours:
Breakfast: 0800-1700
Lunch: 1100-1700
Dinner: 1700-2400 (last order taken at 2300)
Phone: 098-932-2800
Address: 165 Yagibaru, Kitanakagusuku
Google Maps Coordinates: 26.311183, 127.788502
Directions: (taken from their website) From Kadena gate 2, go to 330 and turn right. Straight shot approximately 5 Km passing Awase Golf course on your left. Down the hill A&W on you left side The Rose Garden is just prior to crossing under the large Okinawa Expressway overpass. From Camp Foster exit out the Legion or PX gate turn left. Straight shot approximately 2 Km passing McDonald's on the right then coming up to the large Okinawa Expressway, The Rose Garden is on the right side. You need to go to the first light and make a U turn then back to The Rose Garden on the left.