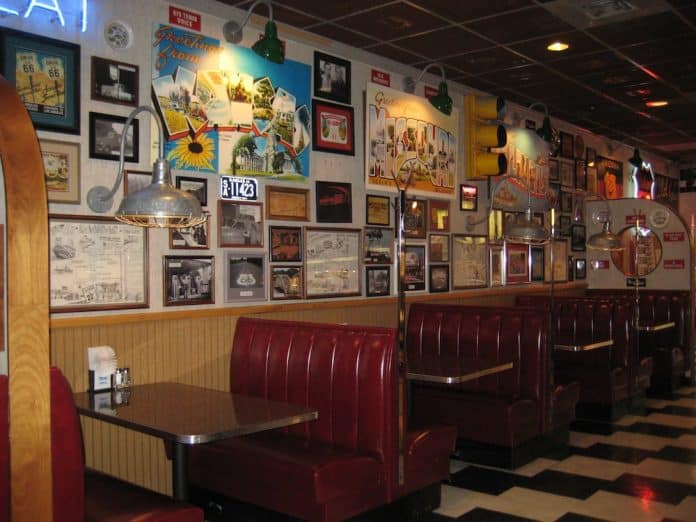 CONTRIBUTED BY CALYN PAQUIN
When living in Okinawa, you are bound to drive on a few highways more often than others like 58, 330, 329 — just to name a few. While Highway Route 66 is not one of them, there is a restaurant located in the Rocker NCO Club on Kadena Air Base named after it. This 60's themed diner has memorabilia and pictures all over the walls of the states in the US where route 66 runs through.

Route 66 inside
There is a jukebox that plays two songs for a quarter and a legacy Pacman video game which you can play for a quarter as well. I really like the atmosphere and the locals that work there are so friendly.

Route 66 booths
Even though it is a snack bar, they have a great selection on their menu.  I just love that I can order Asian food in an American diner and the prices are so reasonable. If you have the Air Force club card, you get a discount. If you look in the Venture magazine every month, you'll see Route 66's latest Blue Plate Lunch Specials menu from Mon to Fri. Those are only $6.50 per plate and club card members get $1 discount.

Route 66 Food
This is a self-service diner. You place your order and pay at the counter and they will call your number when the food is ready. The dessert display is next to the cash register to entice those who love cakes. The last time I checked, yen rate is 76 to $1 so while I love eating off base, I will be looking for a few good places to eat on base as well.

Route 66 Dessert
Directions: Rocker NCO Club is on Arnold and Vincent Ave. If you are going from the BX, pass the library, chapel 2 and Hagerstrom pool and the Rocker club will be on your right before the STOP intersection. If you are coming from Kadena gate 2, make your first right, go straight till you see Family Child Care Center on your right. Make a left there and Rocker club will be on your left.
Hours: Mon-Thu 11am-5pm, Fri 11am-1am, Sat 2pm-1am, Sun 2pm-9pm, Holidays closed
Payment:  Yen, dollars and credit card accepted