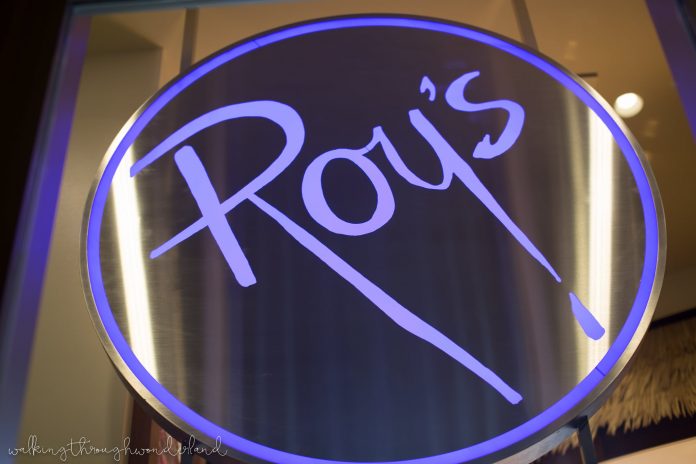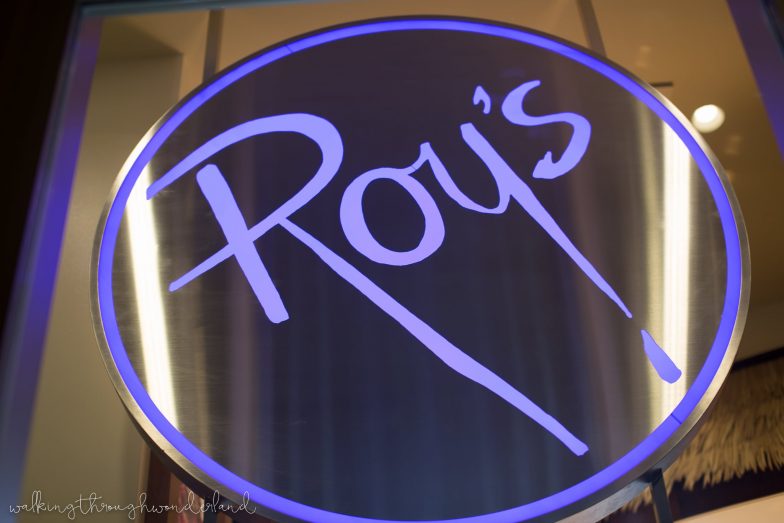 CONTRIBUTED BY MINDY MORRIS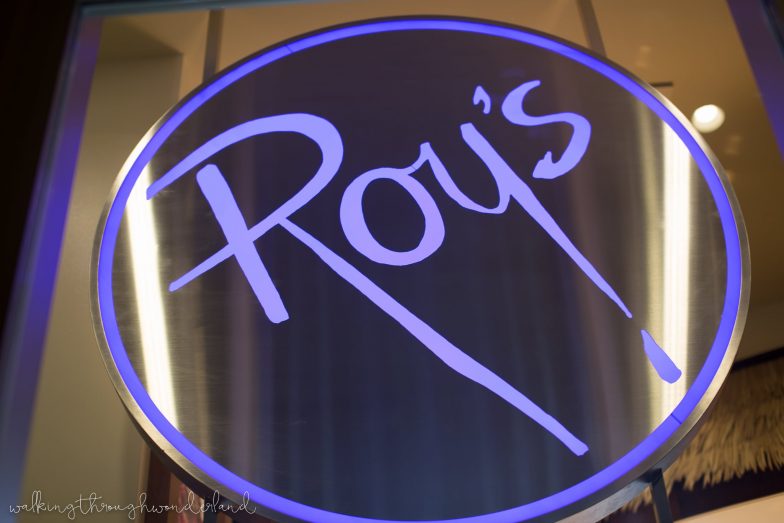 Every once in a while I get a certain craving for the type of high end restaurant you find back in the States. Don't get me wrong, I love both the food and restaurant style of this island. I have found some of the best curries, sushi and even pizza in hole in the wall locations scattered all over Okinawa, but sometimes I miss a cultivated wine list and a glass of red that is not served chilled.
Roy's is located on the fifth floor "Sky Diner" of the Aeon Rycom Mall, and on my first visit , which fell during café hours between 3:00 p.m. – 5:00 p.m., we were dressed as such. Shorts and tanks are no problem at this Hawaiian-fusion chain. The second time, since we were going for dinner, I slipped on a long skirt, but I could easily have gotten away with getting more dressed up. By my third visit I was pretty thrilled to have found a restaurant where I didn't feel over dressed in heels. Although the dress code is considered casual (this is still Okinawa we're talking about) the vibe is one of casual elegance.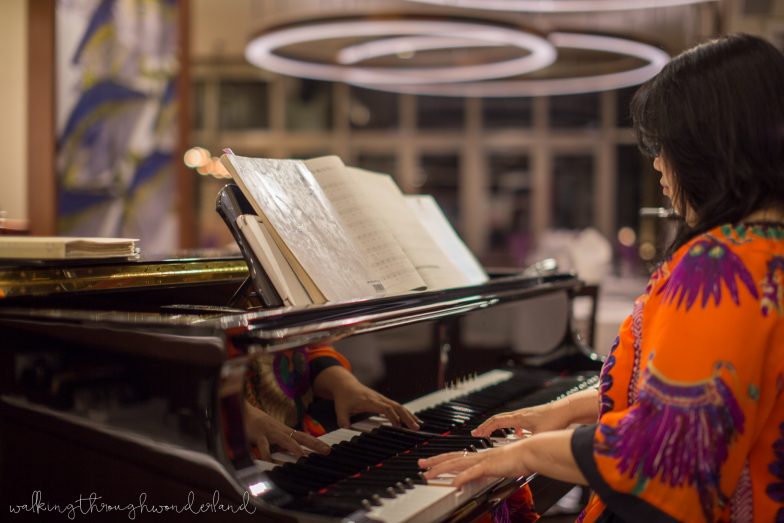 The dining room is bright, with two full walls of windows, beautiful wood paneling, and Hawaiian décor. The lighting is also very modern and adds to the refinement of the room with giant overlapping circular chandeliers at varying heights. Every evening there is a live pianist that plays tunes that are both soft and familiar. This added touch made our dinner feel like a special occasion. As much as I loved the dining room, I'm planning to make a reservation outside the next time I go. The view from this fifth floor balcony rivals any view I've seen of this beautiful island.
Both service and presentation are exquisite here, which is exactly what you would expect if you have ever dined at a Roy's Hawaii before. Our waitress was delightful, spoke both English and Japanese, and was very knowledgeable about the menu and drink selection.
The first Roy's opened its doors in 1988 in Waikiki as the Hawaiian-fusion brainchild of celebrity chef Roy Yamaguchi. In the years since, the Roy's chain has spread to over 30 new locations, and in April opened shop in Okinawa. This new location pays homage to Yamaguchi's Okinawan mother by incorporating traditional Okinawan cooking styles, with a special nod to local cuisine.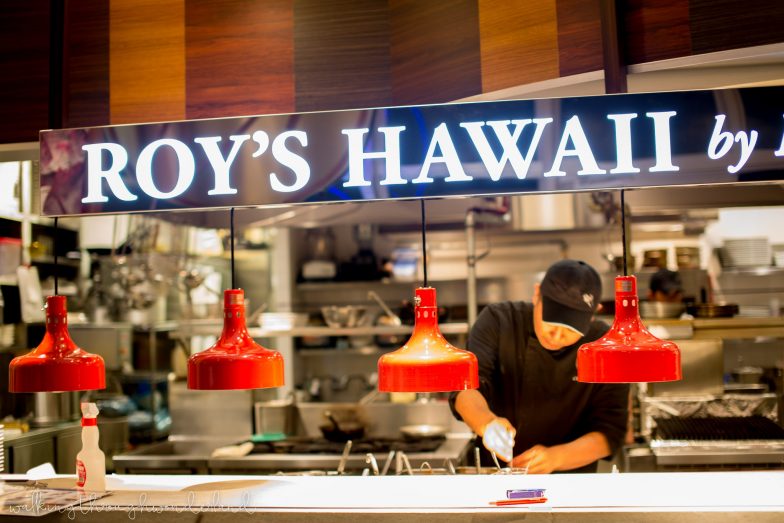 On my second visit, we met at the bar where everyone (except me) tried Roy's signature local pineapple infused martini. I ended up getting a dirty martini because I'm not usually a fan of sweet drinks, but after tasting the pineapple martini regretted my decision. My friend Kacey and I agreed that while we could appreciate the complexity of the pineapple drink, the 1,000 yen price tag was an instant turn off.
One thing I did really like was that as soon as I'd ordered a drink at the bar, I was also served my own dish of edamame which was deliciously coated in a sweet and salty shichimi seasoning. When we moved to our table they immediately brought additional dishes of edamame for us to share. What a refreshing alternative to a bread basket!
We ordered a variety of appetizers including the lobster gyoza, Mongolian BBQ ribs, dynamite baked oysters and kai style crab cakes. Everything was good, but the lobster gyoza was unforgettable. The ribs were generous portions of fall-off-the-bone perfection. The oysters, though my favorite in presentation, were just okay, in my opinion. Crab cakes are crab cakes, always good. Roy's take on this favorite is light and airy and served over a lobster cream sauce which was probably my favorite part.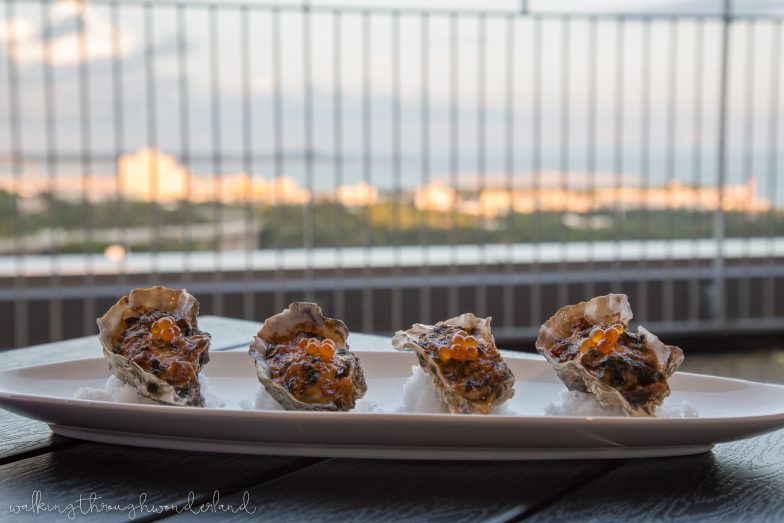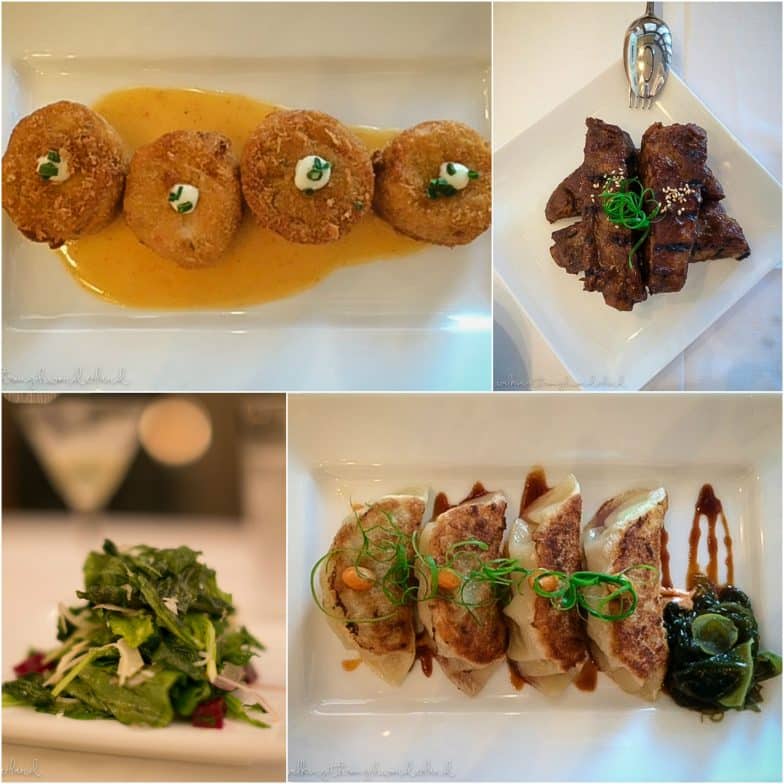 Next came the komatsuna salad, or kale salad, depending on which version of the menu you are looking at. However, all of my dining companions agree that to call it a kale salad cheats it out of the recognition it deserves. There are three types of kale in the salad including one that has been flash fried and is so good I've found myself craving it since. Not something I have ever said about kale before. *When kale is unavailable they substitute other local greens. I've had both versions now, and love them equally. 
As mains, we split the Vietnamese-style lamb chops and the misoyaki butterfish. I took a very small portion of the lamb, as I'm not always a big fan, but I was pleasantly surprised. It didn't have the strong taste that mutton often has and was also more tender than I expected. As for the butterfish (black cod), I am always disappointed when I taste a dish like this on my first visit to a restaurant. I know that I should try other things on the menu, but that butterfish was so melt-in-your-mouth delicious, that I can't imagine ever going back without ordering the same. It was probably the best meal I have ordered in Okinawa and it's the only thing we ordered that I wished I didn't have to share.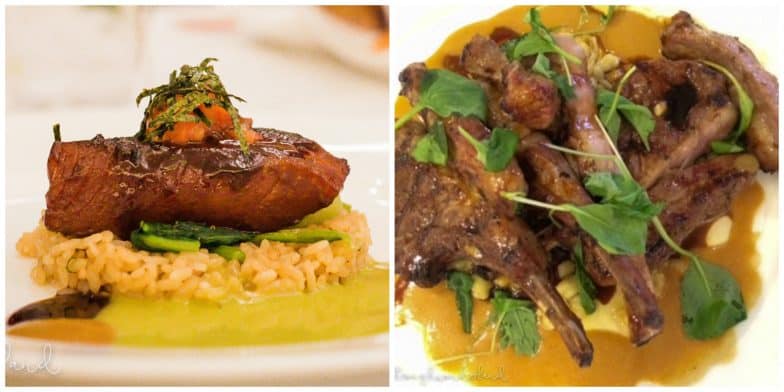 For dessert we split the chocolate soufflé, served with vanilla ice cream and Roy's signature pineapple upside down cake, served with macadamia nut ice cream. As soon as you cut into the chocolate soufflé dark chocolate oozes out like lava. I bartered with my seatmate to let me eat her half of the chocolate soufflé, as she found it a little bit too rich, but I couldn't get enough. I promised her my half of the pineapple upside cake, but when it arrived, I found myself stealing bites of that buttery deliciousness as well. It's worth noting that if you plan to indulge in one of these baked desserts, it would behoove you to order it as soon as you get your meal, as they take about 25 minutes to prepare. We sipped on dessert martinis while we waited, and all agreed they were decadent enough to be considered dessert on their own.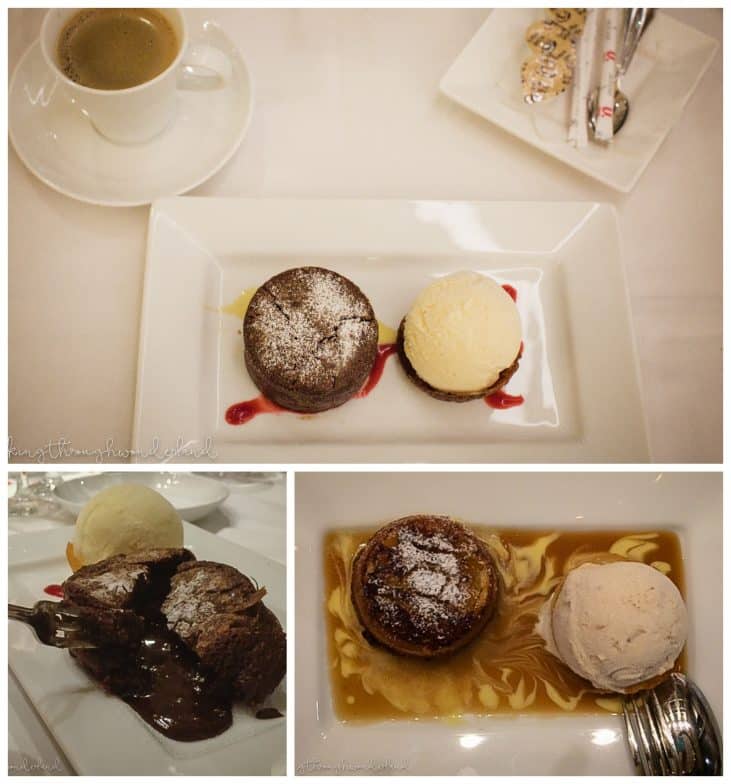 My third visit was a date night. This time, I ordered Roy's martini. Lesson learned.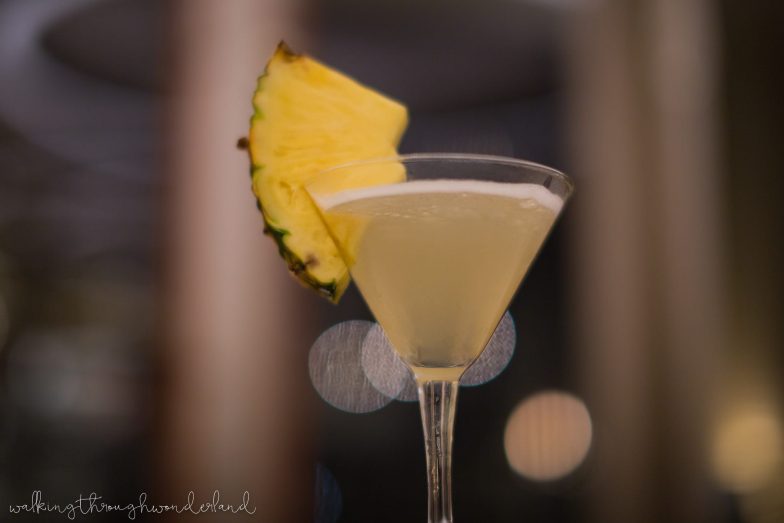 As predicted, I ordered the butterfish again– but this time I was pleased to be able to order it as part of a set menu, something the restaurant just added this month.. The butterfish set was 4,000 yen and included a salad; three appetizers: the crab cake, one rib and tuna poke; butterfish entree with rice; and a dessert of your choice. Naturally I chose the chocolate souffle. My husband ordered the "Frying Dragon Roll" and the "Trio of Treasures" which comes with small portions of the butterfish, salmon and tuna. At only 2,400 yen this felt like a steal!
The only downside of Roy's is that it is a little pricier than a lot of the dinner spots on island, but you absolutely get what you pay for, both with the atmosphere and the quality of food and drinks. The total price of our "date night" meal (pictured above), including drinks, was 10,600 yen.
If you want to enjoy Roy's, but don't want to pay for it, check out their lunch menu, with sets ranging from 1,300 – 2,500 yen. At dinner, entree prices range from 1,750 to 5,500 yen. The butterfish was 3,000 yen alone, but only 4,000 yen if you order the set, and let me tell you… it was well worth every yen.
I've added Roy's to my go-to list for date nights and out of town guests that want to visit somewhere a little more upscale with a view, and I'll pull the "Roy's mother is Okinawan" card if they give me a hard time about taking them to a chain.
Hours: Lunch 11 a.m. to 2 p.m, Café 3 p.m. to 5 p.m., Dinner 6 p.m. to 11 p.m.
Phone: 098-923-3002
Payment: All major credit cards and yen
Location: 5th Floor Sky Diner Aeon Rycom Mall
Mall Address: Japan, 〒901-2305 Okinawa-ken, Nakagami-gun, Kitanakagusuku-son, Higa 県道85号線
From Kadena Gate 1
Head south on 58 and then turn left onto 23
Turn right onto 85
Right before the mall you cross 330.
The mall will be clearly visible from that intersection.
Coordinates: 26.314286238611693, 127.79647502090143
Directions:  Aeon Mall Okinawa Rycom is located near the intersection of 85 and 330.
From Kadena Gate 1
Head south on 58 and then turn left onto 23
Turn right onto 85
Right before the mall you cross 330.
The mall will be clearly visible from that intersection.
Coordinates: 26.314286238611693, 127.79647502090143
Website: https://roys-okinawa.com/