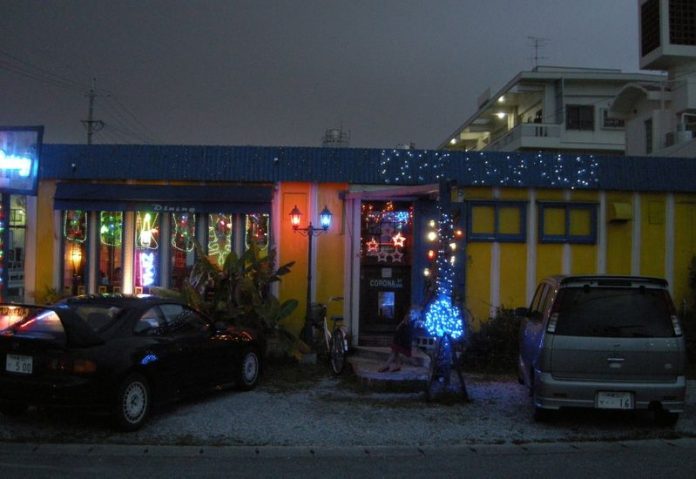 Editor's Note: Ryu's Dining was originally reviewed on Okinawa Hai on April 9, 2009; you can read a PDF copy of that original review HERE. The post below is an updated take on this restaurant, published May 1, 2012.
CONTRIBUTED BY AMY MADDOCKS

Ryu Front
We went to a little gem of a restaurant last weekend and I just had to share! This was my first time trying a Chinese restaurant here, and I must say, it's probably ruined me for Chinese food anywhere else. Ryu's Dining is a favorite of the locals, as my Okinawan friends told me. They took us there to celebrate one of them retiring from teaching to be a stay-at-home mother. Her husband told her they could eat anywhere she wanted, and she picked Ryu's Dining—and with good reason!

Ryu Food
The owner is also the chef, and everything is homemade. They have a large menu to choose from, with prices ranging between 300-900 Yen. I don't drink alcohol, but there were plenty of alcoholic drinks to choose from, and they also make all of their specialty drinks non-alcoholic. English is printed right on the menus, and pictures of dishes are posted out front. When we asked for the owner's name, he told us everyone calls him "Dragon." He was very friendly and liked to tell great stories (ask him to tell you the "cat food" story). He also explained every dish to us, telling us how it is prepared and cooked and even recommended dishes based on our likes/dislikes.

Ryu Inside
The place is very small but the décor is fantastic. Everything—and I mean everything—is lit up with different colors and sizes of lights. I would even go so far as to say that his creations are works of art. He told us that last year during Typhoon Muifa he spent his time creating new light designs to display around the restaurant. It was time well spent! The soft music in the background, fun lighting, and peaceful atmosphere made for a wonderful dining experience. But the food was, of course, the best part.

Ryu Dim Sum Sign
The owner is originally from Shanghai, but moved to Tokyo to learn Japanese and English. He also runs a restaurant in Tokyo and travels back and forth each week to bring fresh ingredients back and forth between the two locations. Because of this, his hours are not always acurate. The people eating there told us they just look for when the lights are on and come on over for great food. Dragon gave us a card and told us to just call when we want to eat to see if he is open (the hours posted are 5:00 p.m. until 2:00 a.m.). A weird way to run a business, but it works for him and is great for us because of the fresh, fantastic food he is able to make. My favorite was the cashew chicken, Gyoza, and spicy pickled cucumbers.
FYI:  There wasn't a kids menu, and smoking was allowed by the bar area. Due to the air flow, I didn't even realize people were smoking until I saw for myself, so it didn't bother me. I wouldn't call this a "family" restaurant, even though there was plenty of food on the menu that kids would like. The atmosphere in general was more centered on adults. Most of the patrons were Japanese, but as the night progressed he filled every table and a few Americans did join in.
---
Ryu's Dining
Hours: Open only for dinner
Phone:  098-936-8229 (call before going to make sure he is open)
Payment:  Yen only
Address: 2 Chome-2-8 Chatan, Chatan
GPS Coordinates: 26.3060954, 127.76133159999995
Parking:  Limited—you may want to carpool if going with a large group
Directions:
From Kadena, travel south on the 58 and turn right at the 130 intersection. Coming from south of Foster, turn left at the same intersection. Turn left at the next light (ETWS will be on the corner). Turn left about a block later when you see a sign for Araha Beach. You'll then be driving along a canal (you can see Ryu's Dining from here) on your right. Turn right at the end of that street, then a quick right again (traveling around the canal). Ryu's Dining will be on your left at the end of the street, with a yellow roof and blue walls. You also can't miss the bright, neon signs!!
From Foster:  Take a left out of Foster's "The Spot Gate" and cross 58.  Take the left at the first light after 58.  Take the next left turn (like you're going to Mike's Tex Mex) and take the right turn as the road ends.  Follow this street past the pachinko parlors and over the bridge.  Take a right turn immediately after the bridge, following the stream for a block or two.  Ryu's is the yellow restaurant on the left at the T.