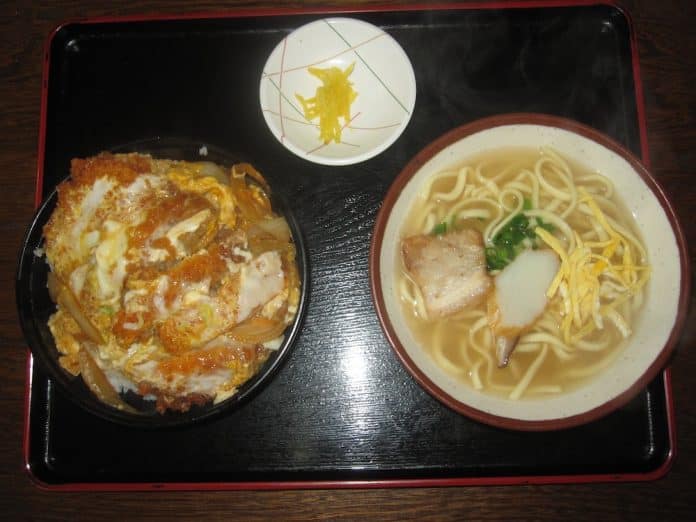 CONTRIBUTED BY MONETTE EAMES

Sai Kyou Exterior
Knowing only elementary Japanese words like arigatou, ohayo gozaimasu, and hai, we sometimes get intimidated walking into restaurants with no English or picture menus. Thankfully, I have a husband who encourages me to not let things like that stop us. I am so glad we did walk into this place called 'Sai Kyou' (which means 'most powerful') because this is now our new favorite Japanese home-style restaurant.

Sai Kyou Food 2
The kitchen is run by four older Japanese ladies, one who speaks a little English. You order using the ticket system, which is similar to using a soda machine. You put in the money, push a button, and you get a paper ticket that you hand over to one of the ladies at the counter. We have ordered many different items over the past several weeks we've been going. The soba sets (there are pictures for these items) include a salad, soba, rice, and a main dish and are really good. The stir-fry is great too, as well as the fried ebi.

Sai Kyou Interior
All the items are fabulously priced – they all could cost much more at any other restaurant. And even though they are great deals, they do not skimp on the amount or quality of the food. The servings are almost always more than our family of four can eat, and the food is always so delicious we feel bad leaving any – so we usually take it home to eat for lunch the next day.

Sai Kyou Food 1
The restaurant is regularly filled with Japanese families or laborers who live in the area, and does lots of business every time we've been there. It is super-convenient if you live in Awase or by the Okinawa Comprehensive Park and commute home from the Foster area. This might be the best, cheapest place to eat a delicious, cost-effective dinner on the east side of the island for your hungry family on the way home from a late evening when momma doesn't want to cook!
Directions: From Foster Legion Gate, go straight out the gate and continue straight on 81 until you arrive at the bottom of the hill. You will be at the intersection of 329 and 81. (81 will become 227 on the other side of the intersection). Go through the intersection, the 'Sai Kyou' – Most Powerful Restaurant will be on your left right after "Sukiya."