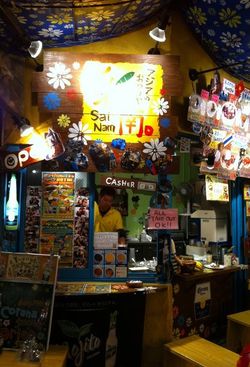 CONTRIBUTED BY STEPHANIE
A friend introduced me to Sai Nam. She spoke of an amazing teriyaki chicken wrapped up in a tortilla, with yummy sauces on it. She also spoke of a low price, which really interested me. So we took a trip to American Village.
We went shopping at Village House, which I am absolutely in love with. Famished, we exited the store and took an immediate right down the path, which after a moment ran into a small place called Sai Nam. She eagerly sat down and the nice guys at Sai Nam smiled and waited for our orders. I looked up at a menu with lots of items. Many of them were "rothi," something I had never heard of before in my life. I asked my friend Rachel to order for me, since she loved the place so much. She ordered two teriyaki chicken rothi (each only 600 yen). We also ordered two small drinks, only 100 yen each.
They got right to work and made the rothi before our eyes, starting with tossing his "tortilla" and flattening it, that kind of thing. They placed it on their little cooker, added the chicken, wrapped it up, and let it cook.
In that time they started setting out a plate of samples (this sample was their spicy sausage rothi, which wasn't very spicy but was DELICIOUS.) I had to make myself look away and not grab more of it to eat!  At this point I was very eager to try my teriyaki chicken rothi. It was done within just a couple of minutes. Before serving it they put little sauces on it (my guess is teriyaki sauce and some sort of cheese), then handed them to us.
It was excellent. I think I may go for their spicy sausage rothi next time, but the one I had was fantastic. Teriyaki chicken, onions, the sauces all in a tortilla-type thing, cut into squares. Very tasty, I would recommend it. There wasn't a whole lot of seating, but I was also there at night and there weren't very many people out at that time. The guys there were very friendly and they have quite a few tasty items for you to try. Go check it out!
Directions: Go into American Village and head towards Depot Island. Park and walk as though you were walking to Village House. Take the little path to the left of Village House, when it splits into two paths you will run into Sai Nam, it was in the downstairs level of a yellow building.
Hours:  Daily, 12:00-22:00.
Payment:  Yen & US Dollars