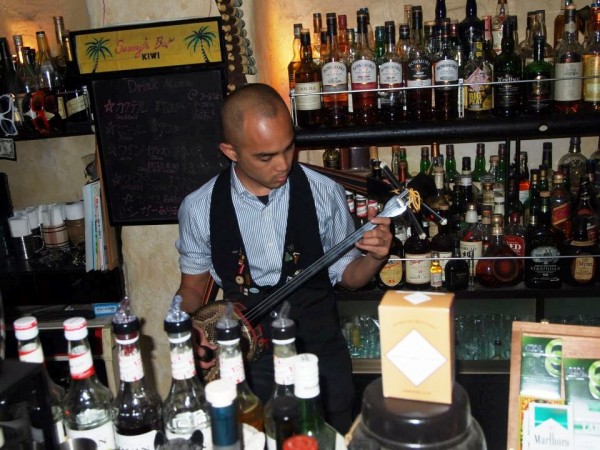 CONTRIBUTED BY LEAH MAGID
I was watching the Japanese travel-food-lifestyle channel, Tabi Channel one night and saw a show in which the host devotes himself to finding the finest bars in Japan. It became painfully obvious to me that he hadn't yet visited Chatan – more specifically, Sammy's Bar Kiwi on the north end of Araha Beach. Nestled in between a few lively cafés and bars, Sammy's is an oasis of quiet sophistication.
Issey Teruya can be found at Sammy's starting at 7:00 p.m. – a respectable time to have a nice drink. Issey is a guy who believes in appropriateness. He is an impeccable host with a taste for excellence. He travels all over, including to Taiwan, to procure the very best for his patrons. The selection is broad, and one would be remiss if referring to Sammy's only as "that whiskey bar with the cool atmosphere."
The bar itself is encased in a clean, white cave-like canopy that delivers a warm, cozy feeling. The temperature is always perfect and the aromas are intentional –  the bouquet of whatever is in your glass is entirely yours to explore. And explore, you should. I cannot express to you how many choices there are. Issey can, though.
Issey has a reputation for knowing his craft, and we have put it to the test several times, calling for insanely specific concoctions which he mixed each time with dead accuracy and flair. The man loves what he does.
I am not a whiskey drinker, and my regular drink at this place is red wine. I have seen Issey decline to serve me something that was not up to his standards more than once. A bonus is that the man brings "fresh chocolate" from his travels, and always has fine wrapped chocolate and thick, crisp potato chips ready for his customers. There's an Iberico ham available for those seeking a little heartier fare.
If you are a cigar smoker, you can visit Issey to take away or to enjoy in-house. He carries a great selection of imports that rival one-track shops.
Perhaps the best part about Sammy's is the conversation. Issey is Okinawan, and he is fluent in English. He has introduced us to some great people and has helped bridge language obstacles between his customers completely naturally, which makes everyone feel completely relaxed. The excellent music serves as a soundtrack for relaxation and happiness.
By the way, Eunos is Issey's dog and she is a sweet, friendly co-hostess. Plainly put, she's a sheer joy.
Hours: 7:00 p.m. – 3:00 a.m.
Payment: Yen Only. Drinks start at Y700 each and go up, depending on your selection. Y800 for wine by the glass.
Address: 2 Chome-20-13 Chatan, Nakagami District, Okinawa Prefecture 904-0116, Japan
Directions: Sammy's is just north of Araha Beach's basketball courts (also just north of Daisy's Café). There is a small wooden sign on the beach road near the AU.
Phone: 090-4987-6984
Website: Sammy's Bar Kiwi