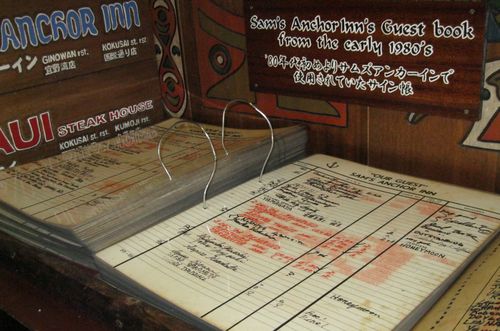 CONTRIBUTED BY ANALICIA MCCLELLAN
I had my Mom and Grandma visiting from the States and it was their last full day there. After spending the day at Okinawa World, we wanted to take them to a Teppanyaki restaurant for dinner. My husband and I have been to Four Season and it's a little harsh on the wallet and we heard that Sam's Anchor Inn is good and cheaper.  There is no way you could miss the HUGE anchor on the outside of the building and you immediately see this place is different!
When you walk in, there are guestbooks you can sign and look at (there are one's from the 1970's-80's!) and a long staircase leading you up to the restaurant. There are notes, business cards, and mementos completely covering the walls. It was fun looking at them all on the way up! A hostess will seat you and will take your order.
You get all the same things you usually get from a Teppanyaki restaurant. They have delicious bean soup (it changes daily) out of a cast iron pot hanging from the ceiling and that was all my 2 yr old wanted to eat!
Then you get a salad, choice of rice or bread, potato bites, your choice of protein, and bean sprouts. They have their souvenir cups you can buy, which we had a coupon for from Okinawa Living. (If you have a child under 12, their kid's meal comes with a free cup.) Everything was great!
We ordered the garlic rice instead of bread and the chef set it on fire. He also did a little show with the salt and pepper shakers. It was a lot of fun and were really glad we chose to take my family there. It was a great farewell dinner.
When you are leaving you can even take a picture with their hats!  That was a funny family photo and don't be surprised if you get some cat calls from a funny little bird by the hostess stand!
Address:
Hours:  It's open from 5pm-Midnight everyday.
Phone:  098-897-5555 I'm not sure if they take reservations as we were walk-in's.
Children:  This would be a great place for a date night. The lighting was romantic, but it's also kid friendly if you have children. My 2-year old enjoyed the show! You might want to bring a belt or something to tie your child down with if you want to use their high chairs.  They don't have belts.
Address: 624 Mashiki, Ginowan
Google Maps Coordinates: 26.2709642, 127.73814059999995
Directions:  It's off the 58 in between Futenma and Kinser. It's on your left hand side if you are going north, right if you are going south! Look for the huge anchor! You can't miss it!