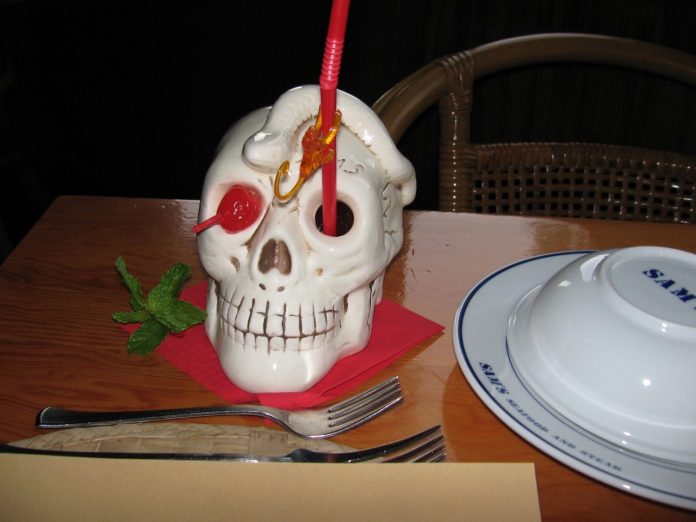 CONTRIBUTED BY MARIANN
When I asked the hub yesterday where he wanted to go for his final dinner before deployment, he quickly answered Sam's By The Sea. For New Year's, we went to the Rose Garden (little Italian joint on 330) and had run into the owner and he was swell… Ranted and raved about his cooks, his bakers (who bake all their breads from scratch), and his 12 restaurants that he owned. He was a sweet 'ol guy. Got us thinking about his other restaurants we wanted to visit… including Sam's. So the hub's last dinner was the perfect opportunity to try a nice expensive restaurant. It took us about 30 minutes to get to from Yomitan. And, boy, was it worth the trip! Unfortunately, I didn't grab my camera on the way out the door.
When we found it, the tiki torches were blazing. We pulled into the gravel lot where the giant tiki statue and the Duke stood guard. Getting out of the car, we could hear the birds squawaking, which of course we had to go and see. They've got two beautiful parrots (i think they were parrots) in the back near the patio. Then near the front door they had a cockatoo (maybe? with a sign that said "this bird bites" so keep those fingers away!)
Upon entering, we were greeted by a welcoming staff dressed in sailor uniforms (so adorable). Now, since I had no camera, you'll have to close your eyes and imagine… Hawaiian music playing (just a little too loud), a dark room with wood walls, rattan chairs, brass oil lamps on the tables, fishing nets and a boat hanging from the ceiling, shells and masks adorn the walls. There's also a huge iron soup pot that apparently took years to scavenge and build in the 70s, filled with the day's piping hot soup (ours was curry).
Of course, the hub ordered the surf n turf with Maine lobster. The kids really enjoyed it when the waitress brought over the beautiful blue lobster and it stuck out its arms and gigantic claws to let us view our meal. The meal came with soup, salad with choice of dressing, rice or bread, and vegetables (corn on cob and mix of seasonal veggies). And the filet melted in the hub's mouth. I ordered a prime rib with king crab legs. The rib was delicious as well as the crab legs. The kids split a chicken kids meal, which came with an entire serving of shrimp-stuffed-chicken, fries, veggies, salad, soup, bread or rice, and a drink, and dessert, which was a scoop of vanilla bean ice cream served in an actual shell (if you order before 630pm). It was more than enough food for both my 3 and 5 year old. For dessert, we ordered a piece of their Mile High Coconut Pie. It literally stood off of the plate 8 inches and had the most divine crust. Oh, and I had a coupon out of the Okinawa Living magazine for a free shrimp cocktail with each dinner entree, so we had two of those also. Also the hub got a beer and a coffee. (wow- are we pigs or what!?) The only thing I'd say negative (about the whole experience) is that the crab legs I believe had been previously frozen, as they were a little on the dry side. The food, the staff, and the service were superb.
Our total bill was around Y13000. I wouldn't go there every day just because of the price, but a great special-occasion dinner kind of place! Oh- and one more thing that I wish i'd thought of when paying… their yen rate was 98Y to the dollar, which is 7Y more than the normal rate for today, which means that if I'd paid with dollars instead of Yen, I'd have saved about 7Y per dollar, which would have been around $9. Which is a pretty good discount if you ask me. So check to see which money is cheaper to pay with for the day.
Payment: Yen and credit cards
Hours: Open:  5 p.m. – midnight.  (Last order at 11 p.m.)
Phone: 098-937-3421
Address: 1 Chome-41-15 Awase
Google Maps Coordinates: 26.3203176, 127.84094430000005
Directions: In Awase. Drive down Kadena Gate 2 Street, pass over the 85, continue to the end near the water and follow to the left. Take a left at the end and the restaurant's on the right. Big boat and tiki torches. Can't miss it.