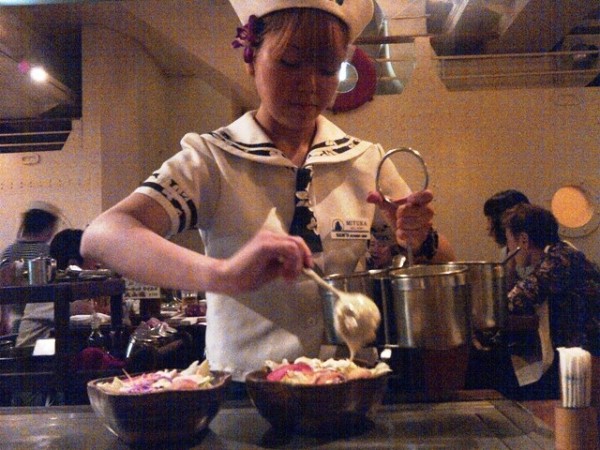 CONTRIBUTED BY MUNEERAH BEE
You're not likely to miss the Sam's Sailor Inn as you're walking down Kokusai Street.  Its exterior with a nautical theme is easy to spot from the outside, and you can expect more of that when you step in, from the ship-like design to the staff's uniforms.
It was my first time at a Teppanyaki restaurant and I wasn't disappointed when I was there for dinner recently.
I wasn't up for steak so I chose the "Scallops & Plump Shrimps," one out of two options for their Seafood Dinners. All their dinner sets come with soup, salad (with four choices of dressing), vegetables, potatoes and rice or bread, so it was plenty to keep me full. But if you want a heavier meal, you can have the enhanced dinner sets where you get steak and a seafood option in each set.
Being the newbie that I am, it was quite a treat to watch the cook prepare our food right there and then, with the showmanship that came along with it and just as you would expect, the food was really good.
It was also my first time trying a cocktail of Shikuwasa and Awamori and I liked how the taste of both complemented each other.
They also offer cute drink containers in five different designs with a distinctively Okinawan overtone. You can choose to buy them to go along with your drink and they make cute keepsakes of your visit to the restaurant and island.
All in all, it was an enjoyable dinner there and it was a great experience for my first time at a Teppanyaki place.
Although I do kinda wonder who Sam is…
Address: 3-1-3 Makishi Naha City
Hours:  Lunch – 11:30 – 15:30, Dinner – 17:00 – 24:00 (Open daily)
Phone: 098-918-0808
Payment: Credit Cards accepted
Website: www.sams-okinawa.jp/sailor_inn/en_index.html
Menu:  Click to enlarge