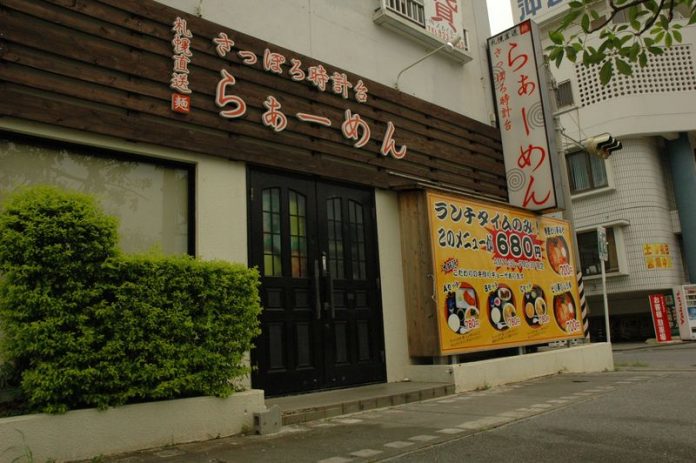 CONTRIBUTED BY BRYAN WINZER
Before coming to Japan, ramen was a 20 cent package that I scarfed in college. Rubbery noodles lying in super salty and resuscitated chicken broth were hardly something I craved, but simply satisfied the hunger of a broke bachelor.  When I came to Japan, I knew I'd find fast food noodle shops providing a quick and cheap meal.  What I didn't expect, though, was sophistication.
Though ramen is technically Chinese, the Japanese have made it their own and every region of Japan has it's own style, ranging in taste and noodle style, that reflects an attitude and preference of the locals.  In Tokyo, they even have a ramen museum.  The varieties in broth and toppings make it so that I could probably eat ramen everyday.
One of my favorite varieties is the Hokkaido salt ramen; so when a location named Sapporo Ramen(さっぽろ らめーん) opened up near us, I knew it only be a matter of time before I was slurping noodles there.
Although the menu is only in Japanese (see pop-outs below), they have some friendly sets and pictures that will get you going. Mostly, you need to know you can choose between three broths:  しょゆうshoyuu (soy sauce), 塩 shio (salt), みそmiso (like the soup), and とんこつtonkotsu (pork broth).

The sets come with rice, and a different selection (pork cutlet, gyoza (pan fried dumplings), kimchi rice). They give a good variety that pairs nicely with the salty ramen dishes.   The sets run about 780 Yen (they only take yen), but there is a discount at lunch (680) if you are with a partner.  The menu also has some a la carte items and individual bowls of ramen, if you aren't interested in an entire set meal.
Photos by Shu Lan Tang
---
Sapporo Ramen
Hours:  They are open from 11:30 to 3:00 AM.
Address: 2 Chome-4-1 Awase
Google Maps Coordinates: 26.31839130317573, 127.83146833075784
Directions:  Driving down the 229 (past Comprehensive park) toward Gushikawa Justco or the Awase Fish Market, you'll find Sapporo Ramen across the street from the Four Seasons Steakhouse.  There is a stoplight directly in front of the Four Seasons in Awase, so you can turn right easily and park right next to the ramen shop.
click photos to enlarge menu