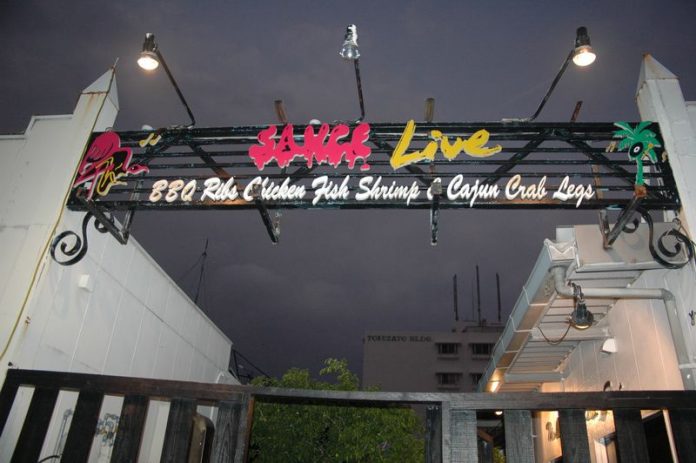 CONTRIBUTED BY LARISSA
It's very rare you come across a place with a New Orleans style jazz atmosphere, good music and food with so much flavor!

I love the above tag line on this restaurant's business card – it sums up our experience on a recent Saturday night and I couldn't have said it any better.  Sauce is a fun place to hang out with friends while enjoying flavors that I can't easily describe.  I recommend you let your own taste buds do the deciding!
Dinner Plates are served with fried potatoes, coleslaw and a soft drink.  Regular dinners are Y1,900 and the large dinners are Y2,900.  Your dinner choices are BBQ Ribs, BBQ Ribs & Chicken, BBQ Ribs and Shrimp.  The Sauce Special Dinner includes Cajun Crab Legs and Shrimp for Y5,000.

When you are eating with a group of 5 or more consider sharing the Sauce Deluxe Party Tray.  For Y10,000 you get BBQ Ribs, Chicken, Fish, Shrimp, Fried Potatoes, Bread and Coleslaw.  We had 6 in our party and we had leftovers.  This is a generous "tray" of food with mouth-watering flavors.  I am not usually a fan of coleslaw but Sauce knows how to whip up a great slaw for even the pickiest eater.
Side dishes are available as well and you can enjoy Hot Wings or Shrimp for Y700 and Greens or Corn for Y500.

Sauce's serves up some generously-sized tropical drinks as well.  For Y1,000 you can choose from Sauce's Long Island Ice Tea, Tequila Sunrise, Amaretto Sour or their Original Margarita.  Beer, wine and soft drinks are also available.

This is a great place to celebrate your birthday because showing your ID will get you a "free" birthday dinner – specifically one of the regular dinners.

---
Sauce Live Soul Food Restaurant
Payment:  This restaurant takes Yen, American Dollars and Credit Cards.
Hours:  They are open everyday from 6:00 p.m. – 11:00 p.m. The last order is taken 30 minutes before closing.

Website: www.saucelive.com
Phone: 098-936-0204
Email:  info@saucelive.com.
Address: 1206 Yoshihara, Chatan
Google Maps Coordinates: 26.3104727547, 127.763361347
Directions (Edited in 2012 to reflect the new location):
From Foster and points south: Go north on 58. Just past 130, but before 24, Sauce Live will be on the right side. Parking is behind the building near the Family Mart.
From Lester and points north: Go south on 58. Just past 24, but before 130, Sauce Live will be on the left side. Parking is behind the building near the Family Mart.