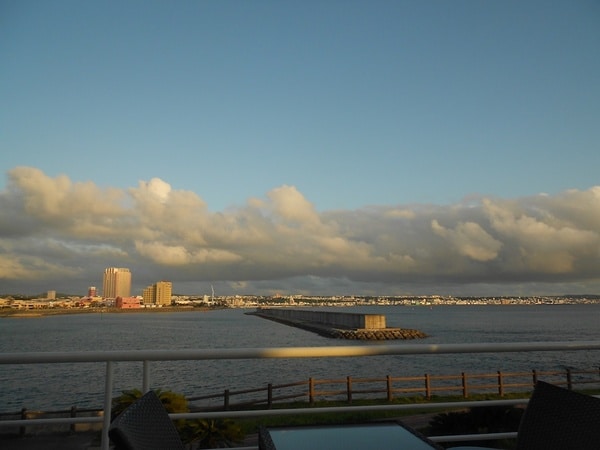 CONTRIBUTED BY LEEANN STEVENS

Sea Garden View
My husband and I found the perfect restaurant for our date nights. Sea Garden is right by the sea, perfect ambience and delicious food!
The restaurant has indoor and outdoor seating. We preferred to sit outdoors. As the sun sets, you can see American village light up. If you decide to sit outside, the staff brings you a blanket if you want one.

Sea Garden Mai Tai
We started off with drinks. I tried the long island ice tea and the tropical mai tai. My husband had mango juice. They have a detailed menu for drinks.
Their menus are simple and each item has a corresponding picture. We tried the cheese fondue, with extra bread (which I would recommend). The fondue is very creamy and delicious. We also tried the bruschetta. Please note: your food will look exactly like what you see in the picture! So, we got three slices of bread with the bruschetta.

Sea Garden Beef
For our main course I got the chicken leg confee with honey and mustard sauce. I must say they serve this dish with a lot of grainy mustard. So if you are not a fan of mustard, I wouldn't suggest this meal. My husband had the grilled beef with garlic butter sauce. The beef was delicious. I will definitely be getting that the next time we go. There were a few fries served with our meals.
I wouldn't suggest bringing kids as smoking is permitted indoors and outdoors.

Sea Garden Exterior
Hours:  The staff was very friendly and attentive. They were prompt with their service as well. The restaurant is open only for dinner. They start seating at 1700 and close at 2500. Last order is at 23.50.
Payment:  They accept credit card, yen and dollars. (There is a 100 yen service charge.)
Website:  You get a detailed view of the restaurant and menu download here- http://www.seagarden-okinawa.com/
Phone: 098-926- 2755.  Reservations are required.
Directions: The website has directions on it with a picture —  From Kadena Gate 1- go out of KAB gate1, turn left. Go past the first light and at the second one, turn right. You will see a family mart and a Lawsons opposite each other. Go straight all the way. You will reach the sea wall. We parked at the sea wall and walked 'back' along the sea wall. You will the restaurant on the second floor on your left hand side.