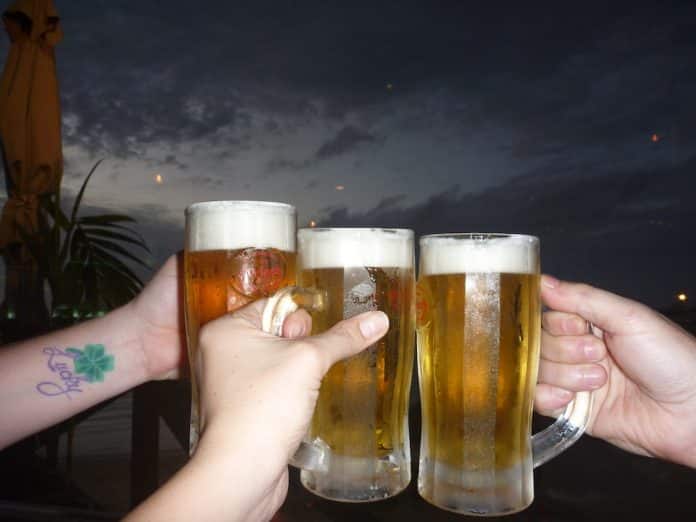 Editor's Note: A reader has informed us in early 2013 that this restaurant is currently undergoing renovations, with an unknown reopening date. If you discover that this restaurant is operating again, please let us know!
CONTRIBUTED BY TRACIE ROBERTS
Hi there everyone! I'm happy to tell about a new restaurant in Onna Village! It's Sea Time Sunset Dining- and it is lovely and delicious!

Sunset Front
We live in Onna, and believe us, they do mean sunset in that name! One of the best places in Onna to watch it for sure! Living in Yomitan and Onna for 5 years, there is no other place like this and we are super excited to share!
The beers were cheaper than most other places we've gone. We paid 400yen for draft Orion- of course, that might be an introductory price. No happy hour yet, but they said they're still working out some of the ideas that may come into play later.

Sunset Beer
We had vegetable tempura, a beef/rice bowl w/ soba 800yen, pork cutlet rice bowl w/ soba 800yen, and tofu chanpuru w/ rice and soba for 800yen. I have to say, I eat chanpuru everywhere and this was right up there with the best! The beef bowl was amazing and I'm pretty sure I'd like to eat it every day- my husband was more than pleased. The pork cutlet was deep fried and delicious.

Sunset Food 1

Sunset Food2

Sunset Food 3
They are still working on the English menu, but they say they will have one- and probably will by the time I'm even writing this. We ran into a bi-lingual housing agent we knew and she translated for us. She said that they have some really nice steaks, sashimi, awamori, and lots of other delicious things.
The ambiance was wonderful with dark wood floors and ceilings, stone walls, and wooden tables- many inlayed with sand and lit shells covered in glass. So lovely! Great date night!

Sunset Inside
The seats were comfortable and there are about 4 seats outside. The restaurant itself can seat about 30. The view is good from most of this small restaurant. The location is on the Onna wharf, so you can take a delightful walk along the inlet after you eat!
We loved our first venture there and plan to get back in a couple more days. We think it will be our new favorite local spot. We were really impressed with the chef and service. We thoroughly enjoyed it and highly recommend giving it a try!
Hours: It's open for lunch 11-3 and dinner 6-10.
Directions: It's about 10km from Torii Main gate. It is located right across the street from Forest Adventure and on the back side of Sea Time Dive Shop on Route 6 about a km before Maeda Point and about 2km before the Renaissance.
Payment: We paid in yen, but they also accept credit cards.