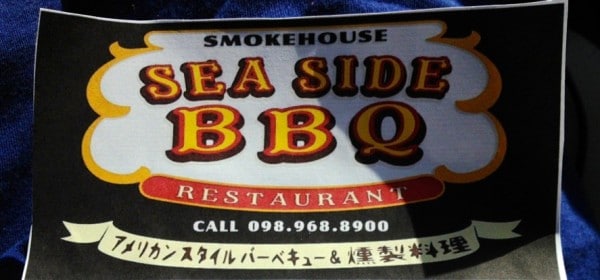 CONTRIBUTED BY KASSIE O'DRISCOLL
My husband, Mark, and I tried Seaside BBQ months ago, but life has been incredibly busy (and fun) so I've struggled to get this post written! However, I'm here now with information about a BBQ joint that will make you feel like you're in North Carolina! Aw, NC, how I miss thee.
The restaurant is owned by a family of Americans who work full-time outside of the restaurant and come straight from work to make delicious food! In July, when we were there, it was a simple "picnic" layout complete with the checkered table cloths. The menu was full of southern style goodies and the people were extremely welcoming… What more could you ask for?!
I got the Pulled Pork Plate with two sides: mac & cheese + mashed potatoes. Mark got the Chopped BBQ Beef Sandwich with two sides: mac & cheese + BBQ beans. The meats are all smoked out back … just like I remember back home! We both REALLY loved our food.
We barely wanted to share with the other, but couldn't resist. Our only complaint would be that the lemonade and sweet tea leave much to be desired. However, I will say that my husband and I are kind of snobs when it comes to those two things.
This little guy was there to greet us at the door…
A little morbid, if you think about it, but I think that even he would agree that the ribs at Seaside look pretty darn tasty! The whole rack comes out looking like something from ice age (huge!) and smells delightful. We saw at least three or four people order them while we were there. They could literally feed Mark and I for three days.
Based on what I found online, they've expanded their menu (alligator?!) Either way, I highly recommend this restaurant! If you're just craving some good, home-style cooking or whatever your reason may be … GO! You won't be let down.
Hours: Tuesday – Friday 6:00 p.m. – 10:00 p.m.; Saturday & Sunday 11:00 a.m. – 10:00 p.m. Closed Monday. **This was in July, when we went, so I would recommend calling beforehand to be sure.**
Phone: 098-968-8900
Address: 1668-2 Igei, Kin-cho, Kunigami-gun, Okinawa Prefecture 904-1202 , Japan
Directions: Take the expressway to exit 7. Turn right. Go down about a mile and as the road curves right (you'll see tombs on the left), pass XYZ Cafe, and the next building is SeaSide BBQ on the left.
Facebook page: Seaside BBQ