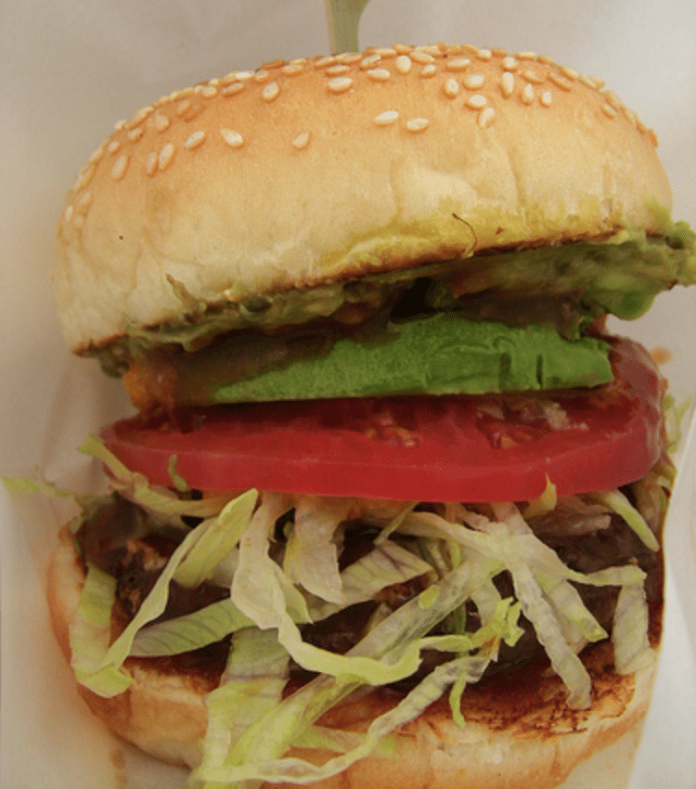 CONTRIBUTED BY JULIA & KAHO
Seaside Jet City Burger's Avocado Burger, originally uploaded by kahoristori.
Click the above image for more photos. Also click HERE to see earthhopper's photos. And HERE to see Julia's take on the place.)
I've only tried a couple of their burgers but I was pleasantly surprised. It's not often that you find a pineapple burger with avocado sauce on it! I also tried the Spicy Chicken Cheeseburger. Not to mention their garlic french fries…I'm a HUGE fan of garlic so this hit the spot for me.
A burger and fries can run you upwards of 1000 yen so I wouldn't come here every day but it's nice for the occasional trip and if you want something different from your typical burger. Items on their menu include:
* S.S.J.C. burger (580 yen)
* Cheddar Cheeseburger (680 yen)
* Avocado Burger (720 yen)
* Goya Burger (600 yen)
* Pineapple Burger (780 yen)
They also have a Tandoori Fish Burger, tortillas, and taco rice. You can combo your burger or tortilla for an extra 300 yen which would include fries and a drink.
There is a deck outside and it is close to Araha Beach so if the weather is nice you can sit outdoors and there is room for the kiddos to run around. It's convenient for burning off all of the calories if you want to walk by the beach afterwards! It is within walking distance of the basketball courts and parking for Araha so once you have an idea where it is you can
choose to park there instead.
Hours: 11:00 AM until 10:00 PM
Phone: 098-926-2294
They also do takeout.
Address: 1 Chome-12-12 Chatan
Google Maps Coordinates: 26.3069786, 127.76037329999997
Directions:
1. Head South on 58 from KAB Gate 1 and make a RIGHT at the light for the drive-thru Starbucks. If you're coming out of Lester just go straight out the gate through the light and across 58.
2. Take a LEFT at the 1st light.
3. Go through the 3rd light and take a RIGHT just past AU. Nishimatsuya (the pink and white building with a rabbit on the sign) will be on your left and Beachside Mansion III will be on the far right corner (whitish gray building with blue and purple accents).
4. Take another RIGHT and look for Seaside Jet City Burgers on your LEFT. It is a yellow shack with a parking area behind some vending machines.