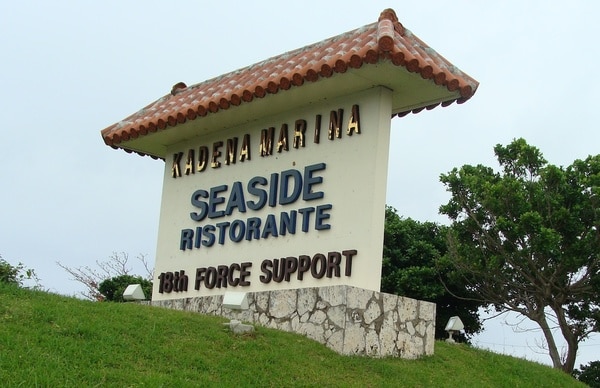 CONTRIBUTED BY MELISSA RUISZ NAZARIO

Seaside Sign 1
Monday and Tuesday closed. Monday and Tuesday closed. If I repeat this mantra over and over, perhaps the next time my appetite craves a meal from Seaside Ristorante, my brain will remember to check what day of the week it is BEFORE I show up to an empty parking lot. Perhaps.

Seaside Exterior
A note on the name: "Ristorante" is not some corrupted translation, but the Italian word for the French (and now English) "restaurant," which (did you know?) means "food that restores". Does the Italian food here "restore"? I suppose it depends on what you order, but the "seaside" view of the East China sea is certainly refreshing, so get a table on the patio (or, to be fancy, you might call it the "veranda") if at all possible.

Seaside View

Seaside Patio
The staff are quite friendly, and as you peruse the menu, they will set down a plate of complimentary toasted Italian bread with a blend of olive oil, shredded Parmesan and herbs to spoon on top. They're also rather patient as you mull over their long list of drinks, with intriguing names like "Shark Bite," "Mango Moondance," and "Chocolate Nut Coffee". I recommend one of their delicious sangrias. Better yet, order both the red wine "Seaside Sangria" and the white wine "Berry Peach Sangria" and share with your companions.

Seaside Italian Bread

Seaside Cheese Sticks
Speaking of sharing, the fried calamari or mozzarella sticks are favorites to sample with friends. Also, the Italian nachos are an interesting take on the classic appetizer, substituting more of that toasted Italian bread for tortilla chips, topped with cheddar, olives, and spicy salami.

Seaside Eggplant Parm
There are lots of sandwiches, pizzas, and Italian dishes to choose from. I'm fond of the crab, avocado and bacon sandwich–the flavors and textures are quite savory. Sandwiches and burgers also come with a choice of pasta salad, fruit cup, or fries. For something a bit more traditional, the eggplant parmesan is a nice choice; it's sliced into five pieces and lightly breaded with what seems to be Japanese panko, and of course, smothered in cheese and marinara. With the included side of pasta, it's very filling.
If you take the kids, they might split one of the gourmet pizzas (ranging from $13 to $18), or order a hamburger, grilled cheese sandwich, or fish and chips from the kids menu, each $5.95 and served with fries. Here's a tip if the kiddos do tag along: the staff will also give the them some bread crumbs to feed the fish if you ask.

Seaside Chefs Salad
You really can't go wrong if you just order the chopped chef salad and soup. The hubbie orders this every time we go–pretty soon, I think he'll just have to ask for his "usual." The chef salad is a large plate of iceberg lettuce, tomatoes, salami, chicken, hard boiled eggs, green and kalamata olives, cucumber, and mozzarella cheese, with creamy Italian dressing on the side. The soup is generous as well, so be forewarned: the "cup" size is really a regular bowl, whereas the "bowl" size is double that–a ginormous bowl. However, the seafood bisque is rich and creamy, and the complex tomato basil soup is much tastier than the watery canned stuff, so you may just want to throw caution to the wind and go for the ginormous bowl. That is, if you're not planning to also try something off their tempting dessert menu, such as "Warm Pear Bread Pudding," "Chocolate Lovin' Spoon Cake," or the Tiramisu "Martini" (served in a martini glass). Sadly, I haven't had the room after my meal to try any of these yet. Maybe I'll go just for dessert later today — wait, what day is it today?

Seaside Interior
Website: www.kadenaforcesupport.com/seaside.html
Hours: Sunday, Wednesday, Thursday: 11am — 8:30 pm, Friday & Saturday: 11am–9pm, Monday & Tuesday: Closed, Lunch menu available between 11am–4pm
Payment: American dollars, credit card, debit card.
Discounts: They also offer a $1 discount for each guest if you show your Air Force Club Card. If the patio is closed, they offer a "Rainy Day Special" of 25% off a second entree for lunch; for dinner, it's 25% off an appetizer with the purchase of an entree.
Directions: From Kadena Gate 1, make a right onto 58. Continue for about a mile until you see the sign for "Seaside Ristorante," make a left and follow the road down to the restaurant. It's located just before the "Navel Kadena" shopping plaza and before Kadena Gate 4.