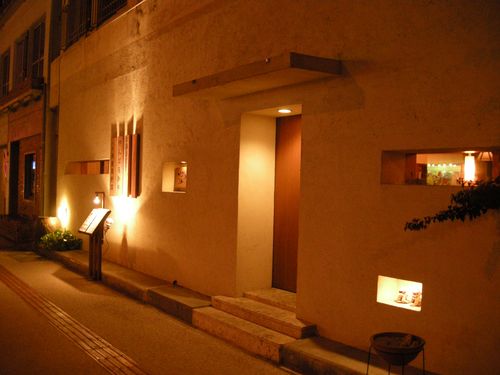 CONTRIBUTED BY JOY BARNES
Although I do enjoy a good bowl of soba soup, a plate of taco rice, and yes, even some goya champuru, there is a restaurant in Ishikawa that brings Okinawan food to a whole new level of delicious.  Sakae Ryouriten or "Seasonal Foods of Okinawa" uses traditional Okinawan ingredients to create flavorful dishes completely new to my American palate.
The first time my husband and I went to "Seasonal Foods," the Japanese woman at the table next to us must have seen the perplexed look on my face as I read the menu.  Although it was in English, some of the options seemed so strange that I wasn't sure what to order.  The woman leaned over and, pretty assertively, told us what to order. Not really knowing what to do, we took her advice and now, after returning many times, the dishes she suggested are still some of our favorites there.
One of her suggestions was the beni imo shell stuffed with pork.  It can best be described as a dumpling made of mashed beni imo (Okinawan purple sweet potatoes) filled with a mixture of ground pork and green onion.  The dumpling is fried so in addition to being delicious, it has a superb texture of crispy on the outside and creamy on the inside.
Like the dumplings, many of the dishes at Seasonal Foods have a unique texture.  Really, there is no other restaurant that I've been to where the texture of the food is as great as the presentation and the taste.  Take the Charcoal Grilled Beef, for example… it is so tasty and with just the right amount of fat, the beef feels like it melts in your mouth!  The Deep-fried Peanut Tofu (also a suggestion from the Japanese lady on our first visit) is another dish that, in addition to having a great tasting sauce, has a great texture of lightly crunchy on the outside and gooey-creamy inside.
One of our other favorite dishes is the Eggplant with Pungent Red Pepper Miso. I have to admit, I'm not usually a fan of eggplant, but this eggplant is cooked so well- not too firm and not too mushy.  It is served with small bits of tofu and has a subtle spicy after taste.
In addition to great food, this quaint restaurant has an intimate feel of an old-style Okinawan home.  The low ceilings and exposed timber beams are great architectural features that add to the intimate feel.  While we have brought our children here before, my husband and I prefer this setting for a nice date-night outing.
As for cost, it is a little more on the pricey side– but nothing out of the ordinary for great food. They have some set menus for 2000-3500 yen per person, but we typically order al a cart (including alcohol) and end up spending about the same.
Additional information:  Seasonal Foods has a great selection of Awamori if you want to try some of the unique Okinawan spirits! There is a nice-sized banquet room that could sit a large party if you are organizing an event.
Payment:  They take only Yen (no dollars) and I'm pretty certain they don't take credit cards.
Hours: 5 pm- midnight, Closed Tuesdays
Website: http://niraicuisine.com/index.html
Phone: 098-964-7733
Address: 1 Chome-27-35 Ishikawa, Uruma
Google Maps Coordinates: 26.4288178, 127.82743679999999
Directions:  Seasonal Foods is located on 329 in the heart of downtown Ishikawa (not the 329 by-pass).  From Kadena, go straight out Gate 3 and follow 26 until you can take a left onto 329.  From the Courtney main gate, take 75 towards Ishikawa and take a right onto 329.  The restaurant is 3 km past the intersection of 75 & 329.    OR, take the Okinawa Expressway to the Ishikawa Exit.  Take 329 South for about 1 km and the restaurant will be on your right.  The best landmark to look for is the large "Tomato" Karaoke Bar which is on the same block, across the street from the restaurant.  Seasonal Foods is on the first floor of an otherwise, unassuming, white building.  Parking is across the street.