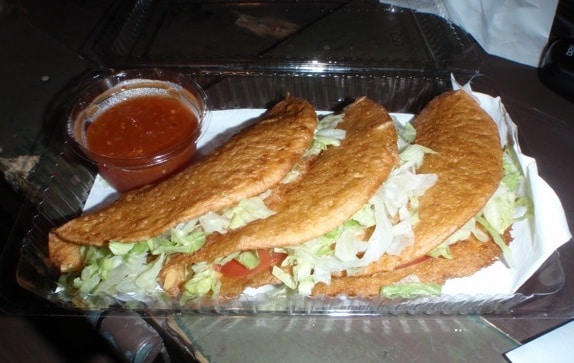 CONTRIBUTED BY JESSICA RODRIGUEZ

Senor Taco Tacos
We are all a fan of Tacos on Okinawa! I am not sure what it is about them, but they just don't compare to the wannabe Mexican food served by Taco Bell. I have been to a couple of different taco places around the island, and none of them are better, in my opinion, than Senor Taco. It's a small, cozy, dingy looking restaurant, but it's supposed to be that way! The walls inside are painted and plastered to look like a Mexican hacienda, the staff is friendly, and the food is delicious.

Senor Taco Plastics
They serve everything from tacos, tostadas, burritos, onion rings and cheeseburgers. They offer really cheap prices, and even beer!

Senor Taco Menu
Senor tacos is a really nice alternative to spending lots of money on a Friday night date. You will not be disappointed coming here!
Phone: 098-926-0005
Hours: 12 pm to 1am
Payment: They accept Cash and Yen.
Directions: They are located in the Plaza Shopping center.  From Kadena:  Out of Kadena Gate 2, make a right at 330 (Koza music town light) keep going until you see the KFC on the left, its about 13 lights down, it's on the first floor right next to the Baskin Robbins.
From Foster: Leave the Legion gate, make a left onto 330, keep going until you see Plaza Housing on your left. Keep going past that light, you will see the KFC on your right, make a right at that light, and its right next to the Baskin Robbins on the first floor.