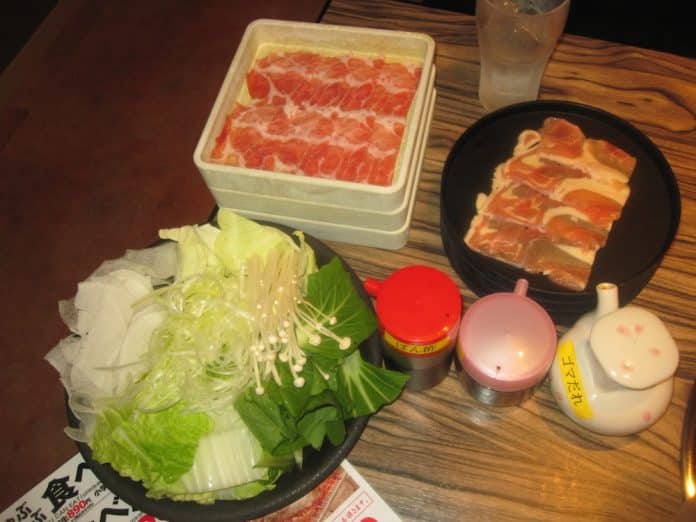 Shabu Exterior
CONTRIBUTED BY MONETTE EAMES
It was the day of Typhoon Songda and our Japanese friends decided to go bowling. Our family figured that if Japanese people were still out and about, the typhoon couldn't be that bad — yet. We headed to Seaside Bowl in Chatan and after a few games, we left and found it pouring like cats and dogs accompanied by a slight wind. We walked right across to Shabu-Shabu and B.B.Q. and found it a safe and warm haven in the storm.

Shabu Pot
For those of you who are not familiar with Shabu-Shabu, it's a Japanese dish that came from the Mongolian tradition of nabemono, or 'one pot' cooking. In shabu-shabu, thin slices of meat, veggies, and even noodles are placed in a communal pot of boiling water and swished back and forth until cooked. Then they are dipped in different sauces. Shabu shabu basically translates to 'swish-swish,' which is the sound they make in the broth.

Shabu Raw Food

Shabu Inside
We've had nabemono parties with friends before, but this was the first time we actually went to a restaurant to have shabu-shabu. It was 990Y per adult, 890Y for under 12, and 390Y for under six for all you can eat pork and chicken. If we wanted to add beef and pluck (that's what it said on the menu—typo for duck, maybe?), it would cost a few dollars more and if we wanted to add BBQ, it would be 2290Y per adult. You're given 90 minutes to devour all the meat you desire. We opted for the pork and chicken shabu-shabu and 990Y  sounds pretty cheap for all you can eat meat.
However, they got our family by charging 199Y for each bowl of rice. Our family LOVES rice, so I had to keep reminding family members to eat more meat and less rice. We had fun swishing the meat and veggies in the boiling broth. We could choose two types of broth for our meal: Korean, which was spicy and hot; Japanese, which was soy sauce-based; Light, which was seaweed-based; and Italian, which was tomato-based. We chose Japanese and Light. Our meal was perfect for a Typhoon Day. However, with it being so yummy, I woudn't mind having it any day. We'll just have to train ourselves to eat the meat without rice. Then that would be a super deal!
Directions:  From Foster commissary gate turn right on 58, turn left at the Ferris Wheel towards American Village. Park at the Sega/Seaside Bowl parking lot. It's on the 2nd floor, right across the bowling alley. This restaurant is also next to Kami Sushi.

Shabu Square
Hours:  11:30 am to 11:30 pm daily
Phone:  098-936-4598
Payment:  Yen
Menu:  Click for larger

Shabu Menu