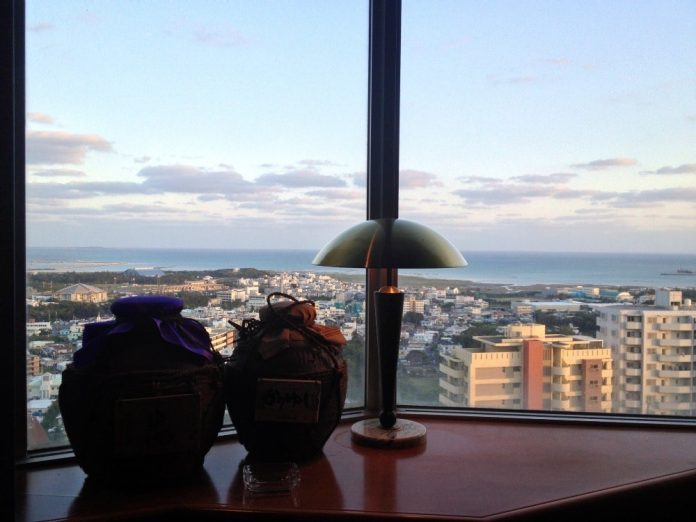 CONTRIBUTED BY LAURA SNELL
Sheesah Lounge is a bar/lounge/restaurant located on the 10th floor of the Dai Ichi Hotel. The menu offers home-style Okinawan dishes. The menu is not extensive but has enough to choose from so that there is something for everyone (including kids).
This is a smoking establishment, so if you are sensitive to smoke, this might not be the place for you. The drink menu is beyond impressive. There are all kinds of fruity cocktails and concoctions. They even have habu sake if you are so brave as to try it!
The menu offers selections such as a cheese plate, taco rice, tenderloin steak dinner, teriyaki chicken dinner, Caesar salad (which comes with shrimp and some grilled Spam), and chips and dip.
What's most impressive about this 10th floor restaurant is the view. Equally impressive during the day and night, it will not disappoint and you will be guaranteed to get a wonderful photograph.
During the busy travel season, the bar/lounge/restaurant does get quite busy and books with parties; it's best to call ahead before going to make sure that it is open.
Hours: 6:00 p.mm – 11:00 p.m.
Payment: Yen and credit card
Phone: 098-931-1500 (hotel) or 098-931-1585 (reservations)
Address: 2-8-1 Yogi, Okinawa City, Okinawa Prefecture, 904-2174 Japan
Website: http://daiichihotel-okinawa.com/en/sheesahlounge.html
Directions from Kadena Gate 2:  Exit Gate 2 and turn right at the intersection onto 330.  Pass Plaza House Shopping Center on your left then turn left onto 22.  Continue on 22 and go through your third traffic light  and turn right at the end of the road.  Go straight and turn right after passing Hotel Hawaii on your left.  The hotel will be on your right (after driving on the winding road for a short time) marked with a red sign.