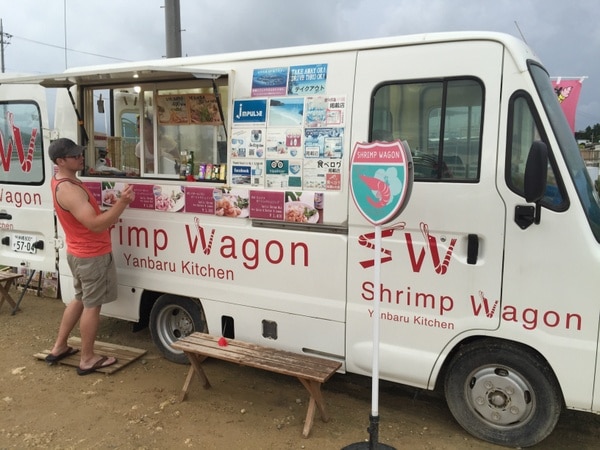 CONTRIBUTED BY JARED DAYOUB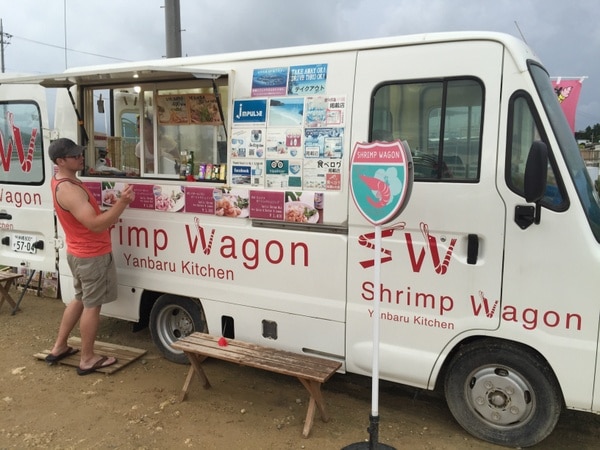 An escape to Kouri Island's Shrimp Wagon Yanbaru Kitchen, northwest of Nago, will quickly remind you of the lyrics to Jimmy Buffett's "Margaritaville." The smell of boiled shrimp and saltwater is definitely what I needed to start my summer off right. I discovered the food truck on a solo trip to Kouri Island in search of the sought-after views of the crystal blue water from the bridge connecting Yagaji Island to Kouri Island. After making a right turn at the end of the bridge, I was immediately greeted with the sight and smell of the Shrimp Wagon.
The "wagon" is conveniently located in a parking lot next to a pavilion with picnic tables and other seating. There are also two public beaches within walking distance, on either side of the bridge. More details on the island itself have been covered in a separate article here on Okinawa Hai, so I'll leave you a link to do some research. I do recommend that couples take advantage of a sunset stroll on the bridge though!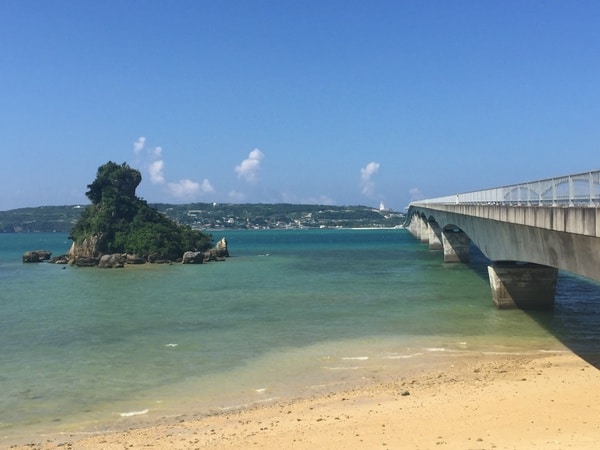 The Shrimp Wagon serves up plates of delicious shrimp smothered in garlic, butter, and lemon sauce alongside white rice. They also offer a spicy alternative with cayenne pepper, which I imagine is just as good. It's worth mentioning that the shrimp are grilled and served with the shells on, so I recommend removing them before you dig in. The recipe, I later learned from their website, is inspired by similar mobile cuisine found on the North Shore of Oahu, Hawaii. This means they serve Hawaiian Sun's guava juice, which has always been a favorite of mine since pulling into port at Pearl Harbor years ago. They also have a small selection of imported beers, to include Corona and Heineken.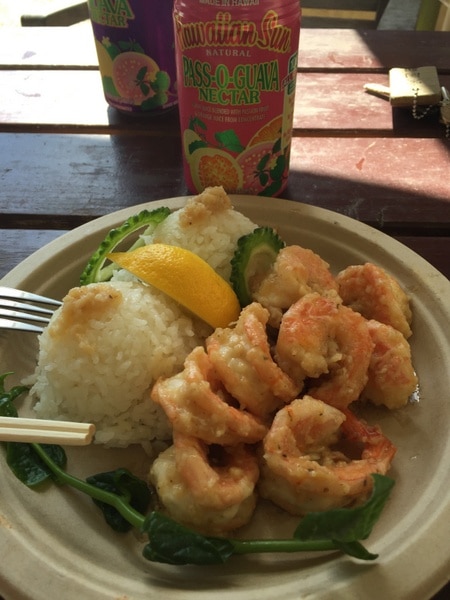 The average cost of a set is around ¥1,200, not including drinks, but in my opinion, it is well worth it. I brought my friend and his wife on the next trip, and they shared my love for the tasty crustaceans. If seafood is not your thing, there are alternative options both on their menu and at the restaurant under the pavilion. If you have room for dessert, there is a place to buy ice cream as well.
The Shrimp Wagon is run by two local Okinawan women, who provide excellent service. I am a huge fan of food trucks, and after recently watching the movie Chef on Netflix, I have an even greater appreciation of what it takes to operate one. That being said, with how busy the truck was, they did a great job of keeping up with orders and serving us with a smile.
If you decide to go, let us know about your experience in the comments section. Hope you have a great summer exploring Okinawa!
---
Shrimp Wagon Yanbaru Kitchen
Payment: Yen or Credit Card
Hours: 7 days a week from 1100 – 1800
Phone: 090-8056-1242
Website: http://shrimp-wagon.com/english/
Address: Japan, 〒905-0406 Okinawa Prefecture, Kunigami District
GPS Coordinates: 26.695432316306945, 128.02241721907956
Directions: Type Shrimp Wagon into Google Maps and you are good to go! In case you don't have access to this app, the article mentioned earlier has detailed directions. It is past Nago, and it takes about an hour and a half to get there. You can take 58, but I recommend taking the expressway to Nago to significantly decrease travel time. Once you cross the bridge to Kouri-jima Island, make a right turn followed immediately by another right into the parking lot. It is free to park here, but if it is full, there is a second lot across the street that charges ¥300.