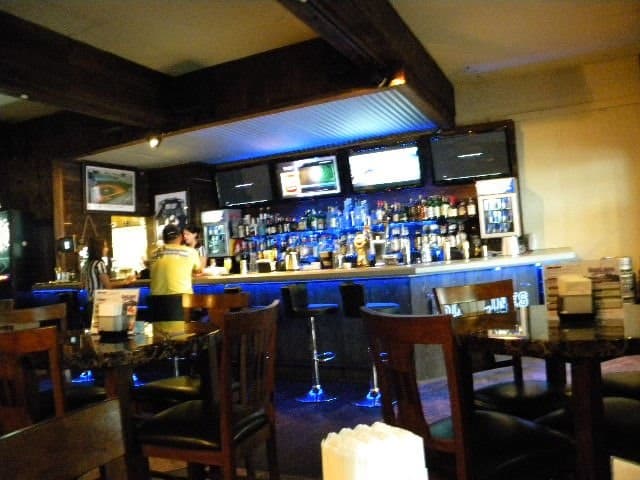 CONTRIBUTED BY JILL BAKER

Sidelines Outside
Since we have been here in Okinawa we have been looking for that restaurant that reminded us of the sports bar and grills that we were use to in the U.S. In the the back streets of Okinawa near Kadena we have found that place. It is off the beaten path but close enough to walk to without having to pack a bag in order to get there.

Sidelines Bar
It doesn't take much to find it. Once you get inside you will get the feeling that you are no longer in Okinawa and that you have been transported to the States just for a little bit. Inside there are wall to wall televisions, Karaoke, video Texas Hold em', electric darts, pool table and the atmosphere is very friendly. There is a outside terrace as well as an upstair balcony.

Sidelines Breakfast
The only thing that is not going to remind you of the U.S. are prices. My husband and I went with our son and paid less then $30 for a big breakfast that consisted of two eggs (cooked) to order, hash browns, toast, and 3 huge pancakes. Breakfast is the best time to go there if you have little ones as they get busy later in the day. And baby seats are provided there.

Sidelines Pancakes
Later in the day, they serve mainly finger foods like nachos, chips, fries and chicken nuggets..
Hours: Monday thru Friday 11 a.m.-midnight, Saturday and Sunday 6 a.m.-midnight (breakfast from 6 a.m.-2 p.m.)
Payment: They accept Yen, Dollars, Credit Cards
Directions: From Lester Gate1 : Drive North towards Kadena on 58, at the fourth light turn left, this is the light just before Kadena Gate 1 (Family Mart or Lawson should be on your right once you turn left) go straight all the way till you hit the seawall. Sidelines Restaurant is on the corner, on your right hand side.
Phone: 098-923-0076