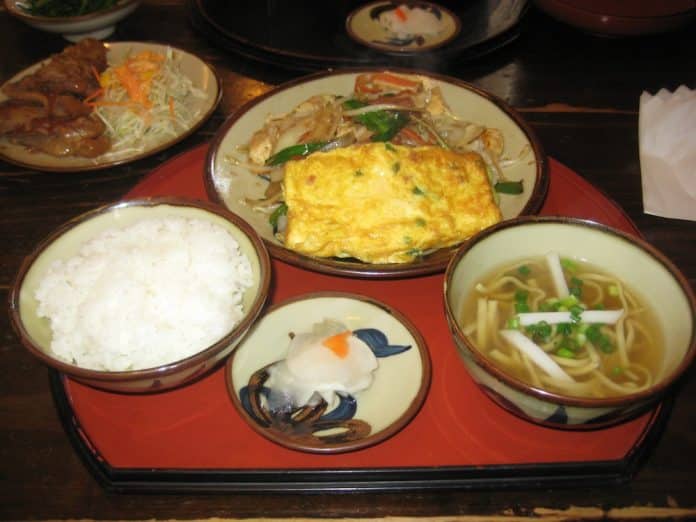 CONTRIBUTED BY CALYN PAQUIN
What happens when you love your mother very much? You name your restaurant after her of course! At least in this case, that is the story. The lady at Sobaya Chirugwa told my friend that the name of the owner's mother is Tsuru which is crane. When he was little, he couldn't spell it so he would call her Chirugwa (gwa is added to a name for whom you are fond of). Soba is noodle and ya is shop which makes this Chirugwa's soba shop. I love that. The kanji and Japanese on the sign that I can figure out is little crane house.

Sobaya Exterior
The other things I like besides the good food are the Okinawa feel of the place with the red tile roof, the friendly servers in Okinawan outfits and the interiors with the basket lamps to name a few. There are 3 branches in Okinawa; Naha City Tsubogawa (098 836 3719), Okinawa City Misato (098 938 1811) and the one I went to is right by Hamby Town and Araha beach (098 926 2202). It is a pretty good size restaurant with a big center table as you enter with benches that could sit a big group. There are many tatami seating and tables with booths as well.

Sobaya Inside
Each table is set with menus and a pitcher of water. They will bring you a menu in English when you ask for one. There is a picture of every item/set in the menu. Every set comes with soba noodle soup. The difference in the price is the size and content of the soba noodles. Half set soba comes in a regular noodle bowl with a slice of pork and 2 slices of fish cake and a small set soba comes in a rice bowl with only shreds of fish cake.

Sobaya Food 2
I ordered the vegetable and pork stir-fry with small soba set. My husband ordered the teriyaki pork bowl with half soba set and my daughter ordered the children's soba. We also ordered a side of pork ribs which melts in your mouth! Needless to say, we left the restaurant very satisfied.

Sobaya Food

Sobaya Kids Set
Hours: 11:30 am – 10:00 pm daily
Payment:  Yen and dollars accepted. No credit cards.
Address: そば家鶴小北谷店
〒904-0116 Okinawa-ken, Nakagami-gun, Chatan-chō, Chatan, 1 Chome−11−10
Google Maps Coordinates: 26.306777, 127.761164
Directions: From Foster gate #4 or The Spot gate, turn left and go straight at the traffic light on 58 keep going till you hit the T junction where ETWS is located. Turn left and it's a couple blocks down just across from Jet City Burgers. Plenty of parking outside of the restaurant.
Menu:  Click for larger.

Sobaya Menu