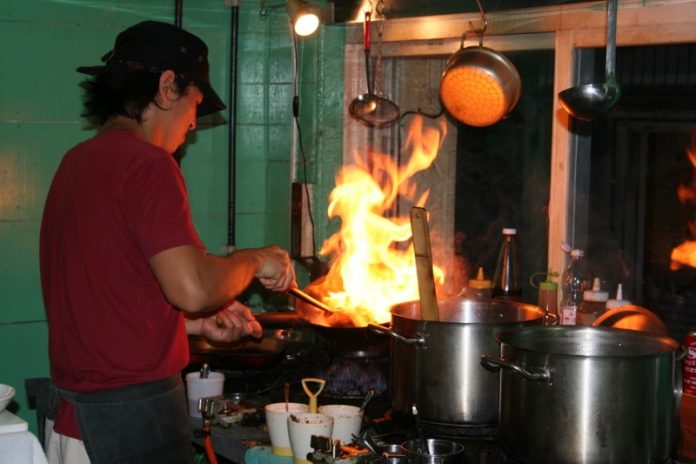 CONTRIBUTED BY KELLYERACE
Okay, now this is one of those places that you kind of feel guilty writing about because it is a little treasure, and you don't want to meddle with all the things that make it so endearing. So, I'll keep this post short and hope that you don't even notice it's here. And further hope that SomChai's regulars don't hunt me down and do bad things to me for calling attention to the spot they hold dear to their hearts.
So just a few key words, the obligitory snapshot or two. And then I'm all done. Promise.
I. Key words (in word association form): You say "SomChai", I say…
"Thai. Colorful. Spicy. Lemongrass. Alleyway. Yum. Down-to-earth. Pumpkin."
II. And the snapshots:

The rich and tangy soup, "Tom Kha", a glass of Thai tea, and a side soup.

I'd certainly ask for this pumpkin custard for desert. There's a caramel, lemongrass kind of sauce you pour over it which is sticky and plate-lickin' good.

Here's Richard, the proprietor, cookin' away. He's some kind of friendly.

Thanks, Julia, for sending along this pic. of some of SomChai's scrumptious menu items

The interior.

And the exterior.
---
SomChai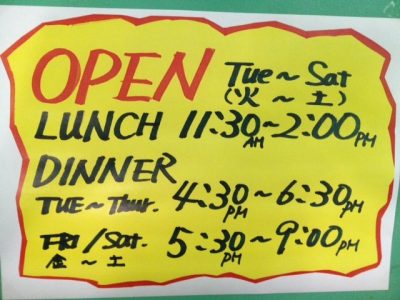 Hours (Updated October 2016):
Open Tuesday – Saturday
LUNCH: 11:30-2pm daily
DINNER:
Tues-Thurs 4:30 – 6:30pm
Fri-Sat 5:30 p.m. – 0:00 pm
Closed Sunday and Monday
Payment: Yen only
Phone: 098-937-2208
Address: 1 Chome-17-14 Chuo, Okinawa
Google Maps Coordinates: 26.3375095, 127.80123630000003
Directions: From Kadena Gate 2, go straight down Gate 2 Street until you reach 330. Hang a left at 330. Hang another left at the building "Hide Away". You are now on Park Ave. Look for a cafe/bar called Sideways on your left hand side and turn left right after it. (You'll have to have parked your car somewhere though, cause the left you take here is a pedestrian street. Also, if you've reached the Bamboo Cafe — whose jerk chicken, Thai style soup and curries reader, Darby, recommends BTW — on Park Ave, you've gone too far.) SomChai is diagonally across from Sideways.