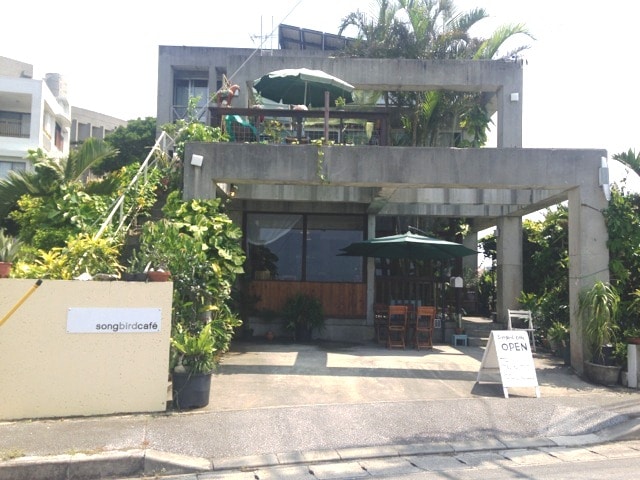 Editor's Note: This is the location formerly known as Café & Aroma T's, once a popular restaurant in Yomitan. We have leared that T's closed, and Songbird Café has opened in the same building.
CONTRIBUTED BY ELIZA GROFF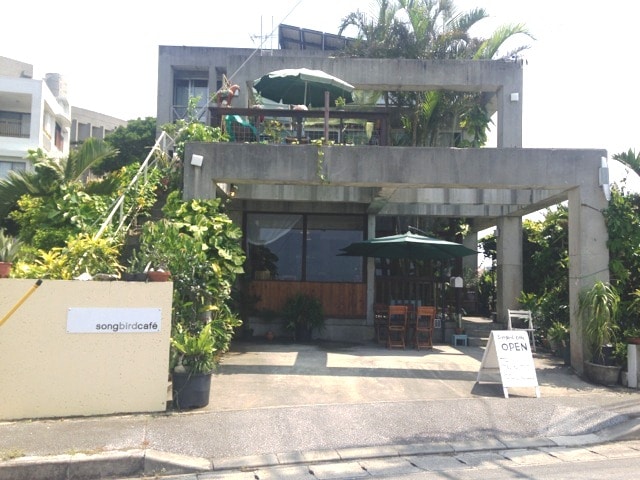 I gaze out at the magic carpet sea. We have the best seat in the house. My husband and I came for a getaway lunch to Songbird Café in Yomitan. The café smells like cedar – wooden floors, finished wooden doors, wooden cabinets, wooden furniture – you name it.  This little hipster café welcomed us with a driveway lined with plants cautioning the end of the parking area, on the other side of which is a swift slope down to the beach.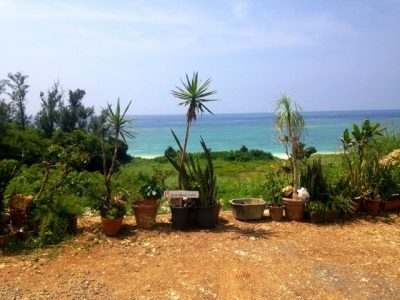 As we approached the door, herbs lined the windowsills, and plants tastefully adorned the approach to the entrance. The inside of the café is warm and welcoming, unrefined, and casual, yet elegant in its simplicity.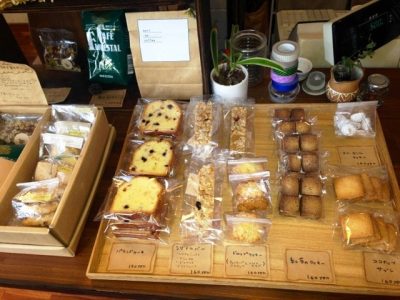 A menu is written in English and Japanese on the chalkboard above the kitchen for a menu preview.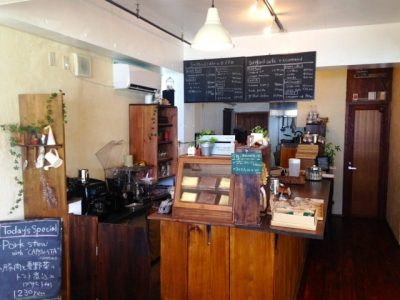 We seated ourselves and our waitress quickly sung a welcome and handed us a menu full of dishes made with locally grown ingredients on Yachimun (locally made pottery) plates. Their coffee is certified pesticide free.
I ordered the keema curry and my husband ordered the shrimp and broccoli pasta. Our meals were preceded by a French potato leek soup, a dollop of mashed sweet potatoes, a square of their daily quiche, and a shredded carrot salad.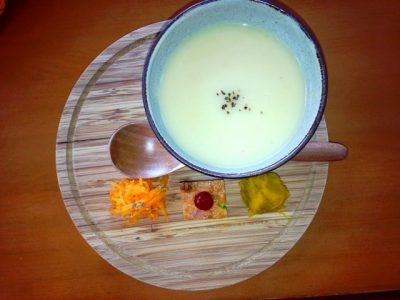 Both of our meals were artistically displayed on bamboo cutting boards, and each included a salad of red leaf lettuce and mizuna tossed in a sesame ginger miso dressing.  The veggies accompanying my keema curry were steamed to perfection, and the keema curry itself was a scrumptious take on the traditionally Indian-style minced meat curry.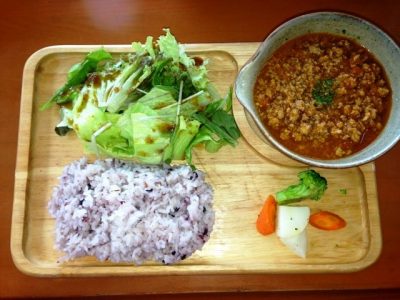 My husband's shrimp dish was also very tasty, made with a cream sauce pureed with fresh tomatoes and served with steamed broccoli.
To end our meal, we finished with a freshly baked cinnamon roll with homemade cream cheese frosting that made me want to lick the plate.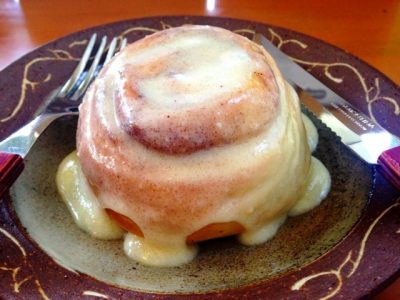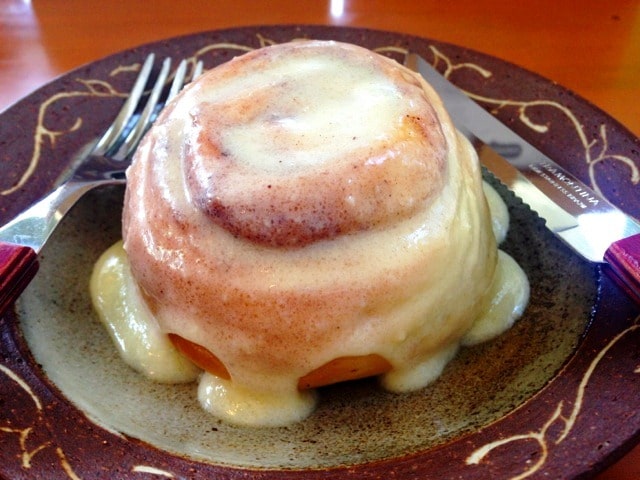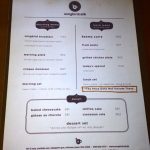 Overall, the service was fantastic and you can't beat the view! They have sort of unusual hours, being closed on Mondays and the second and third Tuesday of every month, and they close early, by 7:00 p.m. This is still late enough to catch a 6:30 p.m. sunset, but don't plan on going there for a late night out. They also have limited outside seating. I have to say that Songbird is one of my favorite cafés on the island, for its perfect combination of ambience, food quality, service, and location.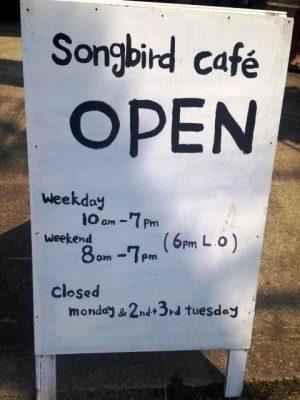 Directions: If you are coming from Torii Station Gate 1, go North towards Cape Zanpa on Highway 6, and take a left at the stoplight intersection with a big white sign with blue lettering that reads "Mariner" pointing you toward the Mariner apartment complex.  Follow that road all the way to the ocean where it takes a sharp left, and Songbird café is on the corner. Smartphone tip: enter their phone number, 098-923-2773 to find a pin directly to their door.
Address: 161-2 Toya, Yomitan-son, Nakagami-gun, Okinawa, Japan 904-0305
Phone: 098-923-2773
Hours: Tuesday-Friday 11:00 a.m. – 7:00 p.m. (last order 6:00 p.m.), Saturday-Sunday 8:00 a.m. – 7:00 p.m. (last order 6:00 p.m.), Closed: Monday, 2nd & 3rd Tuesday of every month
Google Map Coordinates: 26.3936552, 127.72327849999999